Awkward conversations at the office holiday party are inevitable. But at least now you have some tips on how to deal with them!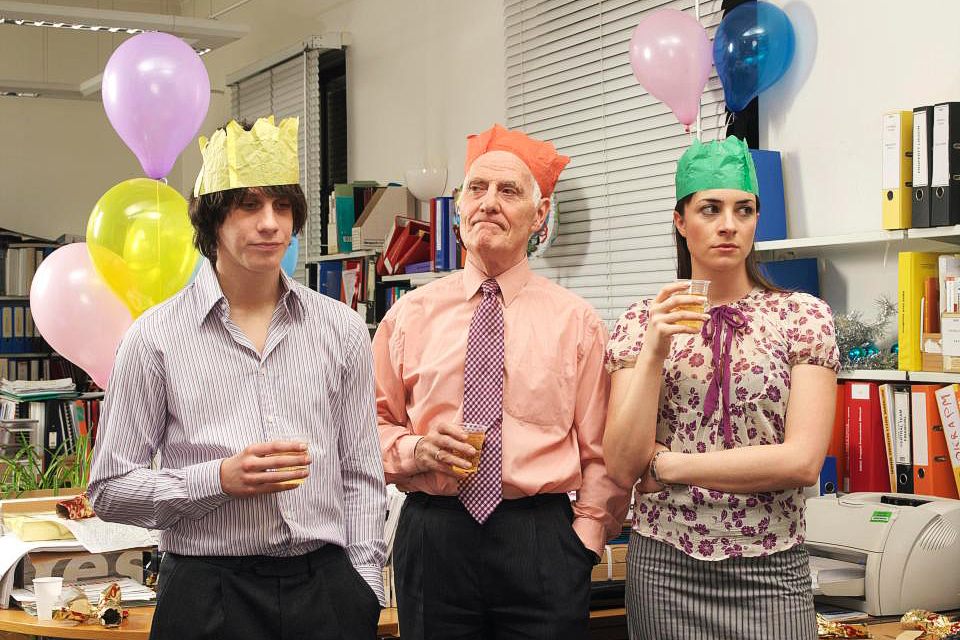 Need some advice for the inevitable awkward conversations at the office party? Here are some top tips for you!
Scenario 1: You're stuck making small-talk with the boss and can't think of anything to say. Awkward!
You've spent the entire party trying to avoid anyone in a management position and then you find yourself at the bar or buffet with the boss. And there's nobody else there to share the conversational burden.
"So, are you enjoying the party?" enquires to boss. "Yes, thanks" is your answer. Then the conversation goes dead.
You have to fill the vacuum. After all, you don't want him/her to think you have absolutely nothing to say. This is your chance to make a great impression…(or not!).
Don'ts:
Stand there grinning – come on, you can do better than that!
Walk off – that's more embarrassing than an awkward silence.
Tell a joke – humour is subjective.
Make demands – now is not the time to say "as we are finally having a chat, I wanted to ask about a promotion".
Try too hard to impress – avoid self-promotion. You may appear arrogant rather than self-confident if you start boasting about your sales or whatever. Now is not the time or place.
Do's:
Prepare – think of something neutral you could say in advance. For example, I really prefer this venue to last year and then talk about best/worst party venues. But don't rehearse the conversation (it won't feel natural). If you are at the buffet you could even talk about the food. In desperation, ask about holiday plans.
Ask questions – when you are nervous there is a temptation to talk too quickly and too much. Remember a conversation is a two-way exchange so try to get the boss to do more of the talking by asking questions. And remember to actively listen.
Watch your body language – this can say more than words. Make eye contact, smile and try to look engaged and interested even if your instinct is to run and hide in the toilet.
Scenario 2: A colleague is flirting with you and is becoming increasingly suggestive and getting inappropriately close but you really are not interested.
Handle this carefully. If you publicly humiliate someone they will probably feel embarrassed and could accuse you of reading the situation wrongly. And if you have overthought it, you will look like an idiot for suggesting they were coming on to you.
Don'ts:
Be dismissive – telling someone that you are just not interested, even if you are being polite rather than rude, is a rejection. Most people don't handle rejection well.
Go along with it – if you are not interested, don't take advantage.
Make a big deal of it – drawing attention to the situation is going to make it worse.
Do's:
Change the subject – if you can, and then find an excuse to move away and stay away even if you have to say you need the toilet. You don't want to be left alone with them again.
Reject them without rejecting them – talk about your partner to make it clear you are not available. However, don't lie (for example, say you are married when you are not) or try to deflect their attention by telling them someone else fancies them. That could lead to even more trouble.
Scenario 3: Your colleagues are pressuring you to join in with their drunken banter. You really don't want to get involved because in past years this type of behaviour has cost people their careers.
Peer pressure is very powerful particularly when it is in the public setting of an office party. Everyone is doing shots, playing 'truth or dare' or 'snog, marry, avoid' (or other variations such as snog, marry, kill).
If you don't join in, you might find you are not invited to the pub in future. But if you do, you could damage your career.
Don'ts:
Criticise – it is not your place to tell others what to do or how to behave (unless it is your place – in which case, you'll have to come up with a more acceptable activity. Anyone for karaoke?)
Go along with it – if you are not comfortable with the way the conversation is going or are being asked to do something that could compromise your career, just don't join in – even if you are called a chicken/wimp/loser etc.
Do's:
Say no – do not do anything you are not comfortable with just to fit in. You can be identified as a trouble maker/sexist bully/aggressive drunk etc., just by associating with people who behave in this way.
Deflect attention – even if it means offering to buy everyone a drink to avoid the situation.
Scenario 4: The office gossip or political Machiavelli is grilling you for information. You don't want to reveal too much, but you don't want to get on their wrong side either.
The last thing you need is a reputation as the office gossip. For one, it may ruin any level of trust you have built up with colleagues. For another, you may end up hurting someone.
Don't
Blurt out everyone's secrets – they will find out it was you.
Do's:
Be non-committal – don't agree that someone is 'awful' but don't disagree either. Say as little as possible.
Feign ignorance – pretend you don't know what they are talking about. They will soon get bored and find another victim.
Scenario 5: You are desperately trying to talk to people, but they all make excuses and walk away leaving you standing awkwardly by yourself.
This can be a problem if you work from home part-time, usually leave early when everyone goes to the pub on a Friday, are not in the same age group as your colleagues, or suffer from social anxiety.
If you are not part of the "in" crowd, a work party can be a living hell particularly if you are left standing all on your own and everyone you smile at or say 'hi' to looks away.
Don't:
Give up – leaving won't solve anything. You will still feel left out next time.
Force the conversation – you cannot just slide into a group and interrupt. It's rude and you are leaving yourself open to a brutal rejection.
Do:
Hang around in places where it's easier to make conversation – the bar/the buffet/outside with the smokers. I know people who fake-vape just so they have an excuse to hang with the smokers who tend to be happy for company particularly if it's freezing cold.
Prepare – try to find out who is going to the party, when they are arriving, etc. See if you can tag along with them – just be honest and say "I don't really know anyone, can I walk there with you… it's a bit awkward going on your own".
Take support – if there is a +1 policy find the most fun friend you can and at least you can enjoy the free drink (assuming there is some)
Be helpful – offer to give people a lift. They will be more than happy to include you for a free ride home.