Henderson Global is a leading independent global asset management firm. The company provides clients access to skilled investment professionals representing a broad range of asset classes.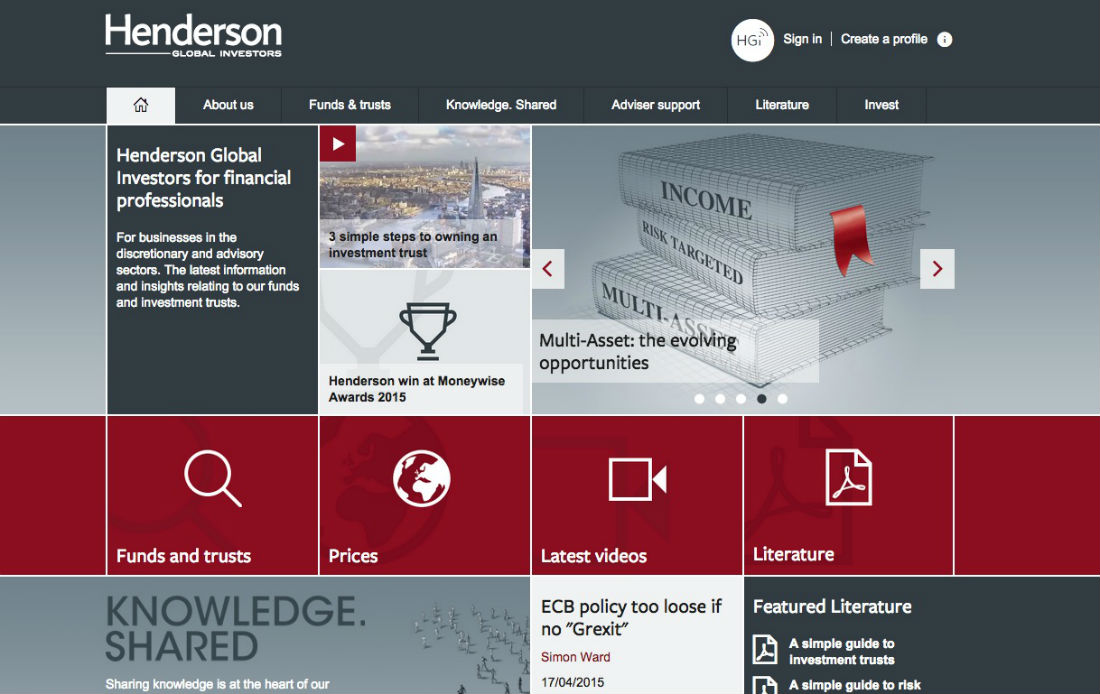 In 2011, Henderson Global's third party spend was valued at over £100m. However, there was no formal procurement function, with individual business areas conducting informal sourcing activities. The decision was made to create a centralised procurement function, with the aim of delivering value, increasing control and reducing risk.
The department was formed in early 2012 and handed some stiff objectives to prove its worth. It took just three months for the team to deliver significant value and savings and, in 2014, it won the CIPS 'Most Improved Purchasing Organisation – Start-up' award.
Nykolas Bromley, Head of Procurement at Henderson, talks to Procurious about his and the team's journey to this award and plans for the future.
How did you get started in procurement?
After university, I applied to be a trainee buyer on the Tesco Graduate Programme. I assumed that I would end up working in one of the grocery categories, but was offered a place in their procurement function instead. I've worked mainly in indirect procurement ever since.
Tell us about getting the department up and running and what your successes have been?
Rather than spend months analysing and strategizing, we initially targeted quick wins in order to demonstrate that procurement can generate an immediate return on investment. By delivering benefits so soon after the function was established, we gained credibility and opened the door to involvement in much larger and more complex projects. In the three years that have followed, we have built out our systems, policies and processes, and focused heavily on developing capability within the team.
What prompted you to submit a nomination for the award?
We were genuinely proud of what we had achieved and felt we had a good story to tell.
What will the award do for you and your team?
Winning a Supply Management Award has raised the profile of the department both within the organisation and the wider procurement industry. The award is proudly displayed in the office, and should the need arise, I expect it will be easier to recruit new talent into an award-winning team.
What has been the most challenging aspect of being in a start-up/greenfield department?
Henderson celebrated its 80th anniversary in 2014, and for most of that time had existed without any form of central procurement. This created something of a communication challenge, whereby stakeholders were often unfamiliar with typical procurement terminology and processes. The steep learning curve worked both ways, as having moved from the retail industry, the language and acronyms of investment management were entirely new to me too.
Do you have any advice for someone in a similar situation?
There will always be a degree of resistance from some quarters in an organisation with no tradition of formal procurement. However, there are also likely to be areas of the business that are crying out for assistance. My advice is to concentrate on the stakeholders that want your help first. Even though they may not be the most strategic or highest value projects, it's a great opportunity to build up allies, advocates and success stories.
What are your key aims for 2015?
This year we will complete the implementation of a new Purchase-to-Pay tool, which will transform the way that we manage our purchasing and payables processes within Henderson. This is a substantial change-management initiative, and a successful roll out of the tool is a key priority for the function.
What do you see in procurement's future and how can social media play a role?
We are a small team with low staff turnover, so we try to utilise our external network to keep in touch with developments and best practices in the wider procurement industry. Tools that provide access to potentially thousands of procurement experts and facilitate knowledge sharing are invaluable in our situation, and in advancing the profession.