It's an age-old story of supply and demand… so on the eve of Record Store Day we're bringing our record player out of storage, dusting off our favourite albums and learning why vinyl is here to stay…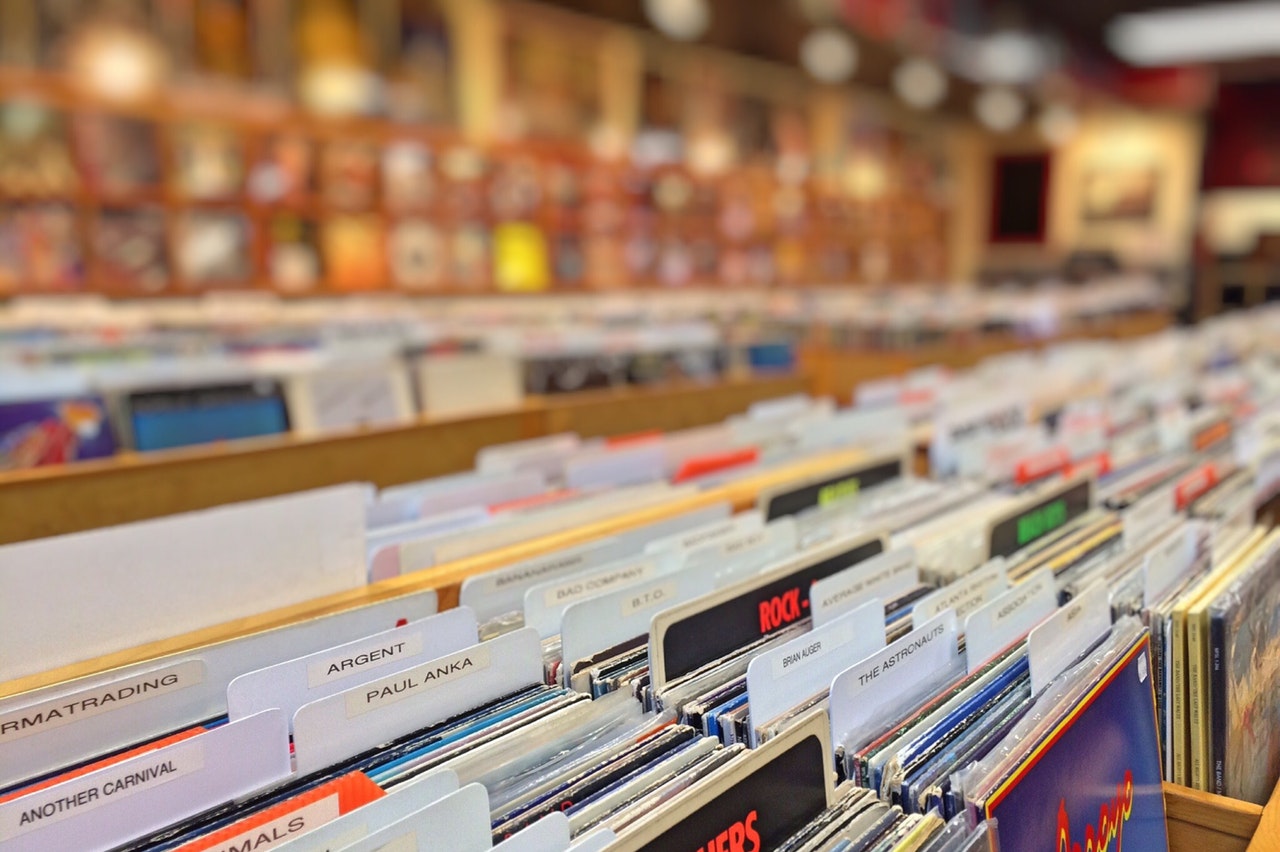 In 2014 something extraordinary happened… UK album sales on vinyl climaxed at a 20-year high, following seven years of sustained growth (after even more years in the doldrums). Recently released figures from the Official Charts Company reveal that sales of vinyl LPs are continuing the trend in 2015– up a whole 69 per cent during the first quarter (compared to the same period in 2014).
Happily this has led to the creation of the Official Vinyl Albums Chart Top 40 and Official Vinyl Singles Chart Top 40 (combining sales of 7" and 12" singles) – musicians and retailers alike have welcomed the announcement with open arms, like UK vinyl retailer Phil Barton of Sister Ray Records, Soho, London:
"The resurgence in vinyl sales has been a great boost for the independent trade. The launch of the Official Vinyl Charts tells the world that a format that is loved and revered is more relevant now than ever – far from being a curiosity, vinyl is the go-to format for many music fans."
So all signs are pointing to a resurgence of the once-beloved format, but do we have the infrastructure to keep up with the newfound surge in demand?
Back in Black (red, gold, green, and even white too…)
Vinyl LP sales stood at 1.4 million in 1995 (1.60 per cent of the UK album market) – in the years that followed sales dipped dramatically, finally reaching rock-bottom in 2007 with sales of just 205k (and a dismal market share of 0.10 per cent). With such a dismal performance it looked as though the beleaguered format had nowhere left to go – it was as good as dead…
But that hasn't stopped those passionate and protective of the format from striving to restore the vinyl LP's rightful place in our record collections – enter Record Store Day…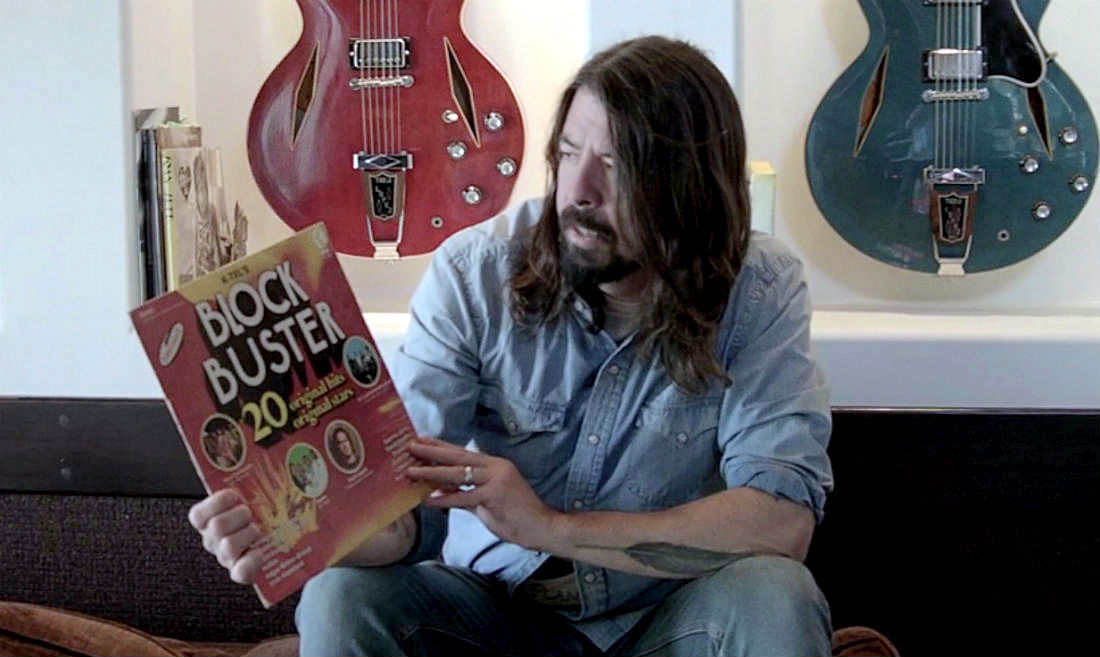 From its humble origins in the US, Record Store Day (or RSD for short) has since become a significant event in the musical calendar.
Megan Page , Communications and Marketing Assistant for the Entertainment Retailers Association, provides us with a potted history of Record Store Day and its origins.
"RSD is a celebration of the culture of independent record shops that aims to appeal not to just vinyl enthusiasts but also introduces a new generation to the joys of vinyl. Stores stock a range of exclusive product and host a range of events to celebrate.
"Record Store Day was conceived 9 years ago in the USA and was brought to the UK a year later.  It's now in its 8th year in the UK and co-ordinated by the Entertainment Retailers Association and Spencer Hickman. In 2014, over 220 independent record shops across the country signed up as labels produced over 270 exclusive album releases and 340 singles on vinyl. Now a global event, Record Store Day is celebrated in territories all over the world, including France, Germany, Netherlands and Spain."
"…Watch the reverence they have as they handle their Beatles vinyl. How carefully they replace the albums into their sleeves, making sure they're placed back onto the shelf in the proper sequence…"
Due to the complex logistics involved in such an initiative, orders are placed at the record factories as far back as December to ensure the production runs are completed in time. But park that thought for a bit, first we need to discuss vinyl's phoenix-like rise from the flames…
I Am The Resurrection
During 2014 record sales hit a 20-year high – bolstered by the likes of Pink Floyd and Arctic Monkeys. But if we had to play Devil's Advocate, is this all just a flash in the pan, a passing fad perhaps?
Martin Daniels from Recordstore.co.uk doesn't necessarily think so…
"It certainly helps having a big year of releases that would include Pink Floyd but from a personal point of view even the smallest of artists/fanbases can add their own mark on sales which keeps this trend continuing."
Megan adds: "The growth of vinyl has been incredible and its sales figures reflect year on year growth. In 2014, vinyl album sales passed the 1million mark for the first time since the Britpop era. This is more than four times than the level as recently as 2008."

We quizzed Martin on the factors that have contributed to vinyl's return – what caused it to come back into fashion?
"Customers/consumers have always wanted something tangible and collectable. Vinyl is nice to look at, the artwork was really made for this format and you get a feeling of experiencing the record more."
Earlier this year we also saw Neil Young weighing in on vinyl's rise in popularity –Martin reckons that Neil Young had his own agenda to peddle here, commenting: "Very recently he's launched a multi-million pound digital system (the PONO) that various people have already poked holes in, so that anything that deflects back onto vinyl helps his cause."
We asked Megan whether there's been a visible knock-on effect from such initiatives as RSD with record stores sales and vinyl releases?
"RSD itself has become such a popular initiative – sales of LPs alone last year generated more than £2m in retail for record stores. Because of its success, we are now seeing that not only heritage acts are releasing material on the format, but a new generation of artists such as Jake Bugg and the Arctic Monkeys are releasing music on vinyl. This also allows teenagers to discover the sound of vinyl of first time."
Megan adds: "The great thing about the inclusion of bands like 1D and 5sos etc. is that for the first time it is recruiting a younger, female generation of music lovers to independent record shops who are discovering music on the vinyl format for the first time! Hopefully we'll see more and more mainstream bands releasing material on vinyl too."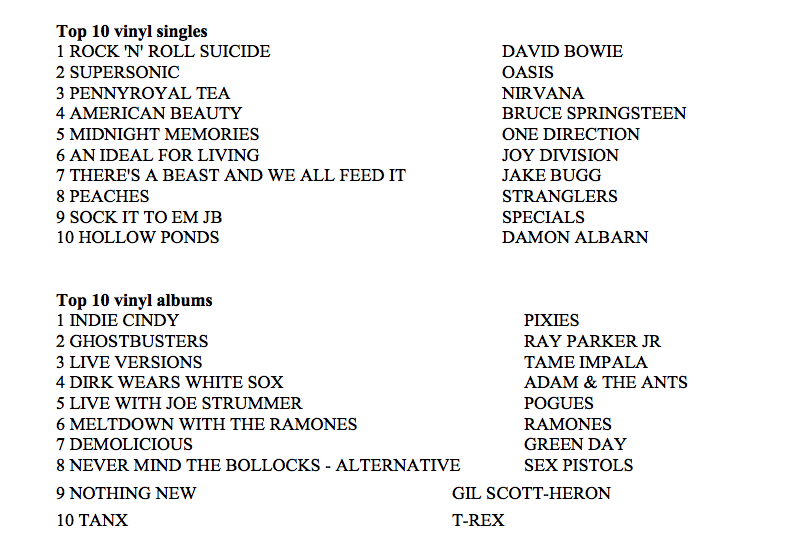 Raging Against The Machine
Certainly on the strength of this you'd be forgiven for thinking that the future of the vinyl is as shiny as its glossy black exterior. However, it's a different story behind the scenes, as aging factories are struggling to keep pace.
The Wall Street Journal reported that pressing plants (in the US) are being run flat-out to keep up with demand. And although there has been some investment in increasing capacity across Europe, more investment needs to be pumped into production facilities.
"The creaky machines that make them haven't been manufactured for decades, and just one company supplies an estimated 90 per cent of the raw vinyl that the industry needs" – WSJ.
Chris Ruff, Marketing at Atlantic Records, thinks that there is a similar story in the UK: "Vinyl pressing time now is well over 8 weeks something that used to be almost half that. This is due to millions (literally) of repressing's of classic albums.
"Depending on artist we usually do a pressing of 2k and then repress if any is needed. For reissues it is usually 5k… As a standard now for bands and indie acts we press all albums on vinyl."
It's not delays that have the potential to derail this creaky supply chain… The WSJ reports that record labels are sometimes waiting months for orders that used to be filled in mere weeks. In an effort to boost production, the machines are being run harder (and longer) than ever before, which is increasing the risk of break-downs – leaving record factories to foot hefty repair bills. The labour-intensive nature of the pressing process itself – the creation of the master record – all of these considerations pile on to the complicated, archaic procedure.
Chris sees the biggest obstacle will be trying to keep pressing in the UK (noting that Atlantic may look to Europe to press if they are quicker).
Such is the demand that factory owners are embarking on globetrotting voyages of discovery in order to procure scrapped presses. Paying anywhere in the region of £10-25k for the privilege – and that's before adding the costs to transform them back into their previously (working) glory.
Placing increased pressure on plants when it comes to readying special (weird) releases. Limited runs of splatter, coloured, glow-in-the-dark, even scented vinyl means that invariably pressings take longer.
As a retailer Martin offers an alternative viewpoint when it comes to vinyl's challenges:
"Pricing very much depends on how many of each album/single is pressed. This affects myself as retailer (the cost to me) and the customer (the cost to them). Moving forward we could certainly use more pressing plants in the world to ease delays!"
"I believe that the power of the record store to inspire is still alive and well, and that their importance to our next generation of musicians is crucial." Dave Grohl – Foo Fighters frontman and ambassador of Record Store Day 2015