Through an unequalled think-tank event powered by social media, Procurious will enable the global procurement community to crowdsource their thinking on the future of procurement during the second annual Big Ideas Summit on April 21, 2016.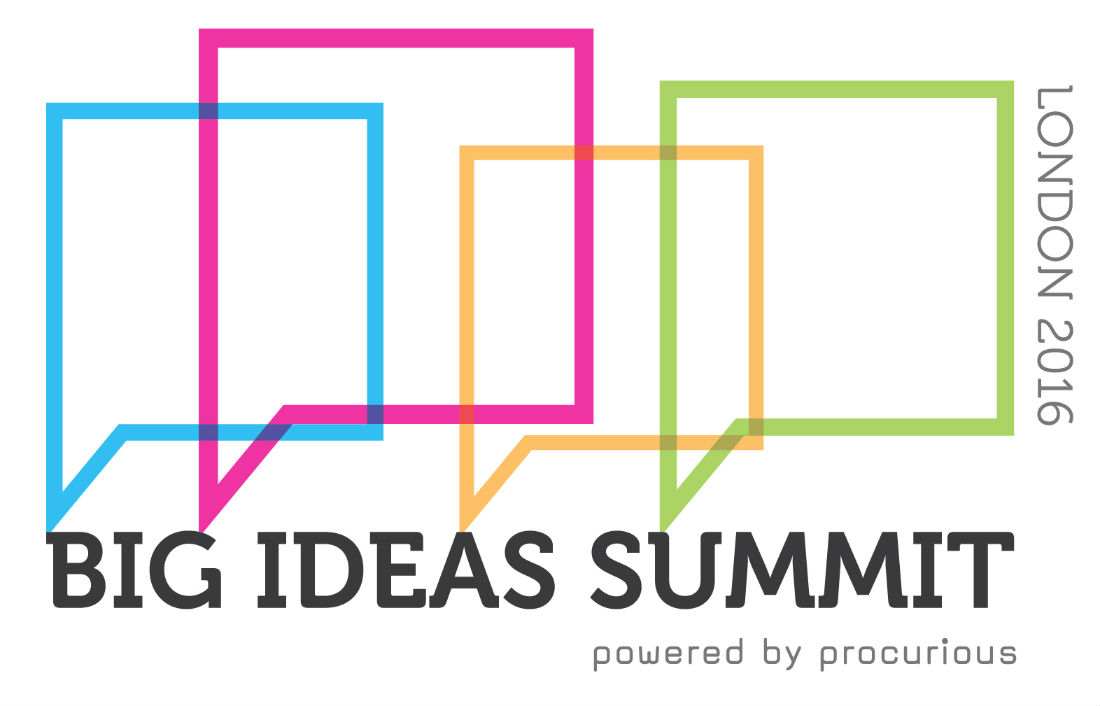 As the leading free online business network for procurement and supply chain management professionals, Procurious will connect 50 top executives, thought leaders and CPOs, with its 12,000+ worldwide members to forge new ground together.
Every delegate's big ideas will contribute to solving thorny issues, and harnessing new opportunities. All are invited to participate by going to bigideassummit.com — where they can register for Procurious and then join the Big Ideas Summit Group.
"Procurement needs to start thinking the unthinkable and rethinking the possible – we can't be constrained by our current paradigms. With social media allowing every one of us to have a voice, a digital conference helps us involve the whole world in the conversation, and enables access to diverse views and experiences," says Tania Seary, Founding Chairman, Procurious.
"Our goal is to empower a new generation of business intrapreneurs – people who can think outside the box – to ignite change even in times of ambiguity. We hope to seed an innovation movement that knows no boundaries."
Sponsored by IBM, the Institute for Supply Management (ISM), The Hackett Group, and Coupa, the Big Ideas Summit will feature several provocative sessions. Leaders from these organisations, as well as the Economist, Facebook, AstraZeneca, The World Bank, and more, will discuss:
Thinking the Unthinkable: How the global business environment is changing, how to spot trends and disruptions, and 'unthinkables' to prepare for.
Rethinking the Possible: Today's megatrends, from ethical supply chains to the Internet of Things.
The Conversation Century: How leaders are using social media to attract and retain the best and brightest talent, and maintain a career edge.
Procurement's Blind Spots: How procurement is applying key agile capabilities, and addressing "unthinkable" risk mitigation issues.
Find your voice – the conversation has already begun! Participants are already asking hard questions, vetting their big ideas, and reading exclusive, advance insights from the presenters.
On April 21, when they log on to Procurious, they will also be able to exchange viewpoints on the proceedings, shared by video, and get involved in real time via social media, on Twitter, LinkedIn or Facebook, using the hashtag #BigIdeas2016. Members will also be able to access more rich content in the days and weeks after this gathering.
Join the global movement now. Visit bigideassummit.com and register today.
Tweet this: Join the global conversation with your ideas for transforming #procurement at our #BigIdeas2016 Summit, April 21 www.bigideassummit.com
About Procurious
Procurious is the world's first online business community dedicated to procurement and supply chain professionals. It's a hub to advance your career, develop your skills and expand your global professional network. With 12,000+ members across the globe, Procurious aims to empower procurement leaders to connect, collaborate and take a more innovative professional outlook.
Think of Procurious as a professional network, news and knowledge hub, learning and career center, all in one place. Join now at www.procurious.com – it's free to register and participate.
Here's what else has been going on in the procurement world this week.
Primark's Sustainable Cotton Programme
Under the Primark Sustainable Cotton Programme, women in Gujarat, India, are trained to improve cotton yields, increase their incomes and introduce sustainable farming methods.

A pilot, launched three years ago, saw 1,251 women smallholders increase their average profits by 211 per cent and yields by 12.6 per cent.

The pilot also saw

a 5 per cent cut in input costs, a 12.9 per cent reduction in water use and fertiliser and pesticide use fell.

To coincide with

International Women's Day

, the retailer has announced the programme will be extended by six years to an additional 10,000 women.
Read more at Supply Management
Amazon Plans Major Logistics Network
In order to reduce dependency on third-party freighter services, Amazon is building its own logistics network to keep up with customer demand.

The planes will be leased for five to seven years and run by various divisions of Air Transport Services Group, allowing Amazon to run its own logistics network in the US.

With this, the retail giant would be able to meet the demand of same- and next-day delivery for its customers, particularly Prime members.

Dave Clark, Senior Vice President of Worldwide Operations and Customer Service at Amazon said "We offer Earth's largest selection, great prices and ultra-fast delivery promises to a growing group of Prime members, and we're excited to supplement our existing delivery network with a great new provider."
Read more at Supply Chain Digital
E-procurement in the UK Could Save a Fortune
The UK government could save up to £10 billion per annum through a reformed e-procurement platform by placing a greater emphasis on administrative efficiencies and market competition.

By using e-procurement models championed by the likes of South Korea and Estonia savings of 25 per cent could be made to the present £40 billion procurement bill.

Estonia currently attributes roughly 50 per cent of its expenditure through e-procurement platforms, saving an estimated 30-40 per cent on the cost of administering procurement.

However, the potential of e-procurement can only be achieved in the UK if trends accelerate.
Read more at Business Cloud News
Sustainable Palm Oil Production in Indonesia
The world's second largest palm oil producer, Golden Agri-Resources

(GAR)

, has mapped its supply chain to 489 individual mills in Indonesia.

In 2014, GAR extended its sustainability policy to its entire supply chain.

Paul Hickman, GAR's head of global vegetable oils and oilseeds, said "We see a clear industry trend where buyers want more information on the impact of the palm oil they purchase."

Indonesia's

Astra Agro Lestari

has signed the

Indonesian Palm Oil Pledge (IPOP)

, along with GAR, whose signatories promise to eliminate deforestation, peatlands conversion and human rights abuses from their supply chains.
Read more at Supply Management