The past week in procurement and supply chain has been a busy one, and so it's been hard to pin down just one story to kick the new week off.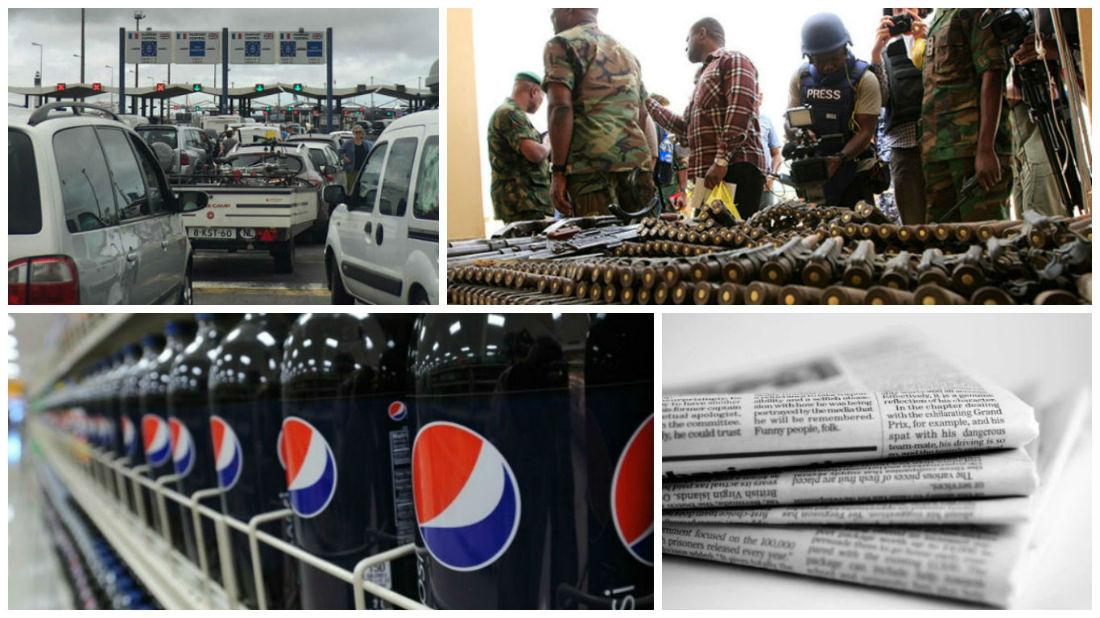 Over the past seven days, a marketing procurement function for a major global brand has been scrapped, Nigeria has been gripped by a massive procurement scandal and global freight and logistics has been hit by global unrest.
So, just in case you missed all of this, we've decided to wrap these three of the major stories for a change.
Marketing Procurement – Beginning of the End?
One story that took many people by surprise was the news that PepsiCo had taken the decision to scrap its marketing procurement function. The firm explained the move as a way of remaining "competitive in an environment where cost cutting and value building are paramount".
The idea that this has been done to reduce costs and increase efficiency might seem a touch strange, as this is often what procurement are tasked with doing. However, the decision by PepsiCo immediately got the procurement world wondering if this would be the first of many.
However, before all of you who work in marketing procurement start dusting off your CVs, it looks unlikely that this is the case. A survey carried out by the Association of National Advertisers (ANA) found that 68 per cent of surveyed members didn't view PepsiCo's actions as the start of an industry trend.
However, it does serve to highlight the frequently high tension between the procurement and marketing functions. Procurement's role as the intermediary between the organisation and the agencies is often seen as one of cost cutting, rather than value adding.
A survey by the ANA earlier this year found that the vast majority of individuals on both sides of the agency/client relationship were unconvinced about the value that procurement added to the process.
The PepsiCo situation may serve as a warning to other marketing procurement teams, but also afford them an opportunity to shift their focus. Instead of a focus on costs, it's perhaps time for a more strategic approach, forging stronger relationships with agencies, and establishing how to add value on both sides of the aisle.
Nigeria Hit by Arms Procurement Scandal
Early last week, the news broke of the outcome of a major procurement fraud investigation in Nigeria, implicating some of the country's former leaders and senior figures.
Based on the investigation, Nigerian President Muhammadu Buhari ordered the arrest of Sambo Dasuki, the country's former National Security Advisor, who has been implicated in the fraud scandal, thought to be worth in the region of $2 billion.
It has been alleged that Dasuki awarded over $2 billion worth of "phantom" contracts for vehicles, weapons and munitions, which were to be used in Nigeria's on going fight against terrorist group, Boko Harem.
An additional sum of $142.6m was also allegedly transferred to a company with accounts in the USA, UK and West Africa, without contracts being in place, and without any goods or services being supplied.
Mr Dasuki has claimed that all due process and military procurement regulations were followed in all transactions, and indicated that, given the value of the contracts, they could only have been approved by Nigeria's former President, Goodluck Jonathan.
Former President Jonathan has also denied any involvement, and, when questioned at an event in Washington, D.C. last week, was quoted as querying whether the contracts ever existed. Keep an eye on the Procurious news for more on this in the coming weeks.
Global Unrest Disrupting Supply Chains
Events in the past week in Paris and Lebanon, as well as the on going influx of migrants into Europe, has freight and logistics organisations counting the cost of disrupted supply chains.
In their most recent Security Risk Index, US-based supply chain consultants BSI have highlighted border closures and slower than normal freight clearances as two of the major issues in Europe.
Delays at Calais costing UK shippers an estimated $1.2 million per day, plus losses from contaminated food and pharmaceutical products, have industry experts stating that that further disruptions could mean job losses across the continent.
Supply chain issues are not limited to Europe either. In China, thieves have been targeting moving trucks and removing goods from them on the road, while in South Africa, truck hijackings have increased by 29.1 per cent over 2014.
CIPS have also argued that increasingly global supply chains has increased complexity and that disruptions could have a damaging impact for the end customers.
Increasing risk in the supply chain is the topic of a webinar that Procurious founder Tania Seary is taking part in next week. Risk analysis in procurement is a key skill, particularly in light of current disruptions to supply chains.
Get all the information on the webinar and register here.
We've also kept an eye on other breaking news over the weekend and here are some of the key headlines to share over a morning cup of coffee.
UK Government Boosts Defence Spend
UK Prime Minister, David Cameron, will announce an additional £12 billion investment in equipment spend this week
As part of the Government's National Security Strategy and Strategic Defence and Security Review (SDSR), Mr Cameron will outline the UK's strategy for the coming decade
This includes a new fleet of maritime patrol aircraft and two new rapid-reaction "strike brigades" to add to existing capabilities
The news is good for American firm Boeing, who won an industry bidding war to provide nine aircraft to the UK RAF
Read more at The Belfast Telegraph
Google Glass Used in Heart Surgery
A team of cardiologists from the Institute of Cardiology, Warsaw, used the new generation Google Glass as part of a heart surgery procedure
The doctors used the device to help control and restore the blood flow in a blocked artery in a 49-year-old male patient
The Glass enabled the doctors to visualise the operation, as well as control the images with voice control, allowing them both hands free to operate
It is hoped that more wearable technology will now be adapted for use in the medical industry
Read more at Market Business News
BBC Announce Women of 2015 List
The BBC's 100 Women season has returned, and the corporation has chosen its list of inspirational women for 2015
The list this year focuses on "octogenarians sharing life lessons; 'good girl' film-makers discussing expectations; nursing; five high-profile women; and '30 under 30′ entrepreneurs"
The list highlights women from around the world who have given a positive inspiration to others with their actions over the past 12 months
See who made the list at BBC News