It's just days away now! Join the global digital brainstorm at the Procurious Big Ideas Summit on April 21, and make your ideas heard.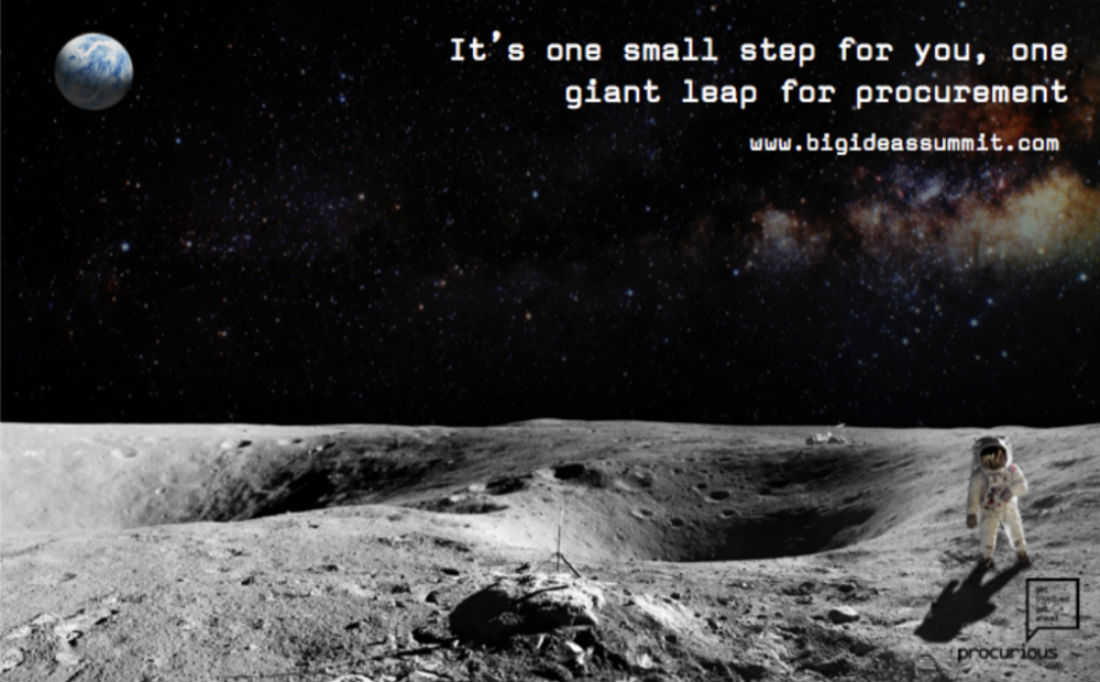 Attention, procurement and supply management innovators – stake your claim in the future of your profession!
Time is running out to add your voice to the Procurious Big Ideas Summit, an unprecedented global digital brainstorm and think tank event scheduled for April 21. Make sure your ideas are heard as Procurious connects 50 top executives, with its 13,000 worldwide members to solve thorny issues and harness new opportunities – together.
"Procurement professionals are at the centre of the Big Ideas Summit, driving and shaping this global digital brainstorm," said Tania Seary, Founding Chairman of Procurious, the leading free online business community for the procurement and supply management profession. "We are forging a new kind of innovation movement, where everyone has equal power to ignite significant change."
Sponsored by IBM, the Institute for SupplyManagement (ISM), The Hackett Group, and Coupa, the free Summit will feature several provocative sessions. Leaders from these organisations as well as AstraZeneca, The World Bank, and more will address the mega-trends, disruptions, blind spots, risks, and technologies that are already leading to a "procurement revolution".
Getting Involved
With so much at stake, the conversation is already beginning, as delegates submit advance questions for the speakers, discuss everything from supplier management to sustainability, and share videos with their own big ideas.
On April 21, the dialogue will be amplified as delegates log onto Procurious for digital and video updates, and engage on other social media channels to become even more involved. They will be checking out the action on Twitter, staying up-to-date with live tweets from the event, and tweeting back @procurious_ using the hashtag #BigIdeas2016. LinkedIn and Facebook will also be rich sources of event news and discussions.
From April 22 onward, the dialogue will continue as Procurious shares speakers' and influencers' Big Ideas videos, footage, blog posts, and more.
Last year's event generated close to one million impressions, as the worldwide procurement community woke up to the power of collective innovation.
To join this year's event now, go to www.BigIdeasSummit.com, where you will be able to register for free membership on Procurious, join the Big Ideas Summit group and shape the future of procurement by getting involved in what promises to be a fantastic global digital brainstorm.
Tweet this: Help innovate procurement at #BigIdeas2016Summit, April 21 www.bigideassummit.com
We've also been keeping an eye on all the procurement and supply chain headlines this week…
Japanese Earthquake Supply Chain Disruption
Two earthquakes in Japan at the end of last week, tragically killing 41 people, are set to cause major disruptions to Japanese and global supply chains.
Toyota are one of a number of manufacturers who will be suspending production at facilities in southern Japan due to a shortage of parts or factory damage
Organisations in Japan have been making changes to their supply chains to mitigate risks from natural disasters following the earthquake and tsunami in 2011.
It is thought that the current disruptions will test these changes, and new measures put in place to help mitigate these risks.
Read more at Reuters
Cybersecurity Worker Shortage
According to a recent survey, nearly two-thirds of Millennials were unaware they could pursue a career in cybersecurity.
This has raised concerns that there could be a shortage of cybersecurity workers in the coming years.
The survey, commissioned by Raytheon and the National Cyber Security Alliance, also showed that 58 per cent of the Millennials surveyed were not taught about ways to stay safe online.
Universities and colleges are now working to introduce programmes which integrate cybersecurity into existing computing and computer science courses.
Read more at Government Technology
SMART by GEP Contracted
SMART by GEP®, has been selected by a leading provider of building maintenance and facility services across North America.
Enterprise sourcing and procurement teams at the company will use SMART by GEP to streamline and automate their entire source-to-pay (S2P) workflow.
SMART by GEP provides complete source-to-pay functionality in one unified cloud-native platform.
SMART by GEP hosts $50 billion spend per year across 140 countries, for organisations such as AstraZeneca, DuPont and Maersk
Read more at SMART by GEP
H&M Releases 2015 Sustainability Report
H&M published its Conscious Actions Sustainability Report 2015 late last week, highlighting the actions the retailer has taken during the 12 month period on supply chain sustainability
The report shows a steady increase of sustainably sourced materials, and progress when it comes to the use of renewable electricity.
H&M now sources 20 per cent of its materials sustainably, as well as using 78 per cent renewable energy sources for its global electricity usage (up from 27 per cent in 2014).
The report also highlighted the signing of the Global Framework Agreement with IndustriALL Global Union and IF Metall, aimed at working towards payment of fair living wages
Read more at Business Wire