Corporate CEOs have historically remained silent on politically divisive issues to avoid a potential backlash from consumers and their own employees. Last week, this rule was turned on its head.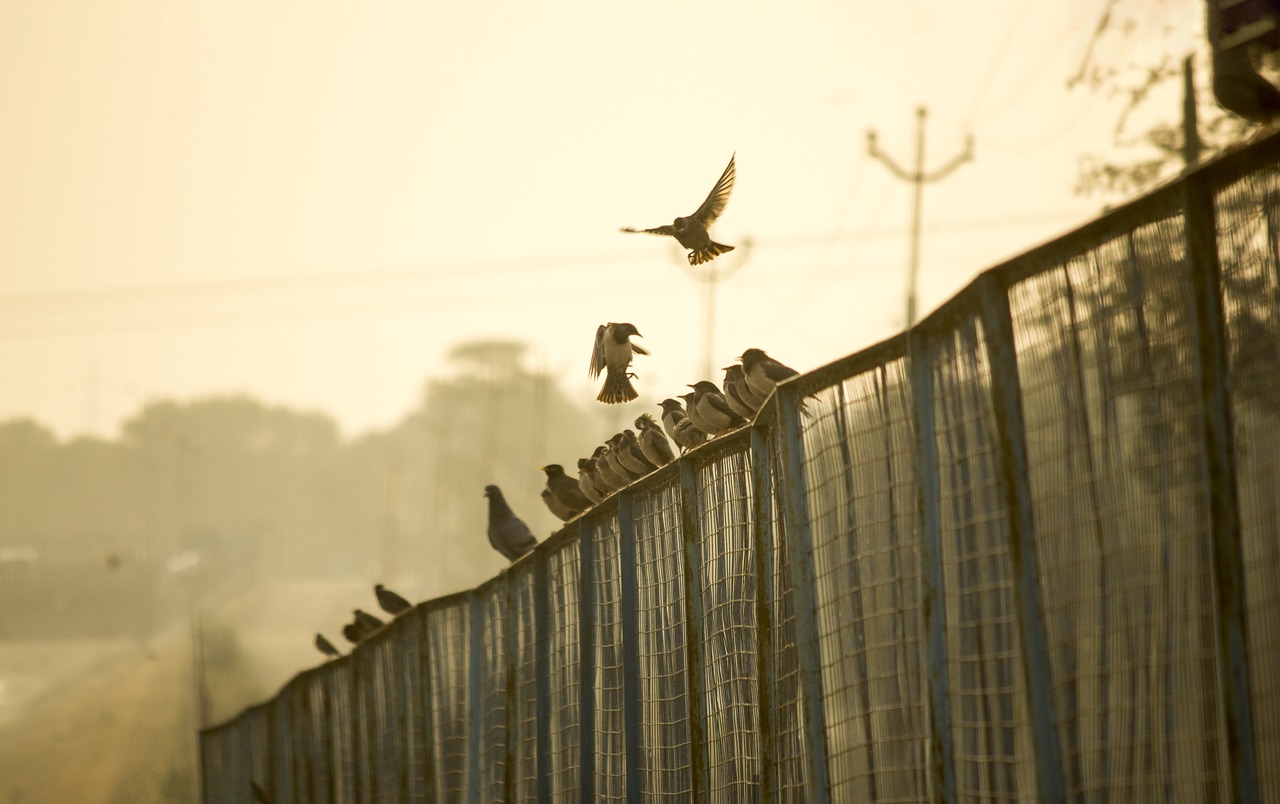 Three high-profile advisory councils were disbanded by U.S. President Donald Trump last week after a cascade of CEO resignations over his response to the Charlottesville "Unite the Right" rally.
Mr Trump dissolved the American Manufacturing Council and the Strategic and Policy Forum after it was leaked that the remaining members of the two councils were planning a press announcement on Wednesday 16th August about disbanding the groups. High-profile resignations up to that point included Kenneth Frazier (Merck CEO), Under Armour CEO Kevin Plank, Intel Chief Executive Brian Krzanich, ADL-CIO's Richard Trumka and Thea Lee, the Alliance for American Manufacturing president Scott Paul, Campbell Soup's Denise Morrison and 3M's Inge Thulin.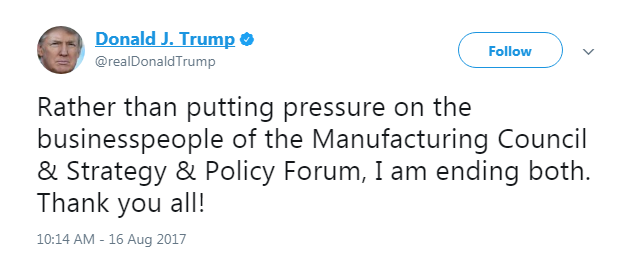 A similar revolt in the President's Committee on the Arts and Humanities took place two days later, with 16 out of the 17 members quitting, leading to the White House stating that the committee's executive order would not be renewed.
Is the line between politics and business dissolving?
Michael Maslansky, the head of a language strategy firm that advises major companies, told the BBC last week that "the era of the fence-sitting corporation is over".
In an unprecedented situation, the moral compass has now been placed in the hands of business leaders, who are coming under increasing pressure to comment on political events. Donald Trump's tweet about "pressure on the businesspeople of the [councils]" gets this absolutely correct.
Many of the CEOs who resigned from the advisory councils made statements along the lines of having "no choice" about the matter. In other words, Trump's response to Charlottesville put them in a situation where their connection with the president contradicted their company's corporate positions on race, diversity and equality.
Even CEOs without a formal position on an advisory board, including Apple's Tim Cook, spoke out in condemnation last week. In the past, it was seen as safer to remain silent, or risk the wrath of customers (and employees) from the other side of the political spectrum.
Why is this happening? "If you're silent about an issue, then each side will assume you're on the wrong side. You end up really having to choose", says Maslansky. Another sentiment that was frequently expressed after Charlottesville was the idea that silence in the face of injustice (including racism) is tantamount to complicity.
Ideally, every company would have a Values Statement which would dictate the CEO's response to any relevant issue. This means the "choice" doesn't come down to the personal whim or leaning of any individual business leader.
Where will this end? With political divisions only increasing, will we see consumers do business only with companies that reflect their political views? This is already happening on the fringes, with regular calls going out from both sides to boycott various companies (think #DeleteUber, or #AnywherebutTarget). Terms for this include "dollar voting", "ethical consumerism" and "moral boycotting".
For procurement and supply managers, daily buying decisions could become so fraught with larger implications that it will become hard to keep track. But if the end customer expects organisations to make purchasing decisions that are in line with their own values, this is certainly a space to watch.
As for CEOs, the era of carefully-worded, politically-neutral statements may be over. When a new CEO steps into a role, their customers, their employees and the Board will want to know where they stand politically and how this will influence the corporate culture.
To quote a meme that's currently doing the rounds on social media: sitting on the fence only gets you one thing: splinters.
The vanishing line between business and politics will be one of the topics under discussion at the Chicago Big Ideas Summit on Thursday 28th September. If you're a CPO and located in or near the Chicago area, there are still some seats available (limited to 50 attendees). If you're not quite CPO-level (yet) or based on the other side of the globe, don't worry – we've got you covered. Simply register for free as a digital delegate on Procurious, and we'll bring all the Big Ideas from Chicago to you! Click here to find out more.
---
 In other news this week:
Australia to develop anti-slavery legislation
Australia's Turnbull government will soon require companies with an annual turnover of at least $100 million to publish "Modern Slavery Statements" on a publicly accessible central repository.
The statements will include measures companies are taking in their supply chains to combat modern slavery, including human trafficking, debt bondage and forced labour.
The government is also considering drafting a Modern Slavery Act and an independent anti-slavery watchdog to investigate complaints and educate businesses.
Read more in The Age.
 The City of Los Angeles is looking for a CPO
The city of LA is seeking a CPO to fill a newly-created position created as part of a wider local government remodelling.
The new CPO "will be responsible for the development of a plan to strategically leverage the city's spend, identify cost savings, employ long-range operational policies and procedures that align with industry best practices, increase transparency, and reduce time to contract with the city".
Read more at Supply Chain Digital.