About Us
Who is behind Procurious?
You can read all about us in Our Story. 
Can I add you guys to my network?
Of course! We'd love to connect with you.
Tania Seary – Founder
Helen Mackenzie – Principal Advisor
Ryan Ala – Digital Product Manager
Andy Moore – Digital Marketing Executive
Natalia Nilsson – Digital Project Manager
Olga Luscombe – Partnerships Director
James Callen – Partnerships Manager
Do you have a Twitter page?
Yes, we do! You can find us (and follow) over at http://twitter.com/procurious_

Follow @procurious_

What about Facebook?
Yup, you can like Procurious on there too
http://facebook.com/procurious/
There's no way you have a Google+ profile too?
We don't like to disappoint – suffice to say we're all over it
http://plus.google.com/+Procurious/
I've noticed something wrong – how do I contact you about a bug?
Oh no! You can email [email protected], and provide us with as much detail as possible (screenshots are welcome!)
I've got a feature request for the site
Don't be shy – we'd love to hear it! Drop us a line at [email protected].
My Profile
How to add a profile picture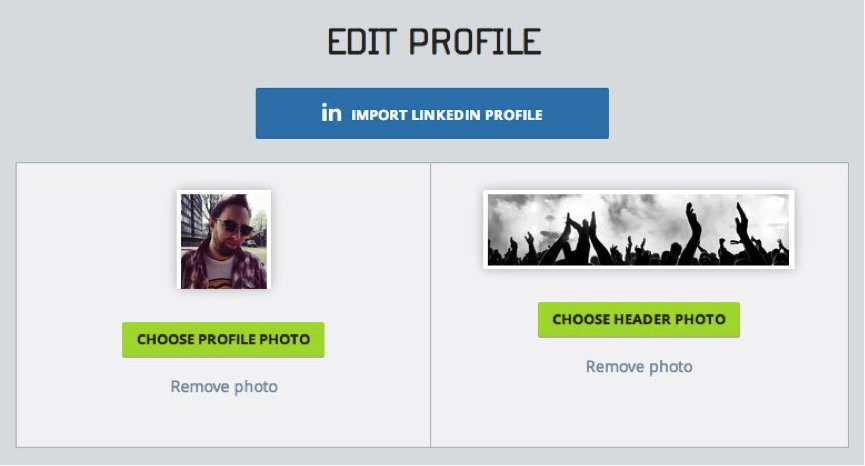 We all like to see who we are talking to, so please add a picture and let other members put a face to the name.
Visit your profile page and click on 'Edit Profile', then it's just a case of selecting 'Choose profile photo' to browse your hard drive and add your photo.
You don't need to worry about uploading the wrong size; you'll be able to crop your image before you save any changes.
Add a header photo
If you want to personalise your profile even more, why not make it really stand out by adding a header photo?
On the 'Edit Profile' screen just tap the 'Choose header photo' button to select your header image of choice.
Again, the image will be cropped to just the right size (but landscape pictures work better here – think widescreen).
How to edit your profile
Your 'My Story' page is where the magic happens.  Just click on your profile picture, and hit the 'Edit profile' button (or locate the drop-down menu). So no matter where you are on the site, you can update your profile with ease.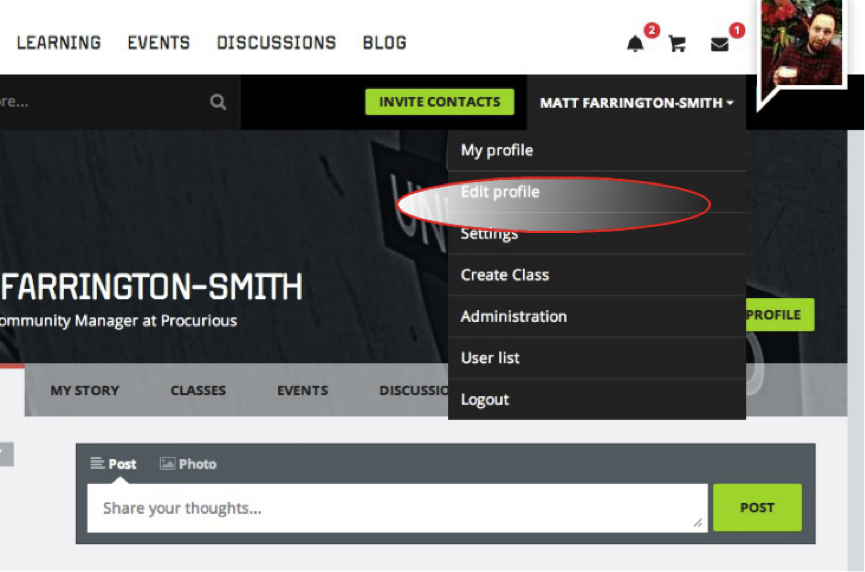 From here you are able to detail professional information such as your function, industry details, level of responsibility, and procurement system used.
You can also let other members view your education history (along with relevant qualifications), and work experience.
Just click inside a text box to add, remove or amend details as you see fit.
If you want to make yourself freely contactable to other Procurious members, why not also fill-out your contact details too? You can specify an email address, phone number, and Skype username.
Want to show off which Procurement & Supply Chain memberships you hold? Just click the dropdown under 'Memberships' and select any memberships that you hold.
Privacy, Setting & Notifications
Why is Procurious asking me for permissions?
When you connect another social network up to your Procurious account you'll be prompted to confirm you're happy with Procurious accessing your details.
Don't worry this is standard procedure; there's nothing creepy going on!
While we do have access to your invitations and messages, it is completely blind as LinkedIn would never allow anybody to physically read your messages.  The permissions we ask for are simply to import your information in to your Procurious profile.
Connecting your LinkedIn account
When you created your Procurious account, you had the option of connecting your LinkedIn account. If you chose not to do this it's OK, you can still do it now.
Open up the drop-down menu next to your name. Select 'My profile' from the list. Alternatively, click on your profile image and press the 'Edit profile' button.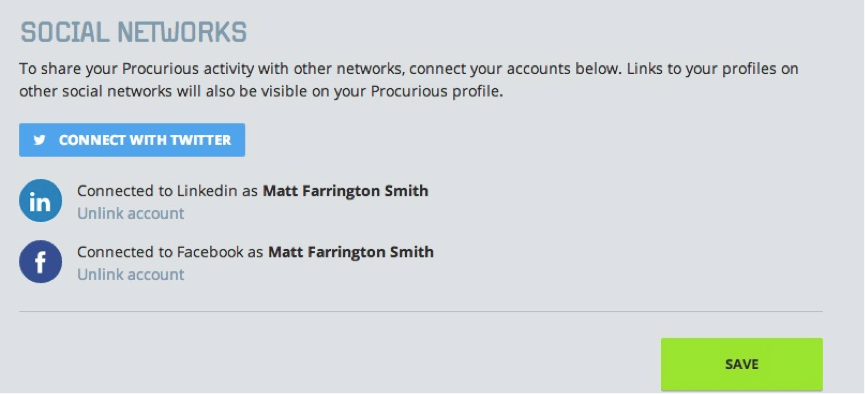 How do I connect Facebook/Twitter to my account?
If you want to share your Procurious activity with other networks, you can connect Facebook and Twitter via your Profile page.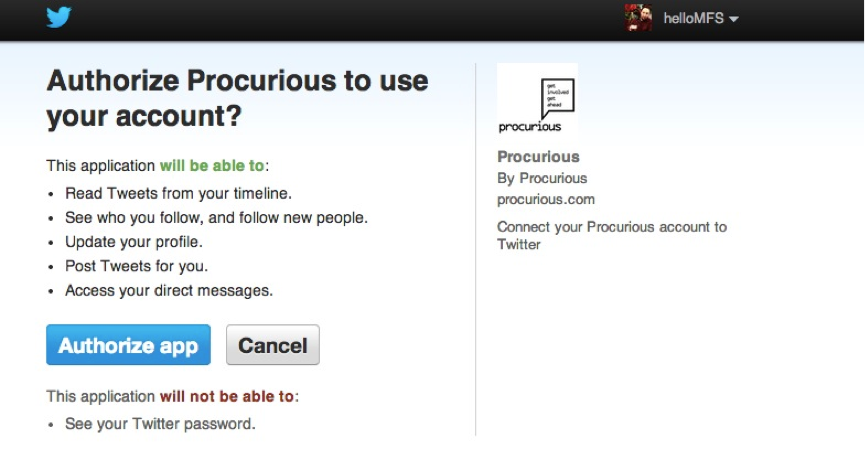 Select the social network of your choosing and click the corresponding 'Connect with…' button. You'll be prompted to authenticate (and give permission) to Procurious to access your account, just confirm this is all OK to complete.
Procurious is asking to authorise my Twitter account. Why?
You need to connect Procurious to Twitter so we can display your data. We don't store your account details or data on our servers, it's all safe and secure.
How do I change my Procurious password?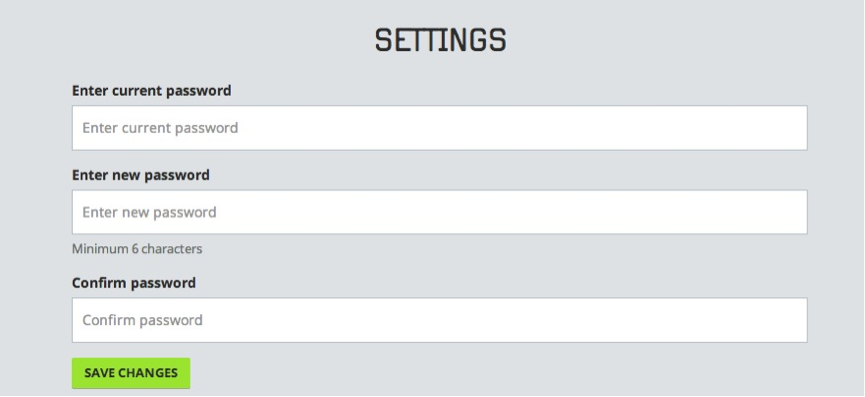 To get at your password details, select the 'Settings' menu by clicking on the drop-down next to your name.
You'll need to type in your existing Procurious password, but then it's just a case of entering a brand new, secure password. Confirm by retyping it in the box below. When you're happy just hit 'Save changes'.
Remember to use this new password the next time you log into Procurious.
How to change your Procurious Privacy settings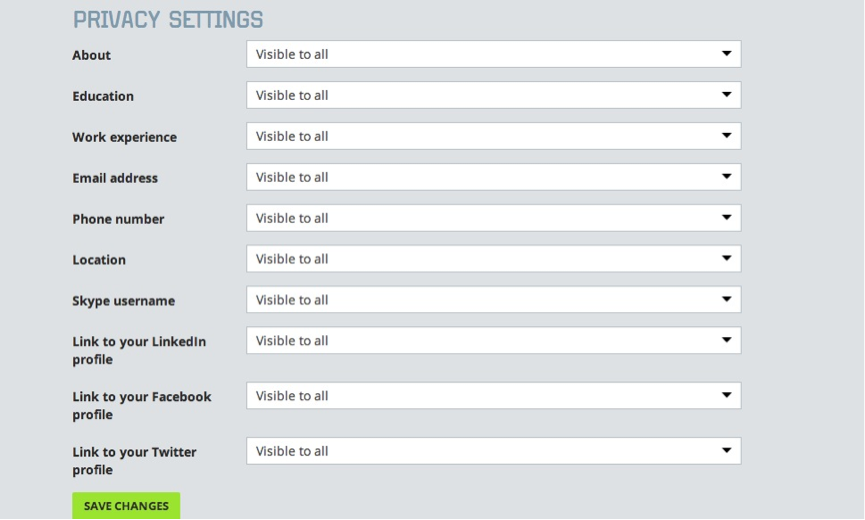 If you want to lock your Procurious profile down a little, then 'Privacy settings' is where you'll do it. Here you can choose which details you want to show off to the world (or just other Procurious members in your network).
Obviously, with this being a social network (and a place to make meaningful connections), we encourage you to be as open as possible – but understand if you want to be a bit more guarded.
Control privacy settings for your professional details, as well as contact methods and social networking info by using the drop-down menus.
Hit the 'Save changes' button when done.
Networking
How do I add people to my network?
To really get the most from the network you'll need some buddies to share the experience with you. Fortunately we've made this easy: just click on the green 'Build Your Network' button. Here you can see a list of every registered Procurious user, and choose who you want to add to your network.
You search for other Procurious members by name, or filter by Country, Industry, and Category.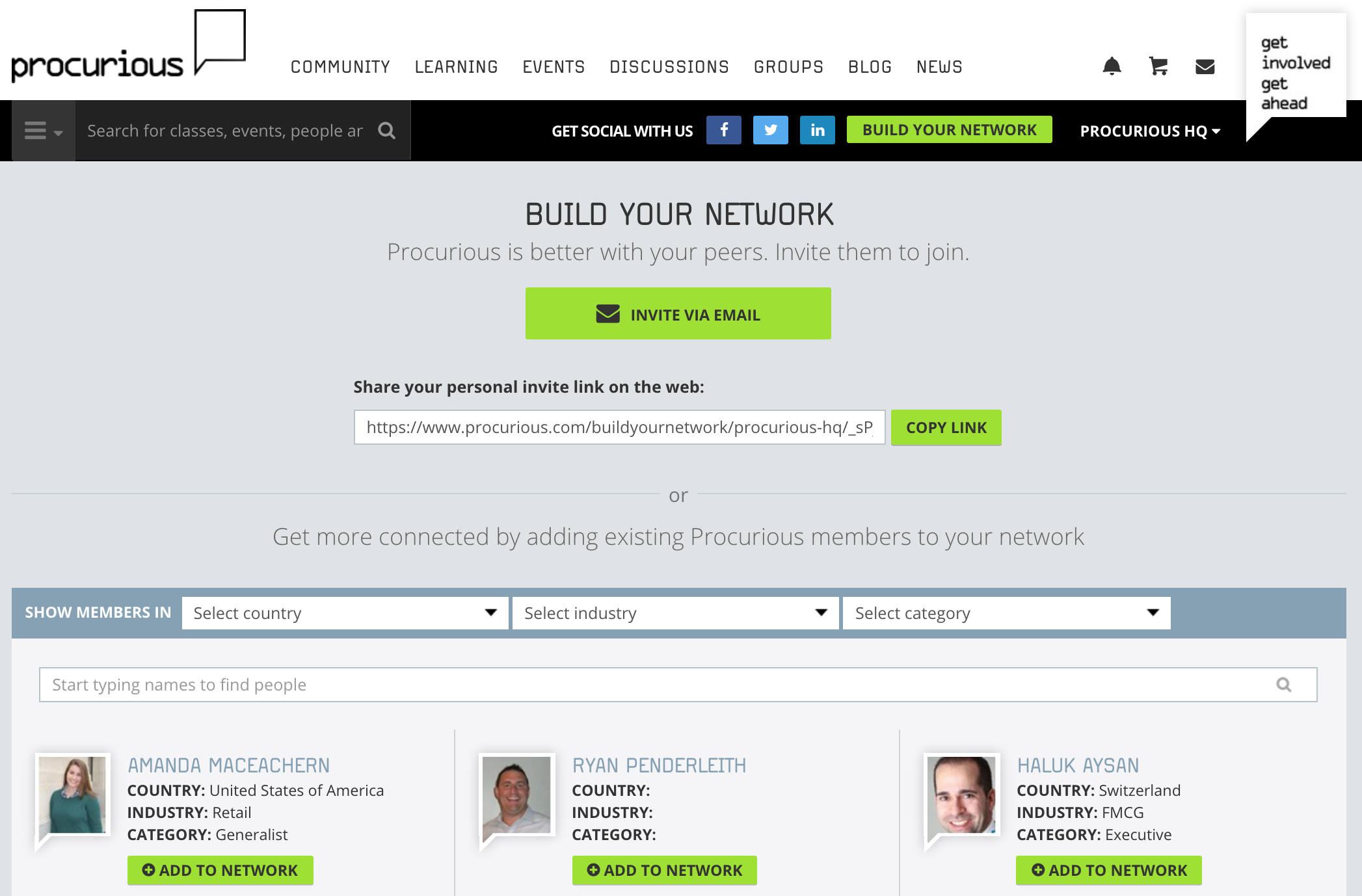 How do I search the entire Procurious network?
You can perform a search from anywhere on Procurious. Just place your cursor in the search box – type your search term, and hit the Enter key (or click the magnifying glass).
You can specify whether you want to carry out a site-wide search (all), or be a little more selective with your net.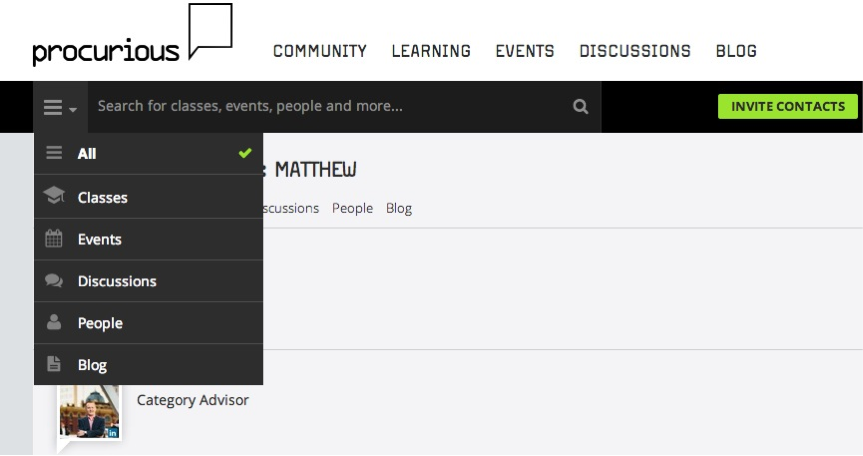 Choose from Classes, Events, Discussions, People, and Blog.
How to remove someone from your network
If you've had a falling-out, or forgotten why you added someone in the first place, you can always remove them from your Procurious network.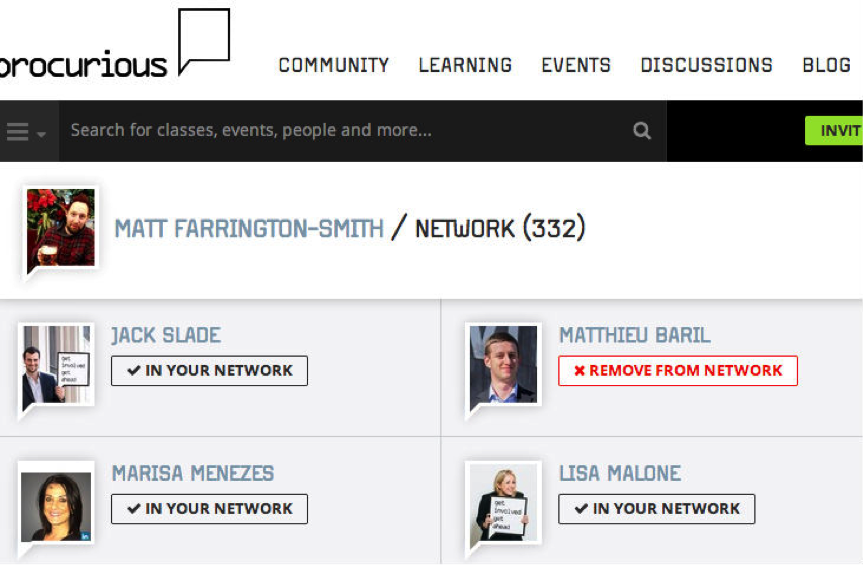 From your Profile page click on 'View all' below your My Network area. Here you are free to cast members from your network. Hovering your cursor over their name will cause the 'In your network' message to switch to 'Remove from network'. Just select this to do the deed.
How to control your email notifications
If you feel like you're receiving too many email notifications from us, here's a simple tip to stem the flow of mail.
Head on over to your 'Settings' page.

From here you can choose when Procurious sends you an email. Just un-tick/tick the options as desired – remembering to click 'Save changes' when done.
Events
How to view Event listings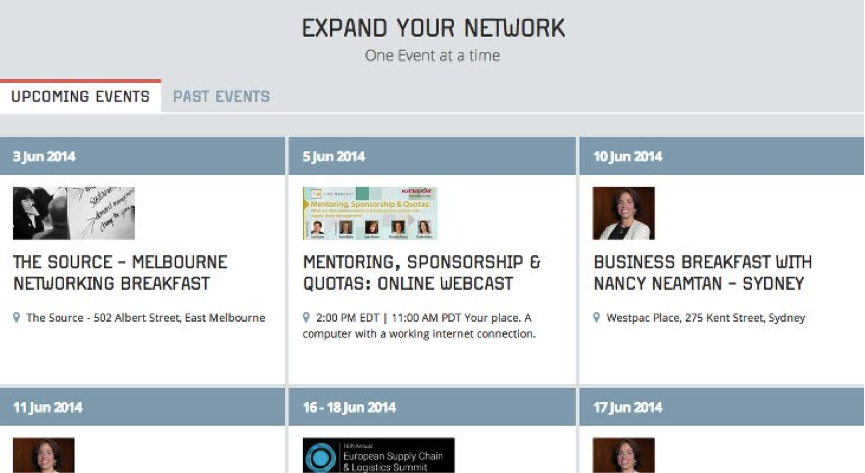 Procurious includes a growing database of events that cater to the needs of the procurement profession.
Check out the Events page by clicking the link on the main navigation.
How do I RSVP to an event?
Clicking on a listing will provide you with an overview of the event, info on confirmed speakers, location details, and other Procurious members who've confirmed their attendance.
From here you can RSVP, leave comments, see the event twitter feed, and visit the official event website to book your place.
What's more, if you RSVP via the Events page, your contacts will be able to see too. Who knows – they might even join you?
I'm organizing a super-cool procurement or supply chain related event and want to get it listed on Procurious
Great news! You can add your event to the Procurious Event Directory by clicking on the 'Add Your Event' tile on this page. Once you've done that, it's simply a matter of entering the relevant event details, clicking submit, and then paying the listing fee (US$400).
Contact us if you'd like your event to be 'featured' as the top listing on the events page.
Learning
How do I watch a training video?
Procurious isn't just a place to network – you can delve into our learning resources and teach yourself a thing or two in the process.
All of the videos you'll find on Procurious are available to view free of charge (we won't ask you for credit card numbers or anything scary…)
Head on over to the 'Learning' page and check out the videos on offer. Each video offers a bite-size preview, so you can decide beforehand if you think you'll enjoy the content within. Like what you see? Then it's simply a case of clicking the 'Add this class to cart' button – remember, you won't be charged a dollar/pound/yen/dirham.
Groups
Groups are the perfect haven for hanging out with likeminded professionals – each have been created around a core theme, so the key here is to join the ones that take your fancy.
It's easy as pie to join a Group. Just navigate to the 'Groups' page by following the link (it's nestled between the Discussions and Blog items), and choose a Group from the list that takes your fancy. Depending on the membership options set by the Group owner you may have to wait a short while for them to approve your request to join.
To set up a group of your own, begin by clicking the 'Create Group' button.
Now you need a good name… The Group name should be succinct, and easily identifiable. You can go into extra detail in the 'Description' field – this should spell out your modus operandi.
You'll also need to specify relevant industry and category choices using the drop-down menus (just like you did when you originally joined Procurious).
Finally, upload a small image that can be used as the Group's profile picture. Now you're ready to start inviting other Procurious members to your new Group – you can do this by typing names into the 'Add members' field.
Supported Browsers
Procurious supports the following desktop browsers and all updated smartphone browsers.
Safari 7 and above
Chrome 30 and above
Firefox 32 and above
Internet Explorer 9 and above
Recommended Browsers
Of the supported browsers, we recommend the following for best performance
Mac – Chrome 46+, Safari 9+, Firefox 42+
PC – Chrome 46+, Firefox 42+
Unsupported Browsers
We do not support the following browsers for technical and resource related reasons
Development versions of upcoming browsers
Opera
Broken Browsers
Procurious will not work with the following browsers due to their technical limitations and our resource capabilities
Firefox 20 and prior versions
Internet Explorer 8 and prior versions
If you are having a problem with your particular browser, please don't hesitate to get in touch.