The impact of fast fashion can be seen on the high street and in the newspapers. But the trend may be about to take down one of the world's most recognisable brands.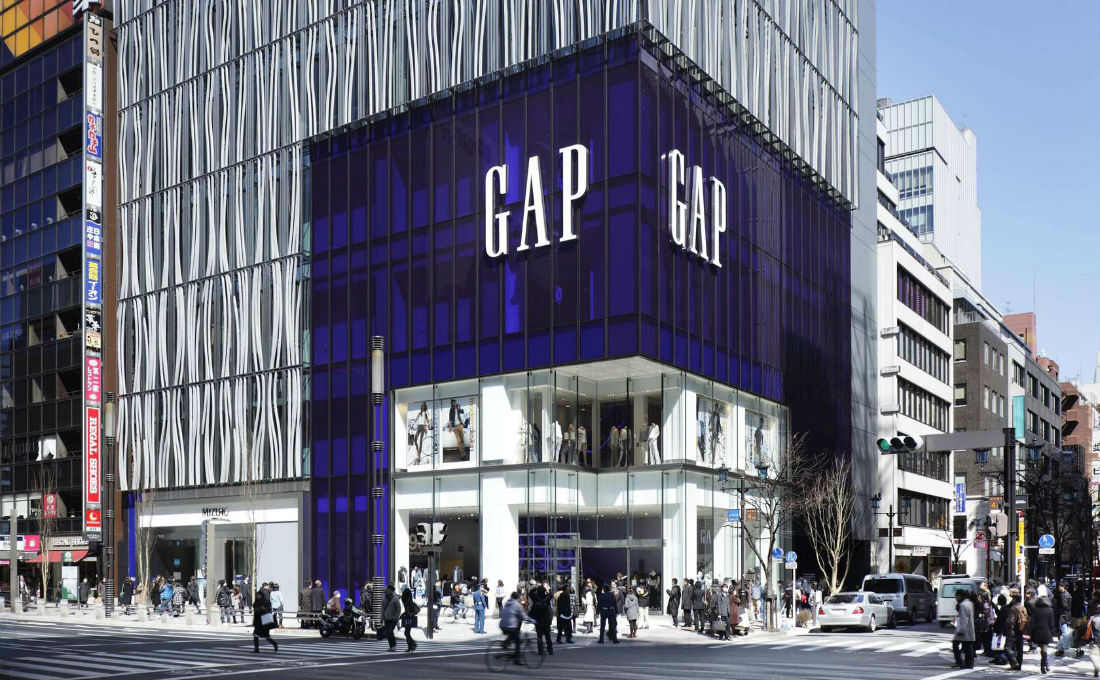 There are few people in the world who wouldn't recognise Gap's brands on the high street, in shopping malls, or on the Internet. However, the fashion and retail giant is facing up to major issues thanks to the ever-growing fast fashion trends.
With consumers moving their shopping habits away from in-store purchasing, Gap may seek bankruptcy in order to help it transform its business model and organisational set up.
Sinking Sales
All three of Gap's major brands – Gap, Old Navy and Banana Republic – have seen sales decrease again in the first quarter of 2016. In April 2016, Gap sales dropped by 4 per cent, Old Navy by 10 per cent, and Banana Republic by 7 per cent.
The company is now on a run of 24 straight quarters without a growth in comparable sales, and 13 straight months of declining sales. In the face of this, Gap's shares are down by 9 per cent since the start of the year, leading many analysts to suggest that these brands still aren't learning lessons from fast fashion retailers such as H&M, Uniqlo and Zara.
Gap is yet to successfully match the design-to-shelf timelines of fast fashion, with many of its products still taking up to nine months to hit the shops. This is roughly double the length of time that it takes fast fashion trends to reach consumers on average.
Wider Impact
It's not just Gap who are suffering from the fast fashion spread. Other US-based brands, including J. Crew, Abercrombie & Fitch, have experienced a sales downturn, while traditional retail icons, such as Sears and Macy's, have both closed a number of stores this year.
In Australia, Wesfarmers Ltd, the country's biggest company by sales value, announced its worst yearly profit in two years, and looks set for its first net loss in almost 20 years. The organisation puts its decreasing sales down to the impact of fast fashion brands on its in-country discount stores.
Double-Edged Sword
However, not all is rosy in the garden for the fast fashion retailers. Uniqlo appear to be struggling to gain a foothold in the US market, opening fewer stores than anticipated, and with slower than anticipated sales.
Chief Executive, Tadashi Yanai, has gone to the USA to assess the company's strategy and to work out how to raise the brand's profile outside of major cities. The company has consistently lost money in its US operations since expanding there five years ago, but still maintains a plan to open over 100 stores in the country in the coming years.
Could this be a turning point for retail brands? Or is it just the natural progression of a business' rise and fall, just sped up in line with the increasing pace of change in trends and demands? Whichever it is, it will be interesting to see how the fashion industry changes in the coming years.
We've been keeping track of the major stories making the procurement and supply chain news this week…
Procurement "Underpaid and Unrecognised"
A new salary survey report from Next Level Purchasing Association (NLPA) has suggested that procurement professionals are being underpaid.
The Purchasing & Supply Management Salaries 2016 report has shown that average global salaries for the profession have decreased by 7.5 per cent.
This leaves the average global salary around $53,000 USD, although the average covers professionals at all organisational levels, and across six continents.
The NLPA has suggested the best way for professionals to combat this is to get themselves recognised for value contributions to their organisation.
Read more at Supply Chain Quarterly
ISM Announces Annual Awards
ISM has announced its Persons of the Year, Affiliate of the Year and Affiliates of Excellence Awards at ISM2016
The Persons of the Year Awards sit across five categories: Education; Innovation; Leadership; Marketing & Communications; and Volunteer of the Year.
The Affiliate of the Year Award, won by ISM Cleveland this year, recognises excellence in core competencies, membership growth, and professional development opportunities.
ISM Cleveland was also one of the eight affiliates recognised with Affiliate Excellence Awards, for demonstrating an awareness and distinction in their professional operations.
Read more at ISM
Oil Settles Under $50 as Supply Worries Resurface
Oil prices touched  the $50-per-barrel mark on Thursday 26 May as production outages brought a faster-than-expected recovery to an oversupplied market.
Global benchmark Brent crude oil was down 35 cents at $49.40, having earlier risen as high as $50.51 in intraday trading.
Adding to outage concerns, a source at Chevron said the producer's activities in Nigeria had been "grounded" by a militant attack, worsening a situation that had already restricted hundreds of thousands of barrels from reaching the market.
Investors will be watching next month's OPEC meeting for signs of an output hike now that oil had reached $50.
Read more at CNBC
Adidas Unveils New Robotic Factory in Germany
Adidas, the German maker of sportswear and equipment, has announced it will start marketing its first series of shoes manufactured by robots in Germany from 2017.
The company is facing rising production costs in Asia where it employs around one million workers.
It plans to open similar factories in the UK or France following a test period in the third quarter of this year.
Arch-rival Nike is also reportedly developing a robot-operated factory.
Read more at The Guardian
Hyperloop Reveals New Material for Capsules
Hyperloop, the revolutionary transportation system and brainchild of Elon Musk, has announced more details on the manufacture of their travel pods.
Vibranium, more commonly known as the material used for Captain America's shield, is the name for a new alloy created specifically for Hyperloop.
The material is made of woven carbon fiber, and the company claims it is ten times stronger and five times lighter than steel, and eight times stronger and 1.5 times lighter than aluminum.
Vibranium has also been designed to be a 'smart' material, able to relay real-time data on temperature, damage, structural integrity.
Read more at Futurism