Meet Helen Mackenzie: The self-confessed motorbike racing buff is pictured here sitting on Ian Hutchinson's Supersport bike (incidentally the only rider to win 5 races at the Isle of Mann TT,'s). Helen dreams of buying some lovely race bikes from Yamaha or Honda for a racing team!
Helen hails from Stornoway in Scotland  and is the next in our #firstmovers series. Reach out to her – here, and say howdy!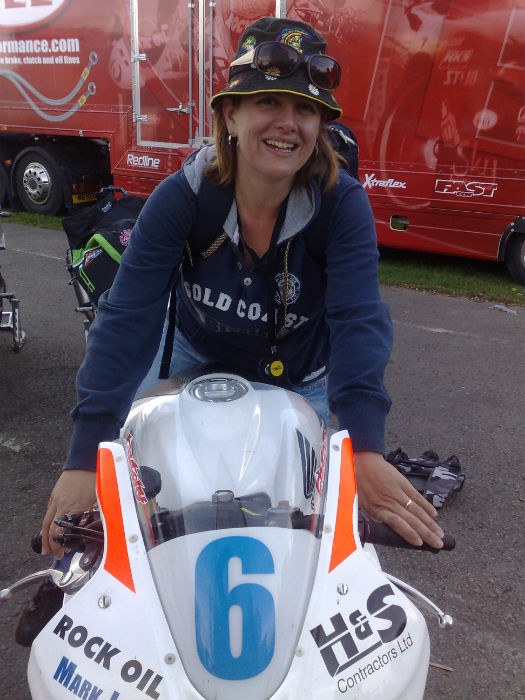 Procurious asks: What is the procurement profession like in Scotland? How do you think procurement differs as opposed to elsewhere in the world?
Helen Mackenzie: Not sure about the Scottish private sector but public procurement in Scotland is really buzzing at the moment.  The Scottish Government's just got the new Procurement Reform Act through the Parliament and so sustainable procurement is high up on our agenda.  
There's never been a better time to be in public procurement.  At last many of us are getting to take up our seat right in the heart of corporate management and decision making.  Exciting times ahead.
Procurious: Should Scotland win independence in the forthcoming referendum, how do you see your business changing/will it be affected?
Helen: I don't think there will be much difference for public procurement if Scotland votes yes.  We already have a different way of operating, different legislation etc.  
What might affect us is the whole question of whether Scotland stays in the EU and also whether we retain the pound.  To be honest I haven't decided how I'll vote yet.  I'll have to get off the fence soon though! 
Procurious: Tell us a little bit more about your department/team (and do you envisage them getting on Procurious too?)
Helen: We're a small council in the far North West of Scotland but we're doing well in terms of procurement improvement and helping our colleagues to reduce costs and improve outcomes.  
I can see lots of public procurement people in Scotland using Procurious.  We've got a knowledge hub for Local Government but it's a bit dry.  
I think the interaction that Procurious provides will be just what those of us who can't get enough of procurement need to feed our passion and discuss ideas.
Procurious: Are you usually an early adopter? (Perhaps you've been a "first mover" with something else…) 
Helen: I must admit I have been a bit of a tail ender when it's come to social media. I finally succumbed to doing a bit of Facebook and more recently LinkedIn but Twitter has been my main place for hanging out for a few years now.  
I love motorbike racing and so like a bit of Twitter banter with fellow fans.  I was a founding member of a network called Phinkit which operated for a bit last year.  It was like Procurious in structure but more general.  I think the general nature of it was its downfall in the end.
Why did you join Procurious?/How does it differ from other social networks currently out there?
Helen: I was desperate to find somewhere to hang out with other people who love procurement but wasn't finding a lot of action on Twitter or LinkedIn.  Imagine my joy when I found Procurious!  At last a place just for buyers like me to talk about supply chains, contract management, invitations to tender and community benefit clauses.
You also get the feeling that people are actually listening to what's being said.  What I've found with other networks like LinkedIn is that people post things, people answer but no-one is really engaging with each other.  Just a long long list of replies that no-one's reading.  I haven't come across that yet on Procurious. 
Procurious: What are you doing to help your peers to join the network? 
Helen: I've invited people I'm connected to on LinkedIn to join.  I'll also be promoting Procurious through the Scottish Local Government Procurement Forum which I currently chair.  I'm mentioning it to anyone I know who's into procurement.  Hopefully the word is spreading.
Meet our other #firstmovers:
Harold (Hal) Good
Farshad Bahmed
Sergio Giordano
Paul Smith
Richard Allen
Happymore Mambondiani
Jannine Wood