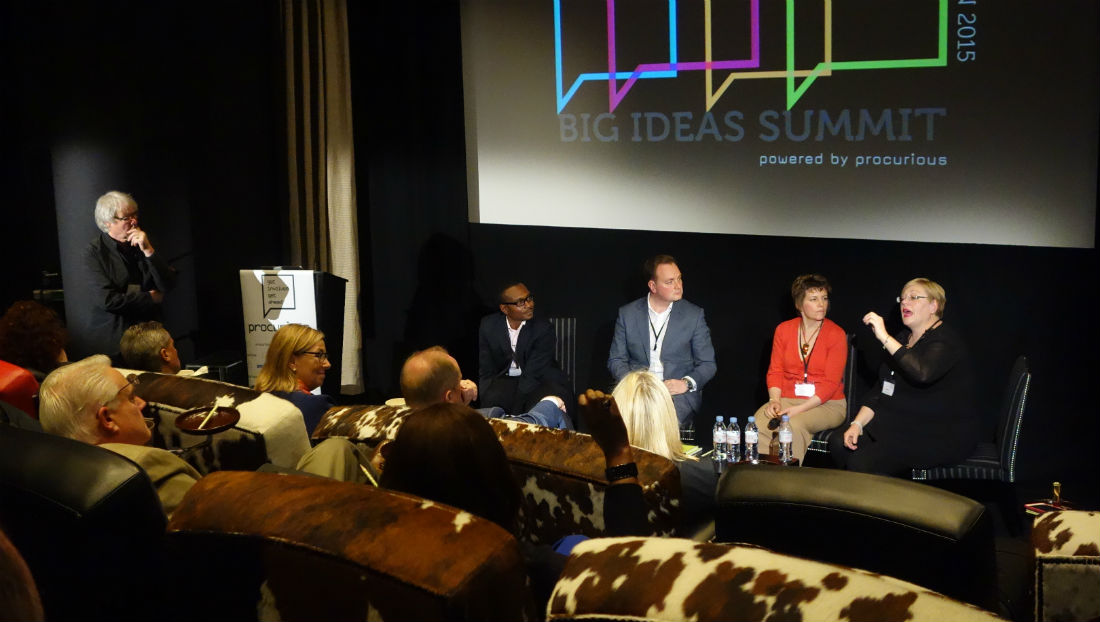 In the first of our 'Big Ideas' panel discussions Sigi Osagie, Helen MacKenzie, Andrew MacAskill and Sarah Trota took to the stage to provide their perspectives on authentic leadership, and the challenges of trekking through the procurement jungle.
The panel are asked: What is the role of the leader in reengaging the humanity?
Helen starts things off by offering a personal story taken from her experience of working as Head of Exchequer Services in local (Scottish) government.
We've been on a significant journey of change in the way we do procurement. To have a vision of where you're going, and to get the passion into the vision.
Helen likens it to adventuring through a jungle, machete in hand, clearing the way for the team in tow. There are always blockers in business, so you must find a way for your team to make things happen.
It's also important to act as the cheerleader – she gives the great example of winning awards, and the rallying effect this has on the team. Recognition shining through.
Andrew says that it's always about setting the belief. When you meet C-Suite people from other organisations they are more excited about the potential.
Sarah reckons it's more of a brand challenge. How is this achieved? By working collaboratively and changing perceptions (for instance, HR is notorious for having a bad image).
Jules: There's a belief in the IT industry that they are under-valued.
So why is it so hard to get collaboration across the board?
According to Sigi, the one industry that never has this victimhood mindset is Finance. Dollars is the value of business – even if you're in the charity or public sector we still measure in dollars.
This opinion proves controversial: should Finance be the poster-child, and is it not the one business function that's first to fail? (Indeed it is usually the first function to be held accountable).
Sigi says procurement has always faced an uphill struggle. There's legacy challenges. However it has come a long way – but progress tends to be seen first in large businesses.
In a parting statement Sigi ends on a philosophical note, claiming we're not here to do procurement, we're here to do business.