Signing-up to Procurious to grow your professional network is all well and good, but what happens when you change your contact details, land a new role, or leave a company?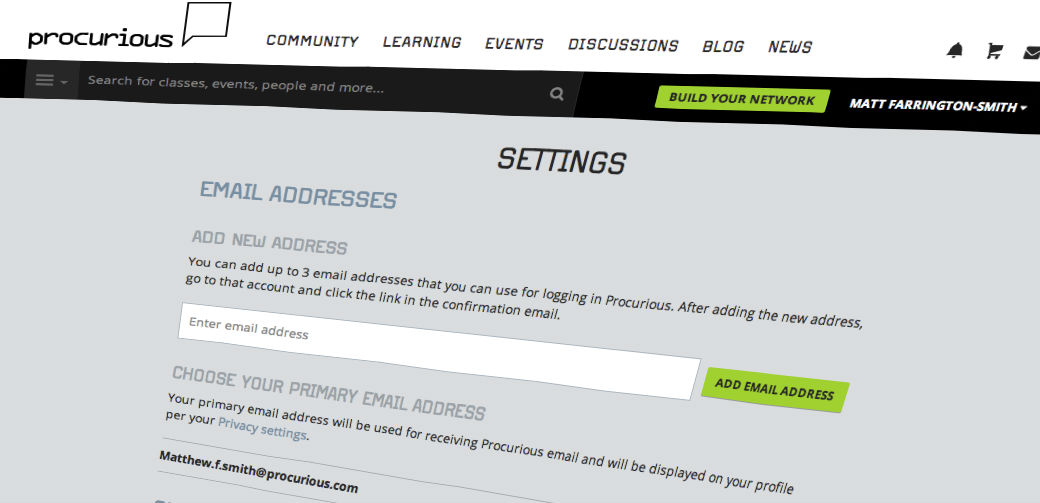 In all of the above cases you'll be required to jettison your email address of old, and adopt a new digital moniker. Of course this means that any services, mailing lists, or websites previously accessed using these details will need to be updated with the new address. Websites are increasingly making it harder for users to change such hard-baked particulars – sure you can change your secondary email address, no problem! How about that main email, you know, the one that's tied to your account? Well slow down there pardner, that's going nowhere.
An email impasse
Well it seems we have arrived at something of an impasse… Happily this isn't the case if you're a Procurious user! You can now associate up to three different email addresses with your Procurious account
The Settings page is your new best friend, here you can add two additional email addresses, and even specify which one you want as your default. Just hit 'Settings' from the drop-down menu next to your name.
Enter a new email address in the box provided, and click 'Add email address' to confirm the change.
Keep tabs on your inbox, as you'll need to open an email to confirm the new address.
Choose your primary email address
Your primary (or default) address is the one you'll use to log into Procurious, and it'll also be the place where you'll receive any mail relating to your Procurious account.
If you have more than one email address on file you can specify the one you wish to use as your primary by clicking the 'Make this address primary' option.
Don't worry, additional email addresses won't be visible to other Procurious members.