Being swept off your feet by a new partner is something most of us have experienced – but how do you know that you've found the perfect match when it comes to your tech solution?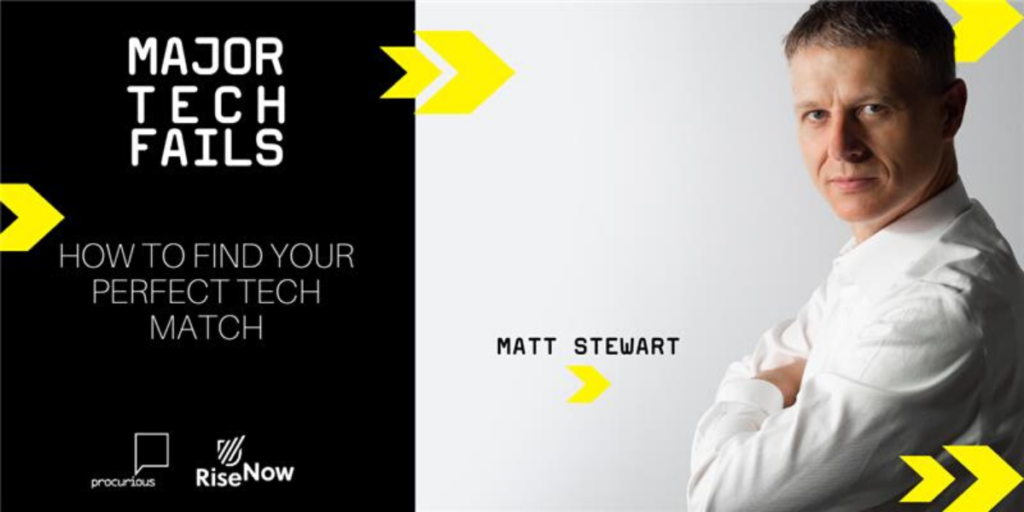 ---
Choosing a new tech solution isn't a task you do every day. It's no doubt something that you've considered for a while. You've attended all the conferences, read all of the analyst's reviews, talked to your peers, and dreamed about what life would be like with your new tech. You're keen to modernise; to give your organisation the functionality that it needs. And with so many solutions out there, surely it won't be hard to find the one that's right for you.
But finding that perfect match is not as easy as it seems. All the solutions can start to look the same after a while and you are looking for more than just a pretty face. You are looking for a long-term relationship that could last for half a decade or more. Get it right and it's a match made in heaven; get it wrong and you could have a major tech fail on your hands.
So how can you navigate that selection process and find yourself a tech solution that's a perfect match?
1. Don't Settle
Finding your right partner should be based on thinking about what's right for you. Be careful of jumping in too fast just because you heard your preferred solution worked for someone else. Go deeper and look for solutions that address your industry's biggest challenges. Also identify what makes your organisation unique and make sure your new tech addresses your organisation's uniqueness.
This is even more important today due to the cloud. You see, in the past, on-premises software could be customised to do almost anything you needed it to, as long as you had the time, money, and resources to get it done. When you find gaps in cloud-based solutions, you have to apply for a feature request and hope they prioritise your request or end up having to settle for an inferior solution.
This is why identifying those gaps up front before you finalise your selection is so important. This is a primary reason on why we are such big proponents of our clients completing a Phase 0 (or a Success Blueprint as we call it) prior to making their final selection if they consider their environment complex.
You can also start to narrow down your list by looking at solutions that are going deep and specialising in your industry. You may also start by using tools like the Gartner magic quadrant to focus your search to the "Leaders." Then go beyond that initial approach to refine your search.
Think about what the new world's going to be like with your perfect match tech provider, but don't settle until you find the solution that is right for you.
2. Questions are your ally
If you've ever been approached by a tech solution provider, or engaged them as part of a software selection, you're sure to have experienced the full 'sales pitch' approach: tales of brand-new, cutting-edge software that is designed to solve any and every problem; presentations filled with all that sales speak.
Make sure you don't fall prey to traditional "sales speak" and you seek the underlying truth. The only way you will find what that truth is, is by asking the right questions. We go in greater detail on the top 5 most common and what questions you can ask to find the truth in our Major Tech Fails, sales speak blog and podcast.
When looking at new tech solutions, there's no such thing as a silly question. When you start, go in armed with a list of questions with a score card that you can use for each vendor. It is important to follow a proven process to evaluate each vendor so they are treated fairly and asked the same questions. You will know you have the right questions if key points of differentiation between vendors are identified and called out.
3. Are you compatible?
Unless you are starting a business from scratch or taking a scorched-earth approach to tech solutions, you are going to have legacy systems that will need to be integrated with the new one. Don't think that starting a new life with your perfect match tech solution is going to be easy. Compatibility will be something you need to work on.
At RiseNow we take a systematic approach to identifying compatibility risks so that the challenges, use cases, resources, level of effort, timelines, etc. are known up front before the implementation project starts to eliminate any potential surprises. As we see, these surprises are what typically cause projects to go over budget, not finish on time and miss expected results.
But these surprises can be avoided. For example, we had a client a couple years ago that was in search of a new S2P system. They were in talks with all the typical S2P system providers, but they knew their issues were bigger than what technology alone could solve. They were not sure how best to address these, but were willing to engage us prior to the implementation kick-off to resolve those issues so they didn't become problems during the project. We did just that which allowed us to finish the implementation in 7 months and deliver on the key success criteria that got the project approved. Had we skipped their engagement before the project, I am certain the project would have gone over budget, not finished on time and would have missed the objectives.
Are you seeing a pattern now?
4. Beware of the people pleasers
If something looks and sounds too good to be true, it usually is. When a tech solution provider tells you that their system does everything you want and more, it should give you pause. The people pleasers are after your business and some will say almost anything they think will work to convince you.
No tech solution will be 100% perfect. Perfect would be someone willing to say no to you, but also willing to work with you to minimise the no's, identify viable alternatives or solutions that work for you, and focus on ways to maximise your value, especially in this economic climate. You see, there is no magic bullet when it comes to tech solutions, so if someone comes offering one, you are probably better off looking elsewhere.
If not, we have seen organisations forced to settle and then trade off functionality and adoption of suppliers/end users because it is now too late to reconsider. No one has an unlimited budget for tech and, like all relationships, there's going to need to be some give and take.
5. In for the long haul?
Finally, the key part to finding a perfect partner is knowing they are willing to go the distance with you and they're in it for the long haul. For procurement tech, a partnership could be anywhere from 2 years to 10, so it's critical that the tech partner also sees the relationship in the same way as you do. We call this "organisational alignment." Do their values align with yours? Are they looking for a sale, or do they truly want to partner with you? How committed are they to your industry? Do you have access to their executive team in case you run into problems?
Are they willing to put in the work to make the partnership a success? Will they be open to questions, discussions and problem-solving to build to success? If you and your team feel aligned, then your perfect partner may be closer than you think.
If you're looking for the perfect partner in tech, there are plenty of pitfalls to avoid. Not every supplier is going to be right for you and it might take some time to find the perfect match for your business.
The good news is that there are tech suppliers who want the same thing: a successful tech implementation set up to succeed and not to fail, by being clear what you want from the outset, asking the right questions and being open minded to improving your processes when required to better fit your perfect tech match.
To go deeper on how to find your perfect tech match, download our e-book 'How To Select Source-To-Pay & Procure-To-Pay Systems That Deliver Results' and tune in to our series 'Major Tech Fails.'