Today we're going back to basics and revisiting one of the most popular areas on Procurious – namely, Discussions.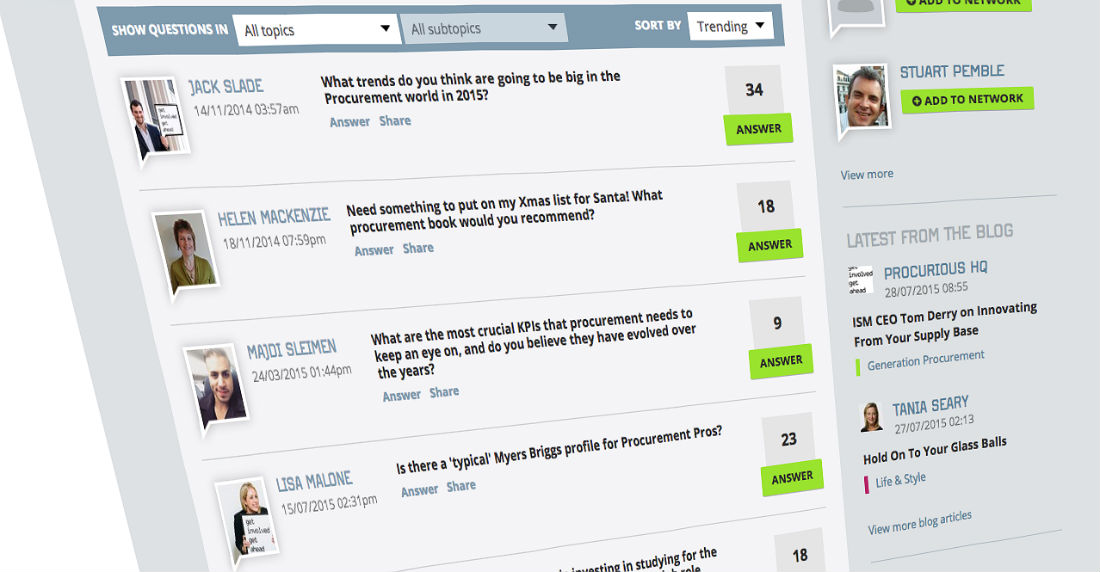 At the time of writing over 400 discussion topics have been started on the site, with a colossal 1700+ answers from the Procurious community.
For those yet to dip their toes into the Discussion waters we present a few quick tips so you can start creating topics with ease.
Select a Topic
First thing's first, begin by selecting a topic that best represents your chosen Discussion area. We've provided quite a broad selection to choose from, including: Technology, Sustainability, Supply Chain, Professional Development, Procurement, Industry Groups,  Indirect and Direct Categories, Big Ideas and Lifestyle.
Select a Subtopic
Depending on your topic of choice you'll be presented with corresponding subtopic options here.
Now comes the important part…
Look to the 'Ask a question or start a discussion' field. We recommend beginning your question here, but limit it to a maximum of 20 words. Why? We display the very latest Discussions on the Procurious Community page – you can see an example here.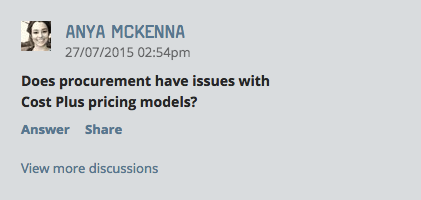 Because of this, resist the urge to pop a URL in here. Instead pop it in the optional 'Add more details' section if you feel a URL is relevant to your Discussion.
Please note that this isn't a place to post 'sales-ey' or promotional messages.Your job here is to encourage lively and thought provoking debate.
Then all that's left to do is hit 'Post' and your Discussion will be live and appear on Procurious.
How to contribute to a Discussion
Once you've headed to the Discussions page and chosen a Discussion that takes your fancy, click 'Answer' to add your reply and don't forget to hit 'Add Answer' when done.
How to upvote a reply
Whenever you reply to a Discussion, other Procurious members can choose to 'upvote' you. Answers/replies that are deemed the most worthy by your fellow community members will likely get the most votes and appear at the top of the Discussion. No pressure…
Obviously please refrain from openly abusing the platform or fellow members – we rely on you (the community) to report any inappropriate posts or sales pitches, which neatly takes us too…
Reporting a Discussion
You can choose to report a Discussion topic or individual reply by clicking the 'Report' prompt located next to the offending item.
Share a Discussion
Want to encourage more Procurious members to weigh in? Just click on 'Share' to promote the Discussion topic in your Community feed.