This article is part of a series about Hugo's visit to ISM2015 in Phoenix, Arizona. Today Hugo discovers that Talk Radio and Jazz music have found a home on the exhibition floor…
So, it turns out that it does rain in Phoenix after all. The storm started while I was trundling through the city on the light rail to my hotel just north of downtown, and was at its heaviest by the time I alighted. I didn't have a chance of staying dry and was soaked to the skin before I'd made it even half the distance. And I really do mean soaked to the skin – sopping shirt, pants, shoes, socks, even the papers in my pocket turned into a pulpy mess. I hurried on, praying that my bag would keep the water from reaching my laptop (incredibly, it did – thanks Crumpler), and sloshed my way into the hotel foyer to be greeted by gales of laughter from the staff behind the front desk. "Man, I'd hate to feel the way you look," said one wise-cracking security guard.
Anyway. Dry and warm now, and ready to write. The first thing I noticed when I walked into the conference centre this morning was a jazz band in full swing, just like the conference itself. As expected, the crowd was much thicker than yesterday, the stairways and escalators jammed with a slow-moving mass of people. I visited the press room and met some lovely media experts, namely Mike Scott of MCCI Integrated Marketing, followed by Jennifer Shore of ThomasNet and Erin Vadala, Sadie Smith and Dawn Ringel of Warner Communications. To my foreigner's ears, I thought Dawn introduced herself as "Don" but it's just those pesky differences in accent again (I'd pronounce it "Dorn"). Don/Dawn invited me to two exciting press conferences (more information to come soon) and I walked out feeling I now had plenty of support and a home base at the conference.
Walking the exhibit hall floor
Downstairs, the wraps had come off the exhibit hall and delegates were pouring through the doors. I spent every spare minute today wandering around the hall, overwhelmed at first by no fewer than 120 exhibitors showing their products and services. I found my way to the pile of bagels and huge vats of Starbucks coffee at the centre of the floor to fortify myself before making my way through the aisles in a methodical manner.
There is such a wealth of information to be found at these exhibitions and I quickly gave up trying to collect all the documents and samples on offer. Some of these companies are offering similar products and competing for the delegates' business, but one of the first things I noticed was the huge range of services on offer. From travel management to security services, ERP systems to research offerings, credit and staffing agencies, fleet management, universities, media companies, risk management solutions and more. I came to a stop at the booth belonging to PADT Inc. (Phoenix Analysis and Design Technologies), where I goggled at the 3D printer like a country bumpkin seeing his first escalator. Eric Miller, a 3D printing guru, had a rapidly-growing pile of plastic gizmos sitting on the counter that the machine was churning out – little ISM2015 badges, plastic gears and something that looked a bit like a Rubik's Cube. I decided then and there that I would attend Eric's session that morning to try to understand a little more about the technology.
I'd noticed a couple of middle-aged gentlemen wandering around in gaudy yellow jackets, black shirts and yellow ties yesterday, and discovered them sitting under a sign for "Manufacturing Talk Radio" in the middle of a live broadcast. They were interviewing one of the exhibitors who was eager to get the word out about his company, asking him questions in that deep, booming voice you only hear from radio folk who've spent decades talking into a microphone.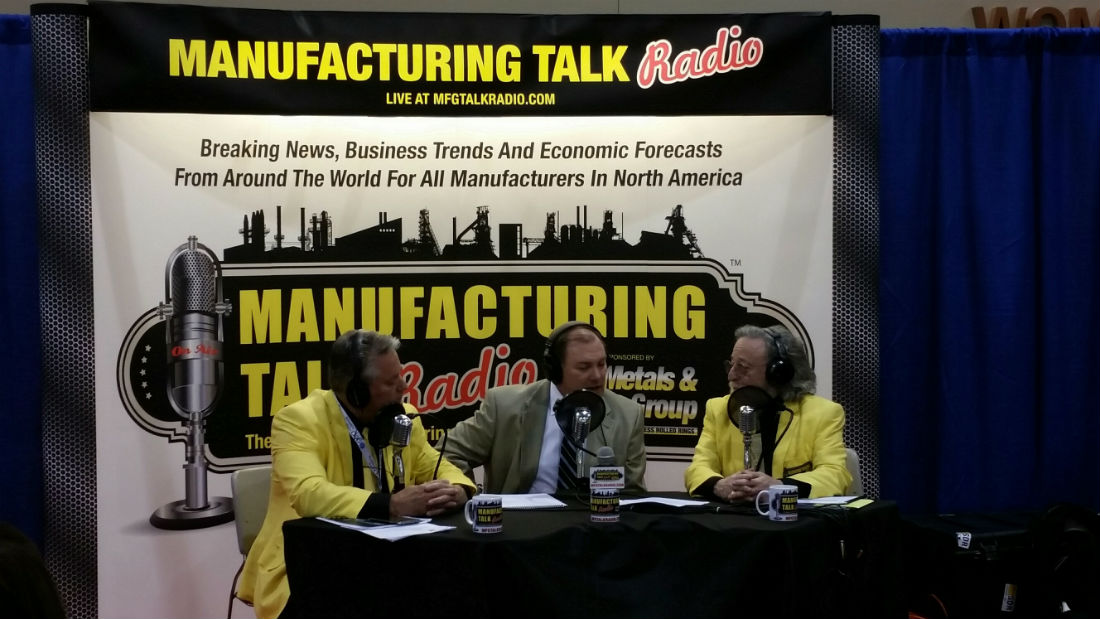 As I walked past the displays, the exhibitors would catch my attention and wave me over to tell me about what they do and what's on offer. There are so many companies here, most of which I'd never heard of back home apart from the very biggest players. I was particularly impressed by a demonstration given by Kristin Carty of ThomasNet, a very famous name in US procurement. ThomasNet is the modern incarnation of Thomas' Register of American Manufacturers, a 34-volume buying guide offering sourcing information for thousands of products. It was first published in 1898, meaning that my friendly host Kirsty could point with confidence to 117 years of sourcing and supplier discover knowledge passed down through her organisation. It's lucky they've gone digital since the nineteenth century because ThomasNet now has 700,000 US and Canadian suppliers in its database, split into 60,000 categories. The magic is in the search tool, where Kirsty showed me how to qualify suppliers by location, ownership type (diversity) and quality certifications. Each supplier has a detailed information pack available at the click of a button, including product and capability catalogues, line cards, 2D and 3D CAD drawings, case studies, white papers, photos, videos, news releases, key contacts, brands distributed or manufactured, financial information and more. It's free to use and it's in suppliers' best interests to be on the ThomasNet database and to provide as much supplementary information as possible to help buyers make their choice. I'll be meeting with ThomasNet again tomorrow as they're one of the sponsors and key drivers of the "30 Under 30 Rising Supply Chain Stars" initiative – but I'll save that for another blog.
As I hurried off to the 3D printing conference session, I was again struck by the buzz in the hall. All around me, people were networking, chatting and laughing, yet underneath the friendly atmosphere I was aware that the exhibitors were locking in some major agreements worth untold amounts with those delegates who had the authority to make a deal on the spot. For some, the exhibit hall floor is the focal point and the major reason for attending the conference, with all of the educative sessions an added bonus, while others may see things the other way around.
Discover more about the Institute for Supply Management (ISM)
Hugo works for The Faculty in Melbourne