When time is money, making sure you're spending it on what matters is a key metric to profitability.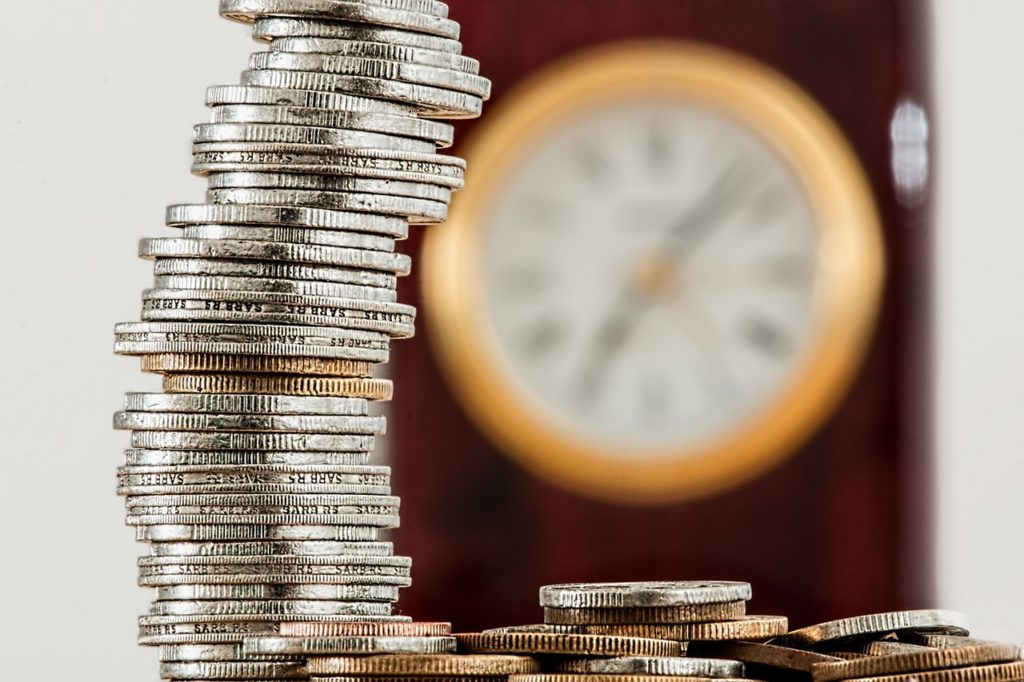 Do you know how much time you're spending on certain tasks? Do you know how your teams are spending their work day? And more importantly, do you know how your finance teams are spending their time?
Where Does Time Go?
APQC, a Texas-based research firm, recently conducted a study of some 832 companies' finance departments. Using data from APQC's Open Standards Benchmarking database, they found out what finance teams really get up to at work.
Things like transaction processing, decision support and management activities were all looked at as part of the study and APQC found that no matter how big or small the company was, roughly half of finance teams' time was spent on transaction processing. Half.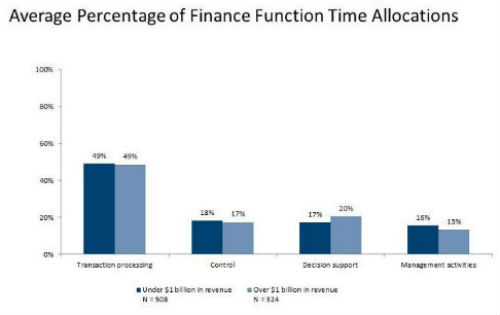 Source APQC
In plain English, this means highly paid finance staff spend the time equivalent to Monday AM through to lunchtime on Wednesday making sure invoices are being processed, bills are getting paid and fixed assets are accounted for.
Shifting the Balance
Now, ask a CEO what he'd like to see his finance team doing and he will tell you he'd like them delivering fast, reliable information about the economic implications of specific tactical business moves. When the year is halfway through and performance needs improving, a CEO wants to know the monetary impact of the decisions they plan to make. What the potential revenue and operational implications are when it comes to investing company resources.
When the finance team spends nearly 50 per cent of its time on transactions, plus a few more hours per week going through internal approvals and putting together financial reports, it equals not much time left to offer that critical decision support.
A finance team therefore needs to constantly juggle providing key financial information to support company growth and getting those bills paid. Reducing paperwork and minimising manual labor are an absolute must when it comes to shifting the balance.
Away from Paper-Based Methods
Based on research from bodies such as The Hackett Group, we know that just under 70 per cent of vendor invoices globally are still in paper form. That means someone within the finance department needs to manually enter all of that paper-based data into a computer based program, either straight into the accounting software, or in a spreadsheet first and then into said accounting software. This means there is a hell of a lot of paper clogging up the system, costing time and money in training, execution and management.
Further still, the software in use was generally built circa 1995 and fails to offer transparency on transactions, clarity in reporting or intuitive processes. Since the main aim here is to deal with transactions quickly, in a minimum amount of time, whilst minimising errors, having such software in place is nonsensical.
Finance departments need their working hours back to focus on their actual function in driving companies forward. Understanding costs, revenue streams and operational cost pitfalls is where their true value comes into play. Pushing paper around is a waste of time.
Be Sure to Choose Wisely
As the digital trend has been making its way into B2B (finally), larger companies have pushed for greater finance efficiency and invested resources into implementing digital tools to facilitate electronic information flows. Merely investing in something branded "cloud" though doesn't mean it will solve all problems.
The choice needs to be made wisely. It needs to be made with the end user in mind. If it seems too complicated, it IS too complicated. And that means your staff won't use it, or certainly won't use it properly. You will be buying an Aston Martin, and it will be driven like a Ford.
Smart companies able to recognise the importance of user focused tech will instantly reduce the time spent managing transactions. This will enable them to direct finance talent away from repetitive tasks and back towards company growth.
What could your finance team do with more time?