More than half a billion dollars was wiped from Samsung SDI's market capitalisation this week in response to a single tweet from Elon Musk about Tesla's supply chain.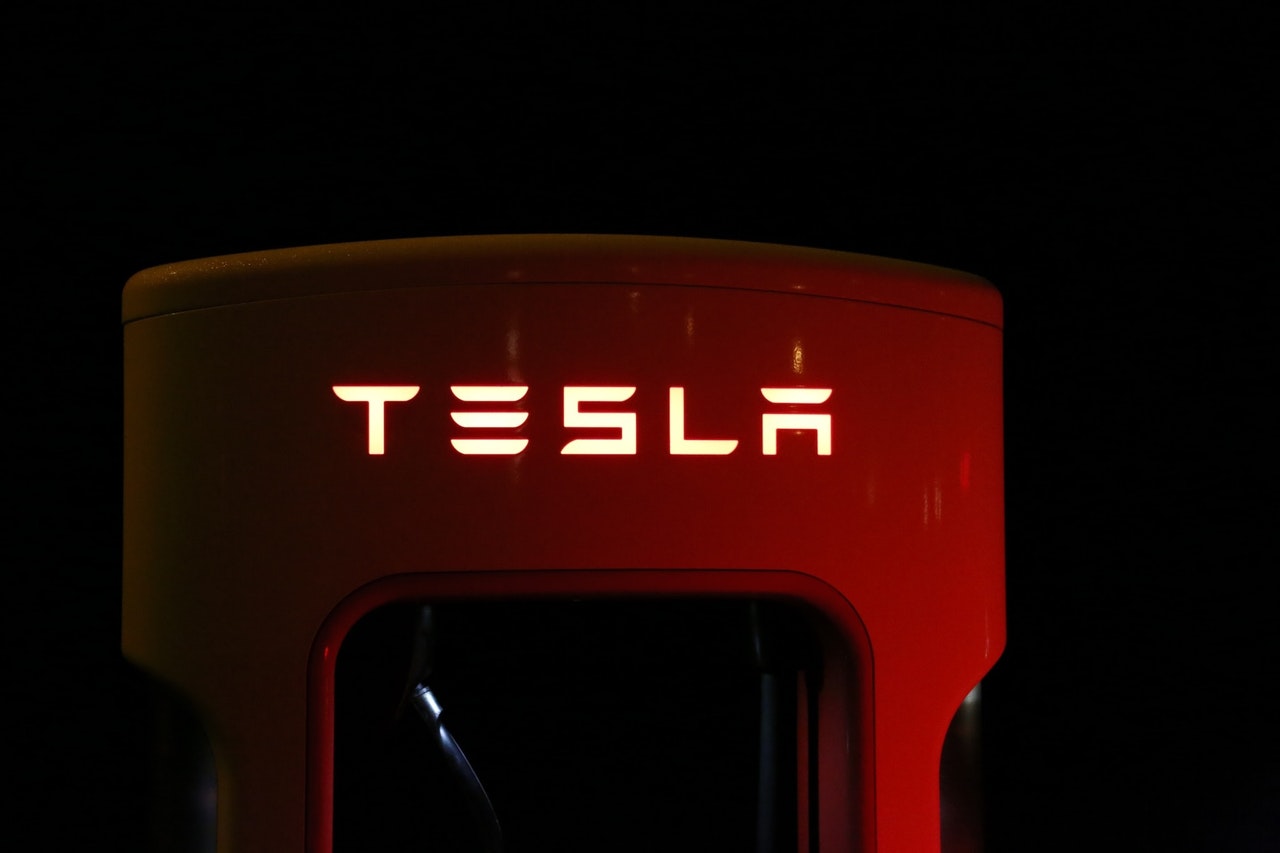 Rumours were swirling earlier this week about Tesla's supply chain for its lithium-ion battery packs. Investors believed that the official supplier, Panasonic, may not be able to produce enough batteries for the much-anticipated Model 3, and that Samsung SDI (Samsung's battery and display division) would be brought in to meet production targets.
Elon Musk set the record straight on Tuesday with the following tweet, clarifying that the arrangement with Panasonic is exclusive.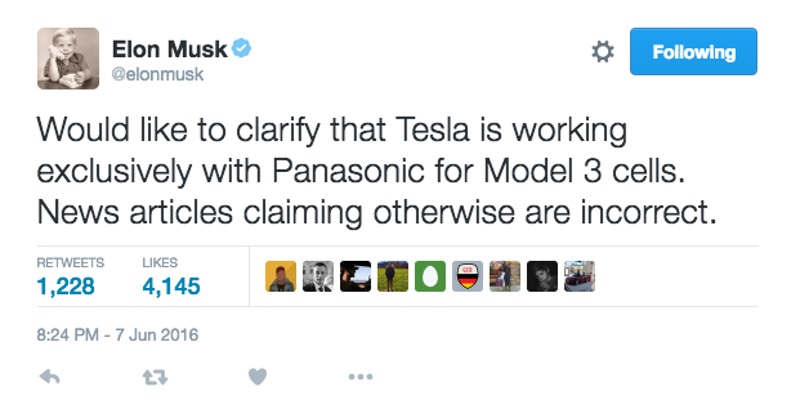 The effect of Musk's tweet was immense – Samsung SDI's shares plummeted by US$580 million (or 8%) on Wednesday, while Panasonic added $800 million to its market value on the same day.
Tesla's Model 3 is slated to be a comparably affordable electric car with a range of at least 215 miles (346 km) per charge. At $35,000, it's Tesla's first step away from the luxury space into a price range affordable by mid-level buyers. It's expected to be an enormous success, leading to significant interest from investors who follow Tesla news very closely indeed. This has led to a situation where a single tweet from Musk can cause huge disruptions in the share market, comparable to the shockwaves caused when Apple makes announcements about its supply chain.
A similar situation occurred in April when shares for Taiwan's Hota Industrial Manufacturing, Tesla's sole supplier of gearboxes, plunged rapidly as news broke that Tesla may be looking for a second supply source.
Stock market shocks are compounded by Wall Street firms' usage of high-frequency trading, where computers use algorithms to comb through the internet to read news items (including tweets), executing thousands or millions of small trades per second based on that information.
Gizmodo's Matt Novak has observed that if Musk's Twitter account has so much power, the consequences of a hacking could be disastrous. "We hope he has a strong password and two-factor authentication turned on … If Musk ever got hacked, it could send markets into a minor tailspin." Novak gave the example of a fake tweet that caused a $130 billion stock market crash in 2013, when hackers used the Associated Press Twitter account to announce that Barack Obama had been injured in an explosion at the White House.
Musk has a longstanding partnership with Panasonic, which invested $30 million in Tesla in 2010. This investment is now estimated to be worth more than $300 million, and Panasonic holds a supply agreement for 1.8 billion cells through to 2017 for Tesla's luxury Models S and X. Panasonic is also playing a significant role in Tesla's Gigafactory in Nevada, which will supply 500,000 Tesla cars per year with lithium-ion battery packs by 2020.
Tesla has since tweeted that Samsung may still be involved in making Tesla Energy products, namely its Powerwall and Powerpacks (stationary batteries used in homes). 
We've been keeping track of the major stories making the procurement and supply chain news this week…
Amazon's massive investment in logistics
Amazon continues to make aggressive capital investments, with some observers claiming the company is positioning itself to take over the last mile of delivery from UPS, FedEx and the U.S. Postal Service.
Recently, Amazon purchased an air cargo network previously owned by DHL, purchased thousands of 53-foot trailers, and is leasing 20 Boeing 767s at a cost of $300,000 per month.
The organisation has built over 100 global fulfilment centres between 2009 and 2016, with 125 million square feet of global warehousing. The warehouses themselves contain 30,000 Kiva Robots (acquired by Amazon for $775 million).
Amazon's founder and CEO Jeff Bezos said his company's goal is to "heavily supplement and support", rather than take over, peak season fulfilment.
Read more: https://logisticsviewpoints.com/2016/06/06/does-amazon-have-a-first-mover-advantage-in-logistics/
 World Bank to launch modernised procurement framework
The World Bank will launch a new procurement policy on July 1, 2016, modernising an outdated framework that has remained unchanged for decades.
Moving away from a rules-based procurement system to one that focuses on performance and achieving development goals, the new framework allows for much greater flexibility.
Changes in the new framework include a sharper focus on achieving value-for-money, an increased number of procurement methods and approaches, greater streamlining, more attention to contract management, and enhanced support for borrowers in low-capacity environments.
Read more: http://blogs.worldbank.org/governance/imminent-transformation-world-bank-s-procurement-framework
 Johnson & Johnson: Controls need to be in place when buying digital ad placements
Johnson & Johnson was recently alerted by shocked customers that one of their baby product ads was played before a video about paedophilia, leading senior digital marketing strategic Louisa Thraves to comment that more responsibility needs to be taken. The issue is caused by automated keyword matching, such as "baby" or "children", and can be remedied by creating a watch-list of topics to avoid being paired with.
Thraves used cold and flu remedy Codrol as an example of a brand that could be damaged by erroneous media placements, which she said could never be associated with alcohol in an advertising environment.
Marketing procurement professionals must ensure they know where and when digital ads will be played, and what other content they will be associated with.
Read more: https://mumbrella.com.au/jj-marketer-says-clients-need-take-responsibility-brand-safety-series-shocking-ad-placements-372929