Organisations that don't increase their procurement agility and harness the power of new technologies face obsolescence in the next few years.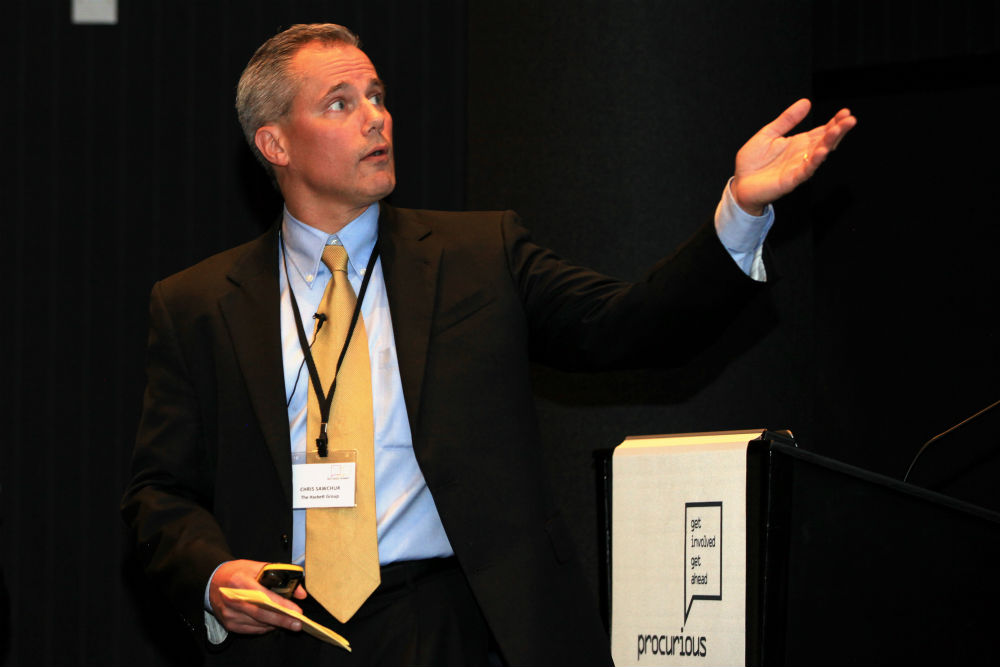 Chris Sawchuk, fresh from Hackett's own Best Practice Conference, took a look at what agility means, and why procurement needs to be more agile.
The Hackett Group believes agility is the defining trait of the procurement team of today and the future. More agile functions will be better positioned to respond to complex business problems, and adapt to the fast-changing business environment in which procurement exists.
As easy as it might be to talk about being more agile, putting it into practice requires leveraging of new tools and technologies, as well as ensuring that the procurement teams have the skills they require to carry out these strategies.
Growing Business Uncertainty
In 2016, companies are expecting to see business uncertainly and risk increase, along with greater struggles to grow revenue. So the pressure to reduce costs is increasing. At the same time, procurement leaders need to balance this with other, more strategic, priorities, like becoming a better strategic business partner.
Chris discussed how a confluence of high volatility, technology-led innovation, and hyper-competitive market conditions, has accelerated the rate of change in business to unprecedented levels. Agility is the key to success in this environment.
However, for many companies, agility just hasn't been a priority in the past. Chris made the point that because agility isn't an area that many CPOs focus on, procurement's maturity in the area is only low to medium, leaving the procurement teams a step behind the rest of the organisation.
It's not about a lack of understanding. Organisations are certainly talking about agility, but procurement either isn't aligned with this strategy, or there's a delay in alignment. People need to have the right mindset, and up until now, procurement hasn't had this. And as we've said, a more uncertain environment means that procurement needs to be more agile. It's time for procurement to catch up.
Role of Technology
Chris went on to talk about the concepts surrounding procurement agility. These functions have strategies in place to take advantage of technologies like the Cloud, and the Internet of Things, and are using other technology, like bots, to push their organisation on.
Procurement leaders are realising that higher-quality information can help them drive greater business value. Big data has been a game changer when it comes to customer analytics, offering an unprecedented ability to quickly model massive volumes of structured and unstructured data from multiple sources. But procurement's lack of maturity in market intelligence is a significant obstacle that must be overcome.
Becoming information-driven should be a primary focus area for procurement. The function must develop the tools and skills that will allow staff to apply market data and intelligence to decisions on spending and sourcing strategies. Creating deep, consultative working relationships with business leaders, demands that procurement bring this valuable expertise to the table.
Chris ended by outlining a path for procurement leaders to take in order to understand their department's level of agility, and how to increase this agility in the future:
Apply the agility test to your own service delivery model – determine where the gaps are and how it needs to change to support procurement's evolving role.
Take an honest inventory of procurement's identity and culture – Is it an optimiser or an innovator? Is it operating seamlessly across cultural and geographical boundaries? Refresh recruiting, hiring and training with the idea that chaos is the new normal.
Even for non-regulated businesses, risk forecasting and planning is a hallmark of agility – Evaluate your current risk management program not only for depth but speed and agility. Benchmark cycle times to strike the right balance.
Invest in predictive capabilities, pilot emerging technology – Work towards expanding single function supplier networks into interconnected business communities.
Consider outsourcing providers to help manage tail spend – Model the ROI on efficiency gains and compliance versus savings.
The message was clear – it's critical for procurement to become more agile to avoid potential obsolescence in organisations. As Chris concluded, it's not the strongest that survive, it's not the fittest, but the most agile and adaptable.