From car marque to bank brand…
A decision to lunch in one of Cincinnati's most historic suburbs while on a buyer training mission could have cost Daniel Filipovic more than just the bill.
He and a couple of colleagues hadn't realised that the restaurant they'd agreed upon was located in one of the most dangerous suburbs in the city.
"No sooner had we parked the car and got out, I was being complimented about how great my jacket looked by a couple of the locals – and not in the friendly sense. Needless to say we make a brisk walk back to the car and hastily made our way back to the hotel, thankfully still my jacket and myself intact," Daniel says.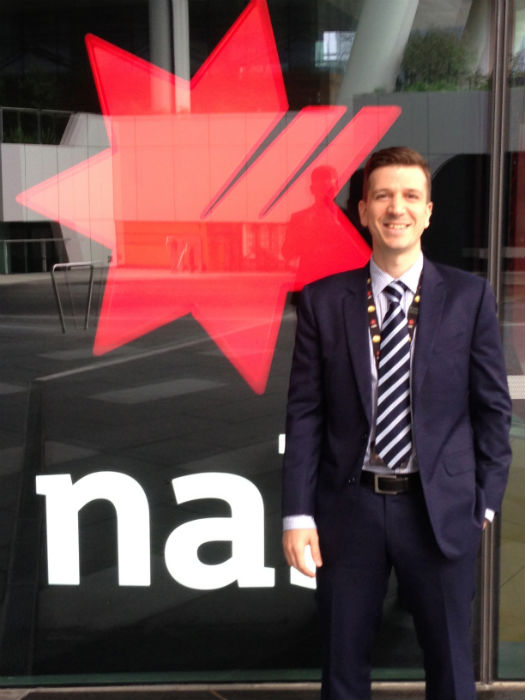 "Really, we should have paid more attention to the abandoned buildings and bonfires prior to getting out of the car!"
It was quite an eye-opening experience for the Melburnian, who has a double degree in Commerce & Arts, with majors in Electronic Commerce and Public Relations from Deakin University.
"Although I'm not sure how much actual study I did during those degrees, those undergrad days were quite a blur, to say the least."
After college, he started his career in engineering support roles, and eventually an account executive role, where he worked alongside procurement specialists.
An opportunity opened up to join the purchasing division at Toyota Australia as a buyer, and he grabbed it with both hands. He recalls flying out to Japan to present on Toyota's transformation activity with colleagues as a major highlight for him. He's been in the profession for seven years now.
"What I love about procurement is dealing with people first and foremost, being a direct link between the organisation and its key suppliers and building and maintaining long-lasting relationships.
"More specifically, I enjoy my role the most when procurement lead strategic sourcing activity that directly links and creates value to the organisation's overall strategic plan.
"I believe we're about creating value both internally and externally with our supply chain and getting the best return on investment. This may or may not be necessarily have to do with lowest cost, as some believe.
"As a profession, we have an active part to play in educating our suppliers through knowledge sharing, such as local and global benchmarking activity to ensure they're aware what is best practice and why, to enable them to continually improve."
The young father of two also runs an electronic music label with some friends and DJs live on radio, which he's been doing since university and remains passionate about.