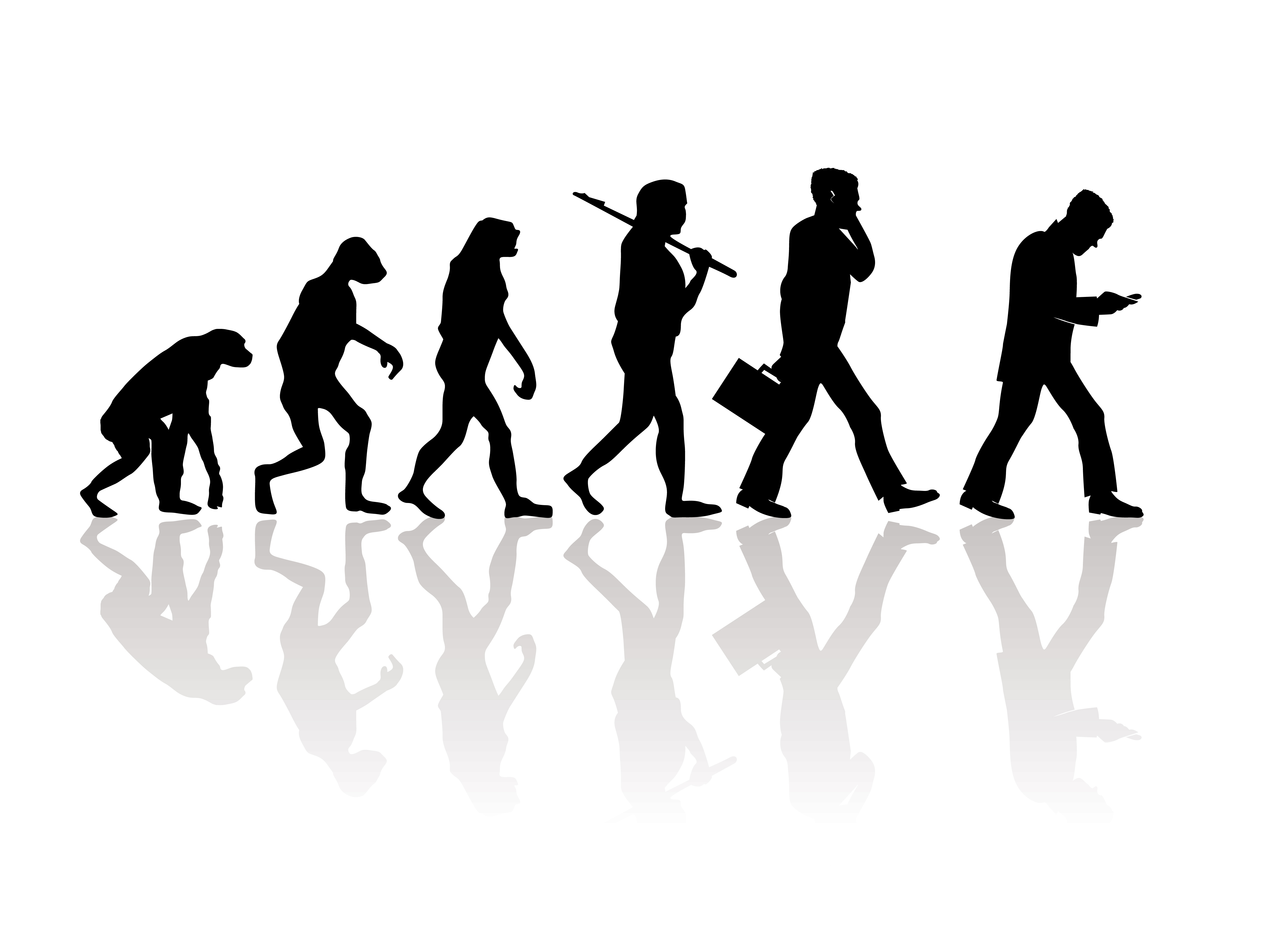 In a January 2015 report, The Smart Cube discussed key trends in corporate procurement practices, including managing increasing procurement-related risks, establishing alliances with key suppliers, and leveraging data analytics. The report also highlighted specific trends in the market that have the potential to increase or decrease in prominence.
This article continues the conversation with a focus on several key aspects of procurement policy and practice: centralised procurement, category management, stakeholder engagement, and better implementation of total cost of ownership (TCO) as a strategic sourcing tool. 
Adoption of Centralised Procurement
Many organisations are restructuring their procurement departments to favour centralised (where both decision-making and purchasing are conducted centrally) or center-led (wherein overall policy is centralised, but some freedom is given to local departments to make sourcing decisions) sourcing of both direct and indirect categories.
As shown in Figure 1, executives participating in KPMG's July 2014 Procurement Pulse Advisory Survey foresee a shift in the structure of procurement organisations. Specifically,
53 per cent believe that the adoption of a centralised procurement policy will be common or very common in 2016, up from a 40 per cent in 2014.
57 per cent believe that a center-led policy will be common or very common in 2016, as opposed to 46 per cent in 2014.
15 per cent believe that the adoption of decentralised procurement will be common or very common in 2016, compared with 36 per cent in 2014.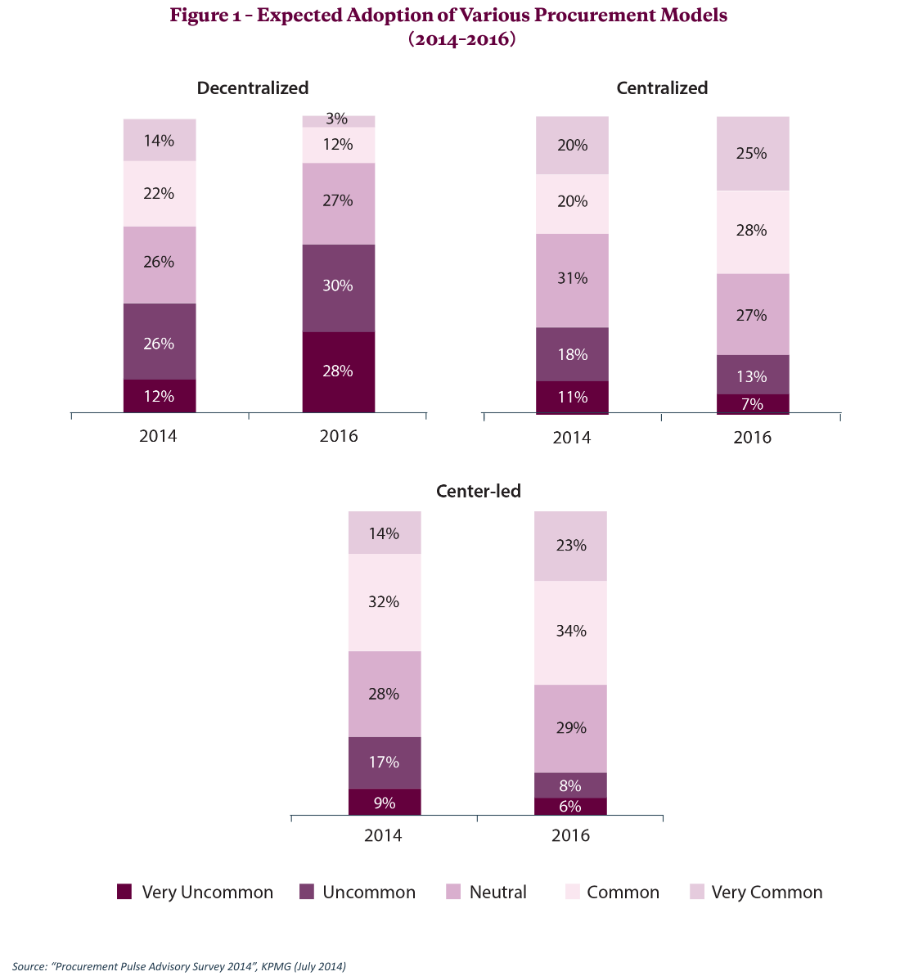 Why is Centralised Procurement Growing in Popularity?
A centralised procurement structure offers several important benefits to organisations that want to increase competitiveness and efficiency. According to a January 2014 report by APQC, organisations with centralised structures experience:
Lower costs – $0.31 for every $1,000 spent on purchases.
Shorter supplier lead times – an average of one less day.
Improved purchase order processing – a median of 10 hours for centralised structures compared with 11 hours for decentralised procurement functions.
While the numbers look promising, procurement policy must always be informed by the specific needs of each organisation. For a high-tech company, for instance, cost and efficiency of the procurement function may not be as important as the speed and flexibility offered by a decentralised structure. Yet several industries are using centralised sourcing, including these examples in global healthcare:
Teva Pharmaceuticals expects to realise a cost savings of $2 billion by 2017 by shifting from a decentralised and regionalised procurement approach to a centralised and global one.
The New York City Health and Hospitals Corporation (HHC) plans to leverage the combined purchasing power of its large network of hospitals, care facilities, and community health centers to negotiate lower input prices. (Read the press release.)
The UK's National Health Service (NHS) wants to achieve savings of ~$770 million over FY2014–FY2016 by purchasing everyday hospital supplies in bulk for all hospitals centrally.
Establishing Stakeholder Alliances
Companies are developing more innovative supplier incentives and supplier relationship models to gain competitive advantage. As per a 2012–2013 survey of CPOs conducted by Capgemini, 30 per cent of executives believe that supplier relationship management (SRM) will be their key focus area in the future.
The UK-based supermarket chain Sainsbury's has developed strong supplier relationships as a result of concerted long-term effort focused on improving service quality through collaboration suppliers, incentivising supplier innovation, and sharing best practices with suppliers. This transformation in stakeholder management practices has resulted in improved sales and profitability for the company. (Read more in the May 2013 study by State of Flux).
Leveraging Category Management
Category management is used by procurement organisations to improve both the effectiveness and efficiency of purchasing activities by restructuring sourcing around specific categories of expenditures. In fact, 57 per cent of executives in the Capgemini survey believe that the introduction or extension of category management within procurement functions is a current or future focus area.
The US federal government is one of the latest organisations to embrace category management. Their procurement function is set to be divided into 10 super categories of commonly purchased goods, including IT, transportation, travel, and professional services—categories that account for $277 billion of the total federal spend. Improved coordination of purchases and sharing of best practices across various agencies are expected to make procurement more effective for the government. (Learn more in the January 2015 White House memorandum).
Total Cost of Ownership: Gulf between Theory and Practice
A cornerstone of procurement management, TCO is the cumulative cost of owning, maintaining, and utilising a product over the course of its lifetime, and helps assess the "true" cost of a product instead of only its base cost. TCO should be a critical element of strategic sourcing; however, there seems to be a gap in the potential benefits of TCO and its actual implementation.
In the Deloitte Global CPO Survey 2014, only 24 per cent respondents planned to reduce TCO over the coming year. Meanwhile, in a survey published in October 2014 by BackerSkeie—a Norwegian executive search firm—only 21 per cent companies are leveraging TCO in an optimal manner, while 66 per cent have limited or no exposure to TCO. This simply highlights the void in the procurement capabilities of many organisations.
The Way Forward
These are only a few of the many important principles to consider when formulating one's procurement organisation and its related activities. In assessing their fit, it is important for companies to consider their internal practices and organisational maturity. They also need to study the procurement practices of companies inside and outside their industry to gain a deeper understanding of policies that they should adopt.
By Ankit Abraham Sinha, Senior Analyst, & Sidharth Sreekumar, Assistant Manager www.thesmartcube.com