Have you ever bought the Big Issue? Watched Jamie Oliver's Fifteen? Shopped at a Co-op?
These are social enterprises which are in our communities, on our high streets; and range from coffee shops and cinemas, pubs and leisure centres, to banks and bus companies.
What is a social enterprise? The simple answer is an organisation that seeks to be financially successful while creating social and/or environmental impact. Social enterprises can be structured as a for-profit or non-profit, and may take the form of a co-operative, mutual organisation, a social business, or a charity organisation.
As the diagram below indicates, what differentiates social enterprises from other businesses is that their social mission is at the core of their offering, with profits reinvested in the company or local communities.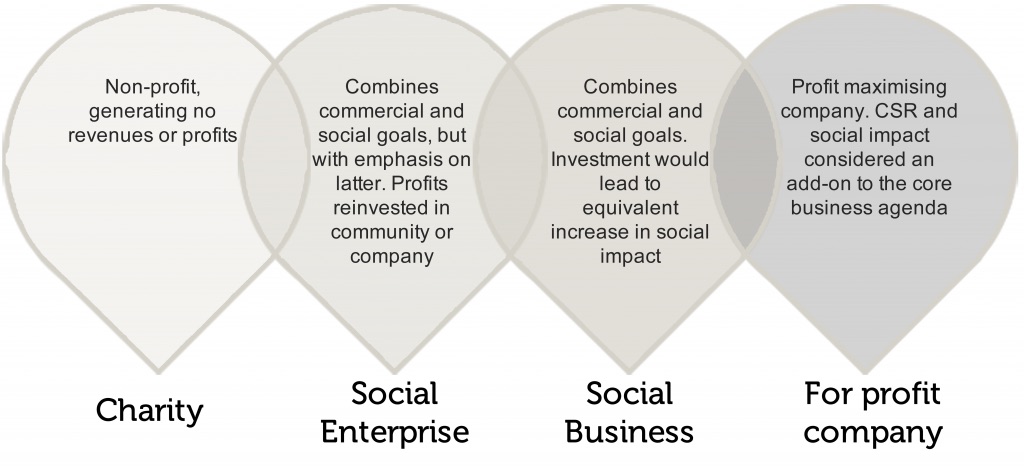 The unique structure of social enterprises means that a financial goal may not exist to benefit investors, but rather local communities and social activities.

Social Enterprises in Action
Social enterprises are an integral part of the United Kingdom. The Key Fund is the biggest UK regionally-based social investor, operating across Northern England. The Key Fund focuses on supporting disadvantaged communities, offering to invest in community projects which aim to have an impact on the local community and the environment.
Other examples of social enterprises in the UK include:
Higher Rhythm Ltd – a not-for-profit company established in 2001 to offer high quality musical, media and creative services, and  opportunities to local communities.
The Create Foundation – a debt information provider aimed at helping people get themselves out of debt and living a normal life, free from financial problems. Their social goal is to provide education on finance and making informed decisions with money.
Refurnish – a company which aims to reduce landfill waste by providing both new and pre-owned furniture and electrical goods to the community.
Social Enterprises UK is the national trade body for social enterprises. Members comprise of social enterprises, private businesses, charities and public sector organisations, who all support the vision of a world where social enterprise involvement in business is common practice.
Society Profits: Social Enterprise UK 
Peter Holbrook & Social Enterprise UK
Peter Holbrook is Chief Executive of Social Enterprise UK. Social Enterprise UK's key activities centre on informing and influencing the policy agenda, promoting the benefits of social enterprise, and undertaking research to expand the social enterprise evidence base.
Holbrook says that, through Social Enterprises UK, "we have a unique opportunity to promote an economic model that can change not only the way we do business, but also society at large."
The Guardian has highlighted Peter Holbrook's innovative, community-led approach to regeneration, tackling health inequalities, and providing public services in some of the UK's most deprived regions. This has also lead to a host of admirers, including the former prime minister, Gordon Brown, and current Prime Minister, David Cameron.
Timo Worrall & Social Impact Through Procurement Initiatives
Timo Worrall is responsible for the procurement of Facility Services at Johnson & Johnson. He is a key driver in implementing the 'Social Impact Through Procurement' initiative in the UK, and introducing social enterprises into the facilities supply base.
In 2012, the UK passed a law designed to transform the way public bodies buy services. It required all relevant organisations in England and Wales to consider how the services they commission and procure might improve the economic, social and environmental well-being of an area.
One way for companies to meet this legal obligation is by working with social enterprise suppliers. J&J choose to buy from social enterprise suppliers, as it aligns with the company's initiatives of backing supplier diversity, improves the company's reputation, and can potentially increase revenue over time.
J&J are leading the way in taking these steps, and ensuring that their procurement activities generate positive social impact. Commercial Procurement Lead at J&J, Hugh Chamberlain, stated that they are taking action and supporting people often termed "furthest from employment". The 'Social Impact through Procurement' initiative aims to create at least 150 jobs for these people by 2020.
"From a procurement perspective it means we can help people to lead happier, healthier lives simply by the way we spend money in our supply chain," Chamberlain  says. "We can provide a holistic healthcare solution and play our part in things that we wouldn't normally. It's a tremendous opportunity and it really resonates with procurement folks."
J&J's current social enterprise suppliers include film company Inside Job Productions, and grounds maintenance and facilities services supplier Blue Sky, both of which support ex-offenders. Another is Haven Products, which employs disabled people and provides contract packing, quality inspection, secure storage, printing and mailing.
Why should procurement invest in social enterprise?
An increasing number of organisations are 'buying social' and bringing social enterprises into their supply chain.  By procurement investing in buying goods and services from the social enterprise sector it will improve the company's overall social and environmental footprint.
There are 70,000 social enterprises operating in the UK across almost every industry. They are reinvesting their profits for good, benefitting the people and the planet. When a social enterprise profits, society profits.
Social enterprises, and procurement's role in supporting them and creating social value, will be a key theme at the Big Ideas Summit 2016.
There's still time to register for the Summit! Visit www.bigideassummit.com, join our Procurious group, and Tweet your thoughts and Big Ideas to us using #BigIdeas2016.
Don't miss out on this truly excellent event and the chance to participate in discussions that will shape the future of the procurement profession. Get Involved, register today.