Reinforcing their focus on supplier management software, State of Flux Technologies launches a new name and brand – Statess.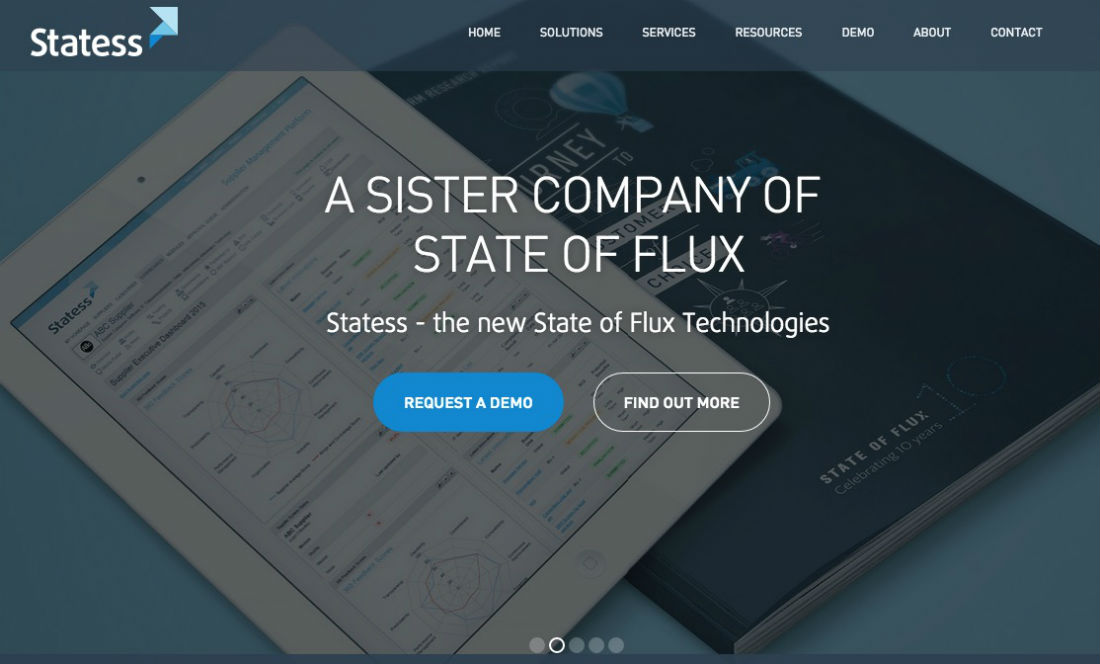 Following a year of increased growth and investment on their supplier management platform, State of Flux Technologies celebrated the launch of its new name and brand Statess (pronounced State-ess) with clients, procurement leaders and industry experts last week.
Preserving the strong relationship and heritage, Statess will continue to work closely with the State of Flux team to deliver market leading supplier relationship management (SRM) solutions.
"Our global SRM research has shown that companies who invest in SRM technology deliver incremental post-contract benefits. Now is the perfect time for Statess to help companies deliver these benefits." Alan Day, State of Flux Chairman and Founder
Led by CEO Lance Younger, Statess has seen an increase in the number of clients over the past year, including Centrica, IAG, Friends Life and Ladbrokes. They've grown the team and continued to innovate, adding great new functionality in supplier innovation management, performance management, risk management and sustainability/corporate social responsibility (CSR). Statess also has an expanded partner ecosystem, including 15 best-in-class providers, from spend analysis to sourcing, P2P, and sustainability/CSR.
"Being presented the Gartner Cool Vendor 2012 award recognised our pioneering supplier management platform, and since then with our clients and team we have continued to move forward solving supplier management challenges and empowering teams across the enterprise. We created the first supplier innovation module in 2013, and 2014 was another fantastic year with more product innovation and great customer experiences. Our new brand and strong partner ecosystem reinforce our passion and focus on supplier management software." Lance Younger, Statess CEO
In 2014, supplier management continued to surge as a critical approach for companies to deliver differentiation and for procurement to co-create the agenda with the business. In 2015, ambition remains key, and leaders will be defined by execution – intelligently simple execution. Statess is on a mission to make SRM easy for all and they believe they can continue to do this for all their clients.
Check out the Statess website and social media channels to learn more.