We're still a long way away from drone deliveries and drone-run supply chains being the norm – so what's the current state of drone delivery worldwide?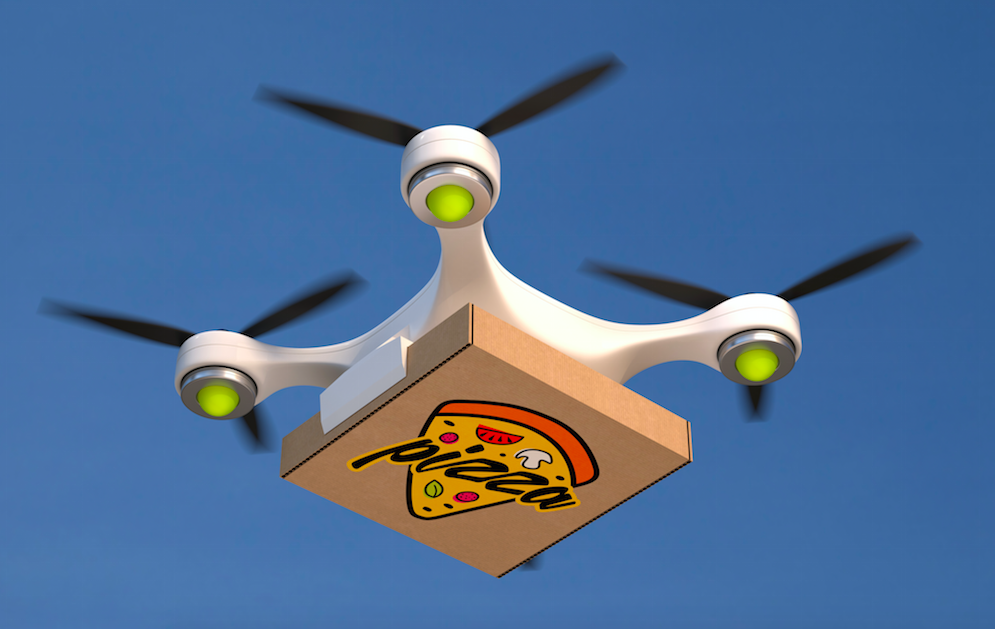 There's no question that the world has gone drone mad. If you didn't receive one for Christmas (bad luck), you'll probably know someone that did. But, despite all the hype, we're still a long way away from drone deliveries and drone-run supply chains being the norm.  
So what's the current state of drone delivery worldwide?
The idea of drone deliveries for useful things is a lot more fun to think about than drones being used for dropping bombs or killing people with death rays – so let's focus on that for the time being.
Drones are already capable of being deployed for many types of delivery services such as pizzas in urban environments and desperately-needed medicines flown by drones to remote, inaccessible villages.
In many instances, drone technology has advanced so quickly that it runs afoul of the local laws. For example, the Federal Aviation Administration (FAA) in the United States says that, without special permission, a drone needs to be flown in the line-of-sight of the operator and that a drone cannot be flown from a moving vehicle.
Perhaps pizza-delivery observation towers could become a new industry in America?
In this article I outline some of the societal benefits of drone delivery, the risks associated, the prevalence of drone delivery today and what the future holds.
Societal benefits of drone delivery
Some of the societal benefits of drone deliveries include economic considerations, improvements in emergency response systems, overcoming delivery problems to remote areas and pollution reduction.
The most difficult part of any delivery challenge is "the last mile" (metaphorically speaking). This is the portion of the supply chain pathway from the warehouse to the customer's/buyer's home or office. Drone delivery is faster and saves money on fuel costs, fleet maintenance of commercial vehicles and labour costs for human drivers.
Emergency Response and Healthcare
In some medical emergency situations, a few minutes could make the difference between whether someone lives or dies. Delivery drones can bring first aid supplies, needed medicines, blood for transfusions, and medical equipment. For example, those suffering from a heart attack might get help from an emergency drone, which maintains communication with paramedics and can deliver a portable defibrillator.
The paramedics are able to observe through a remote video what is happening and instruct those giving aid to the heart-attack victim on how to use it.
If drone batteries are recharged via renewable energy systems, such as solar power, the air flight is pollution free. The only downside to drone use is noise pollution. Whilst it might not be very noticeable when a single drone is flying, imagine a future where there are overly-active, drone-flying corridors.
To address this problem an inventor, Edgar Herrera, has developed a blade-less drone, which flies in complete silence. The drone is not yet in production but the design is spectacular; solar-powered, silent-flying, drone delivery is nothing short of revolutionary.
Drones and Privacy
Privacy is a big concern for many people when it comes to commercial drone use and the main reason that legislation came into being all over the world. In many places, using drones for surveillance is a crime. Authorities are increasingly concerned about delivery drones being used for terrorist acts or criminal purposes. In Europe, a study published by RIMMA noted that drones had been flown over nuclear power plants and used to smuggle items into prisons and carry drugs across the U.S./Mexican border.
These are just a few of the reasons that legislation has been put in place all over the world – to protect critical infrastructure from unauthorised drone surveillance or attack.
Commercial drone flyers that operate a drone delivery service need to be careful not to break these laws or lose control of their drones because the penalties are harsh.
Consumers have other concerns regarding drone delivery services besides safety, privacy, and security. eMarketer reports than 72 per cent of consumers worry about problems with packages, such as theft or damage. Drones equipped with video surveillance technology can reduce these criminal risks but these cameras raise further questions about privacy and security.
This is an area of opportunity for supply chain managers and entrepreneurs to focus on providing solutions.
Drone delivery around the world
USA
In the USAThe FAA has been slow to allow commercial drones for delivery services. Drone flying is still restricted to line-of-sight, which makes drone delivery less efficient and not possible in all areas.
In 2015, the USPS starting testing postal delivery using Horsefly drones and since October 2017, REMSA, an ambulance and emergency services company partnered with Flirtey to deliver portable defibrillators for 911 emergency calls in northern Nevada.
Fortune reports that Uber is testing food delivery by drones. Google, FedEx, Intel, and Qualcomm are working with the Department of Transportation on commercial testing of drone delivery services.
Forbes reports that big efforts are being made by Amazon, Target, Walmart, and many others to incorporate a viable, commercial drone-delivery service in their long-term strategic and logistics plans.
UK and EU
The UK is moving faster than the US to approve the widespread deployment of commercial drones, which should hit the market in 2019 or 2020. Amazon has made significant advancements in the UK.
The European Union is in the process of creating laws to regulate commercial drone-flying corridors of airspace called U-Space to allow a wide deployment of drone delivery services.
Since March 2017, in Switzerland, Matternet has been working with the government mail system, Swiss Post, to deliver emergency medical supplies.
In December 2014, the French postal service, La Poste began testing drone delivery systems.
The future of drone delivery
If the regulators cooperate, commercial drone delivery will become a widespread reality to be enjoyed by consumers and those in need of urgent medical supplies and emergency services worldwide.
It is most-likely that large-scale, commercial drone-delivery deployments will occur in Europe, the UK, and Australia during 2019 with Amazon and Google leading the way. In China, JD.com is moving ahead with widespread deployment very quickly and Alibaba is advancing as well using drone delivery to support offshore islands.
McKinsey reports that the drone delivery industry in the USA alone, grew from $40 million in 2012 to $1 billion in 2017. Madison estimates the global market depends on what happens with the regulations. Ultimately, the global market for commercial drones may reach over $127 billion annually.
This article, written by Mark Sheehan, was originally published on My Drone Authority.