Flying delivery drones will soon take over the last mile of your supply chain. Have you started planning ahead for a drone-filled future?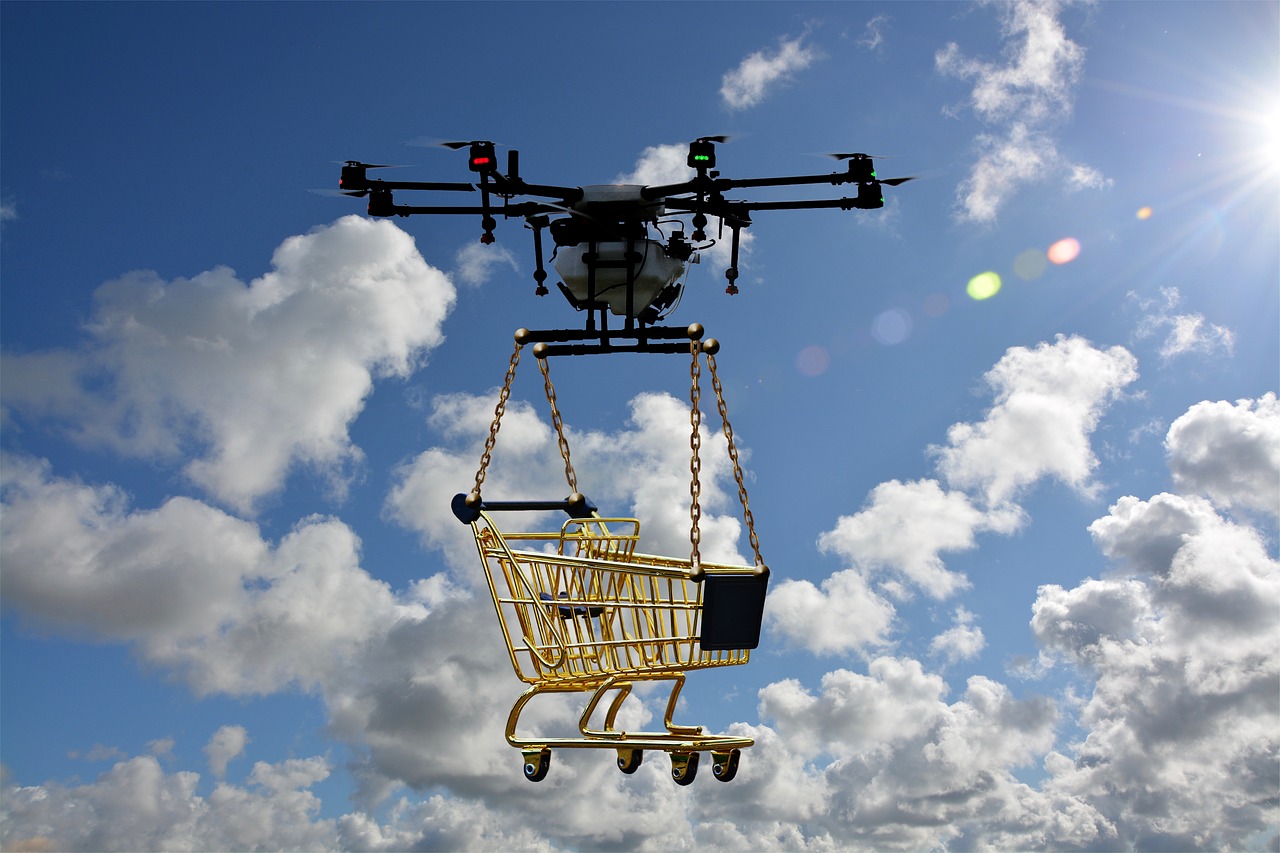 "Alexa, re-order Doritos from Prime Air."
Blink, and you'd miss it. Amazon purchased 10 seconds of the year's most expensive advertising space last week to introduce the U.S. Super Bowl audience to two of its latest tech products: Amazon Echo and Amazon Prime.
Disgusted by her partner's finger-licking, a tech-savvy woman directs her request for a second bag of Doritos to the IoT-enabled smart speaker in front of her television. The speaker ("Alexa") in turn places an order with Amazon Prime, resulting in a delivery drone making a graceful touchdown in the yard outside.
Meanwhile in the U.K., a Youtube clip featuring former Top Gear presenter Jeremy Clarkson explains the ordering and drone delivery process in much greater detail:
Drone delivery services are swiftly approaching the commercial market, with Amazon taking a clear lead in the development race. In December, Amazon made its first successful go-round in a rural corner of England, where it has been beta-testing. While there's still a significant weight restriction, the benefits of drone delivery are clear:
The 30-minute delivery time is an enormous improvement from the standard 24-48 hour wait customers currently experience when ordering online.
Drones can reach a height of 400 feet and fly for 24 kilometres at a stretch. They  avoid traffic and potential obstacles using laser, sonar and other technology.
Environmentally, battery-operated drone delivery ticks a lot of boxes as they'll eventually replace many fuel-burning delivery vehicles currently on the road.
Finally, the full autonomy of drone delivery will mean there'll be very little need for human interference, leading to enormous efficiency gains for delivery companies.
After the successful beta-tests in England, drone confidence is rising in the US, although the Federal Aviation Authority (FAA) has been slow to react. A report from December 2016 claimed the FAA has yet to begin drafting rules around flying drones over populated areas.
Testing, however, is taking place, with examples including UPS making a medical supply drop to an island off the coast of Massachusetts, while Alphabet's drone delivery initiative (Project Wing) sent a hot dinner to students at Virginia Tech. Both the U.S. Postal Service and Britain's Royal Mail have expressed keen interest in drone delivery as the cost of traditional delivery methods continue to rise. In Europe, DHL similarly completed a round of drone testing last year.
The process of delivery drones
Using a GPS system, delivery drones can quickly generate the most efficient route and even communicate with each other. Users can use communicate with delivery drones via smart phones, selecting delivery options such as: "Bring it to Me," "Home," "Work," and "My Boat." Additionally, if the customer relocates, the drones can redirect mid-route.
While apartment buildings are still too complicated for drone routes, doorstep delivery throughout rural and suburban neighbourhoods has been mastered.
Allison Crady, Marketing Specialist at CDF Distributors, has followed the rise of drone deliveries closely. She comments that drone delivery will only be applicable to a limited number of products at first: "Giant screen TVs will still require a typical truck delivery, but drone warehouses are currently ideal for light-weight purchases such as tech gadgets or snacks. As drone weight options increase through future development, their useful applications will extend far beyond simple convenience deliveries."
What can supply managers do to prepare? 
Regulatory bodies such as the FAA move slowly to make drone deliveries a reality.  Supply managers can take advantage of this delay by planning ahead for a drone-based future. This means reviewing your current delivery arrangements (in-house or outsourced) and measuring:
the number of light-weight products currently delivered by truck that could be carried by drone
current delivery timeframes versus potential drone delivery speed
traditional price structures and operating costs against drone delivery
the human workforce required to run a delivery fleet versus autonomous drones
your current ability to deliver to difficult/remote locations
environmental benefits of taking fuel-burning cars off the road in favour of delivery drones.
In other  procurement news this week…
Huawei announces IoT Partnership with Deutsche Post DHL 
Huawei and Deutsche Post DHL Group will collaborate on innovation projects to develop a range of supply chain solutions for customers using industrial-grade Internet of Things hardware and infrastructure.
The group  is expected to make its IoT devices and network infrastructure accessible to DHL to assist in incorporating greater sensing and automation capabilities into warehousing, freight, and last-mile delivery services.
A  spokesperson from Huawei, Yan Lida, commented, "This partnership opens up an opportunity to improve the efficiency, safety and customer service offered by global supply chains in previously impossible ways, and defines how the Internet of Things will shape the fortunes of the logistics industry in the next few critical years of innovation."
Read more at Logistics Magazine. 
Remote Australian supply chains cut by flooding
Floods in Western Australia closed major road transport routes for three days last week. Meanwhile, rail movement into Perth was delayed for five days.
The Newmont Mine in the Tanami desert has been closed for over a month due to the flooding. Delivery company Toll has been issued permits to use the flood-damaged roads to deliver fuel, food and emergency supplies to the community at the mine.
Parts of the Stuart Highway and Carpentaria Highway have also been closed. This is  impacting on the movement of heavy trucks in the region.
Read more at Fully Loaded.