How do you sustain your focus on a goal that's 10 years away? One Olympic legend shares her story – how will you apply it to your career?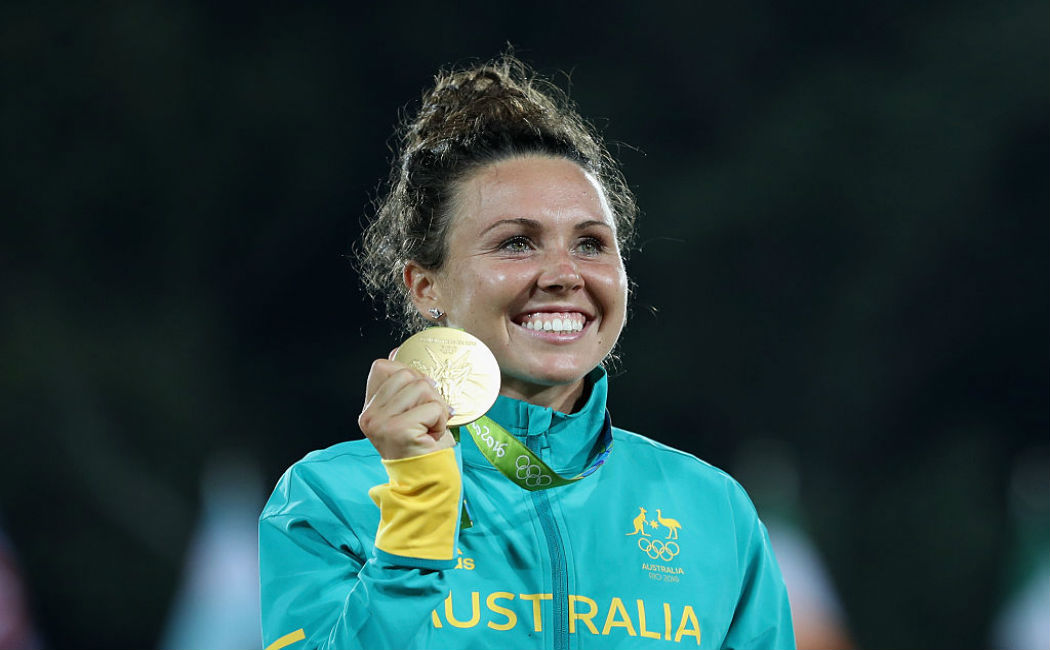 Australian Olympic legend Chloe Esposito trained 45 weeks a year for an incredible 10 years before the day she won gold in the Modern Pentathlon in Brazil. Chloe visited The Faculty CPO Roundtable National Meeting in Sydney to share her inspirational story with our members.
In case you missed it during the Olympic Games, here's the incredible moment Chloe broke away from her competitors to cross the finish line in first place.
Chloe's interview with The Faculty's Sally Lansbury was packed full of life lessons, insights, and a strong message about persistence and resilience that can be applied to every career.
At what point of the event did you know you were going to win gold?
I only knew I was going to win after I put down the gun (in the final shooting event) and started to run for the finish line. I just bolted out of the shooting range – I didn't know where the other competitors were, but I just focused on myself as that's really all I could control. When I glanced back, I knew that I had it. It was such a pinch-me moment, and one that I'd trained for basically all of my life.
What exactly does the Modern Pentathlon involve?
It's actually five events in one – fencing, swimming, show-jumping, shooting and running. They're spaced over the day, and you start each event with a penalty depending on how you've performed in the previous event.
The challenge is to train across five different areas – my father (who is also my coach) and I have deliberately focused on my weakest area, fencing.
We moved to Budapest, Hungary, to concentrate on fencing. Budapest is like the boiler room of Modern Pentathlon. It's right in the middle of Europe, with so many competitions and pentathletes there.
My favourite event would have to be horse riding. You only get 20 minutes with an unknown horse before the event, so there's no point trying to train the horse in that time. You just spend those 20 minutes getting to know each other.
What do you think gave you your edge over the other athletes?
Putting in the extra 1 per cent. In Budapest we doubled the hours of all training. Whether it was pouring rain or snowing, I'd still train, no matter what. My family and I got to be known as the "Psycho Espositos" – our training schedule is nuts, but it gets results!
The other factor that gave me an edge is the incredibly supportive network around me. My dad, mum, brother and sister all got behind me to help me achieve a life-long dream.
How do you sustain focus on a goal that's 10 years away?
The secret is to set up a series of short-term goals and focus entirely on those. These were smaller competitions, world cups and so on. If you try to think too far ahead, you'll go crazy and you won't get there.
You also need to have the flexibility to change your short-term goals as circumstances require. For example when I tore my Achilles tendon, we changed a lot of my goals to focus on recovery, mainly through spending more time in the pool.
What's next, now that you've achieved such a major life goal?
Tokyo 2020! There'll be huge pressure now that I'm a gold-medal winner, but I'm definitely going to give the Tokyo Olympics a go. In the meantime, I'm stepping into a completely new world to what I'm used to – speaking, presenting, television appearances. I'm starting to build another career for myself.
What life lessons have you learned through your Olympic journey?
I can think of five lessons that will take me right through my career:
Hard work always pays off at the end of the day. When you've worked so hard, something good has to come out of it!
The extra 1 per cent always pays off in the results.
You'll need huge determination to achieve your career goals.
Don't rush into things – the opportunity will eventually come.
Give yourself some time off. I like to do something completely unrelated to training at least once a week, such as going to the beach.
Packed with value, The Faculty Roundtable gives member organisations access to cutting-edge thought leadership and commentators, a ready supply of valuable expertise through exclusive market intelligence, as well as networking and professional development opportunities for CPOs and their teams.
Please contact Sally Lansbury for more information.