In the past five years luxury retail brand Burberry has burned more than £90m worth of stock. What's the justification?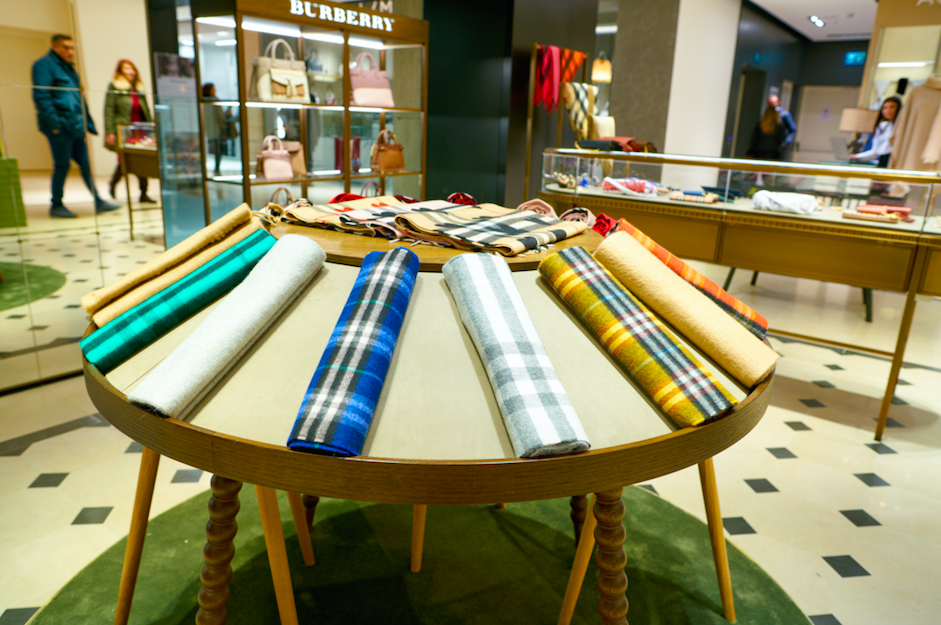 British fashion giant Burberry hit the headlines this week as it was revealed, in its 2017/2018 annual report, that it has set fire to over £28 million worth of products.
According to the BBC, this takes the total value of goods Burberry has destroyed over the past five years to more than £90m.
Several commentators have explained this procedure as common practice in the fashion industry; used as a measure to protect  intellectual property and to prevent products being stolen, replicated and sold on for a fraction of the market price. Destroying stock also ensures it will not worn by what the brand believes to be the "wrong" sort of people.
Indeed, Burberry is far from being a singular culprit in the fashion industry when it comes to destroying excess stock. In 2017, The New York Times carried out an exposé on Nike, which revealed it was deliberately destroying stock by slashing large rips through its shoes.
According to the New Statesman, luxury brands are all at it – "the owners of Cartier and Montblanc destroyed more than £400m worth of watches in two years after buying back unwanted stock from jewellers."
Burberry's spokesperson said "Burberry has careful processes in place to minimise the amount of excess stock we produce.  On the occasions when disposal of products is necessary, we do so in a responsible manner and we continue to seek ways to reduce and revalue our waste.
"This is a core part of our Responsibility strategy to 2022 and we have forged partnerships and committed support to innovative organizations to help reach this goal.
"One example is our partnership with the Ellen MacArthur Foundation's Make Fashion Circular Initiative, where we join other leading organisations to work towards a circular fashion economy."
What the critics say
The news has sparked a great deal of controversy in the media with critics describing the practice as elitist, wasteful and unethical.
Kirsten Brodde, who leads the Detox My Fashion campaign at Greenpeace, spoke to The Guardian arguing that Burberry  "shows no respect for its own products and the hard work and natural resources that are used to make them".
"To learn that a major fashion house with power and authority is choosing to add even more retail waste to the billions of tonnes offloaded to landfills and oceans around the world every year is reckless and arrogant" said Niamh Odonoghue for Image.
"The stuff that Burberry is burning is not waste – it is surplus, which is a very different concept. It is perfectly useable stuff," said Orsola de Castro, co-founder of Fashion Revolution, a not-for-profit group that campaigns for greater transparency in the supply chain, speaking to the Independent. 
"Designer fashion is still, undoubtedly, all about class – or, rather, about staying away from anyone not part of the elite," said Billie Esplen for the News Statesman
In a world where there is increasing pressure for big brands to lead the charge on ethical and sustainable business, is Burberry's behaviour completely unacceptable? Will the outrage sparked by this news story encourage luxury fashion brands to reconsider their approach to managing surplus stock? Let us know your thoughts in the comments section below.
In other procurement news this week…
Lidl revealed as worst supermarket for recyclable plastic 
Less than three-quarters of the food retailer's plastic packaging is widely recyclable, found a Which? investigation that surveyed 27 popular own-brand groceries from the UK's 10 biggest supermarkets
Lidl came bottom of the pile with 71 per cent of its packaging widely recyclable, Morrisons emerged as the frontrunner with 81 per cent
All the supermarkets surveyed by Which? signed up to the UK Plastic Past in April, which vowed to make all plastic packaging reusable, compostable or recyclable
Read more on Supply Management 
Rising trade costs could pose a 'dairy dilemma'
Even if the government strikes a trade deal with the EU, impacts on the supply chain, such as non-tariff trade barriers and labour shortages, could lead to spiralling costs for dairy companies, a report by the London School of Economics
The report, commissioned by Arla, said longer waiting times for customs inspections at the border would increase trading costs because of longer hours for lorry drivers
The report warned of extra delays because the UK Customs Declarations Service would have to deal with 250m declarations per year after Brexit, 100m more than the 150m it was designed to handle, which could further compound the £111 figure
Read more on Supply Management 
Adidas pledges to go green by 2024 
Adidas will only be using recycled plastics for all their products beginning in 2024. Earlier this week, the Financial Times reported the move that will feature the company removing new plastics from their athletic wear, which includes polyester
Polyester is currently found in 50 percent of Adidas' products, which has become a popular material to create athletic wear with
This is the latest sustainable move by Adidas, who has sold one million shoes that were made with recycled plastic from the oceans