Sole suppliers – you might think you're stuck with them in procurement. But once you know the why, you can plan a change for the better.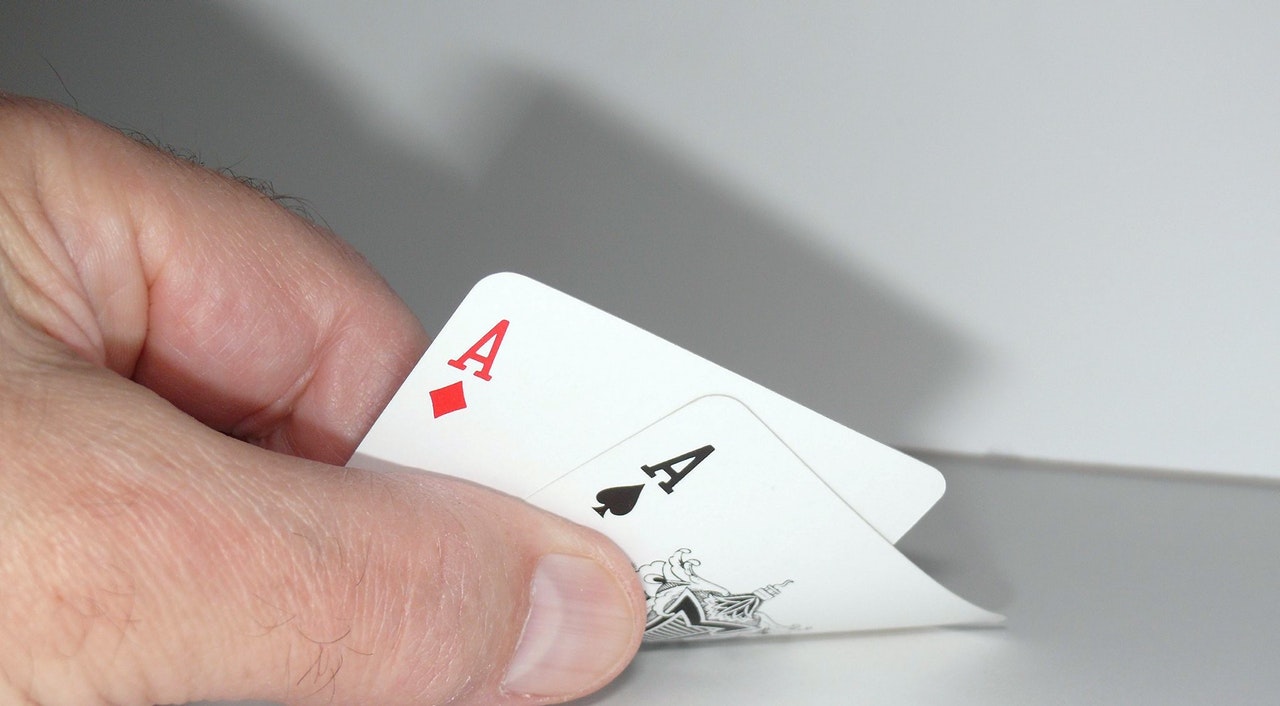 This article was first published on Future Proofitable. 
In the first part of this series, I discussed how sole supplier situations can occur. From monopolies, to high exit barriers and business attitudes, there are a number of reasons procurement might find itself in this situation.
But now we know how these occur, the question to ask is how we can do something about them.
Sole Suppliers – Can you do anything about it?
Definitely – yes. What you can do depends on what you are dealing with, and which stage in the process you are in.
1. Product Selection
If you can avoid buying the product in question, you should. You can also head off the sole sourcing situation by being involved in a process as early as possible. Making products in house is an option too.
You may also be able to find a provider who offers similar services or products, and convince them to adjust their offering to your requirements. Integrate vertically by buying your supplier and making them your internal provider.
2. Tender or Category Strategy Review
Assess the full lifecycle of the product or service. Analyse what, if any, additional costs are related to object you are purchasing.
Study alternative sources of supply, or look at the make vs. buy decision again. Even if you choose to buy, when the time comes to create negotiation leverage, you will have done half your homework already.
Choose the right way of buying. If it is possible, could you buy machines and servicing or maintenance separately? Or, on the other hand, could you bundle the products and service together?
Prepare a good contract in advance, and communicate it upfront. Build in price review mechanisms and no-penalty exit clauses. Alternatively, invest time in developing a full SLA, and ensuring this lasts for the whole relationship.
Share the information (technical, legal, commercial) early in the process with all suppliers. Cross-validate information and responses with specialists or 3rd party service providers. Finally, analyse proposals with the purpose of identifying "unique" solutions.
3. Analyse Sole Suppliers Business Needs and Decision Drivers
What time of the year is it and when does their financial year finish? Is there a reason to believe that tendering on a specific time frame might give you better or worse conditions?
Like buying grain just after new harvest data is clear and not based on assumptions
Or negotiating with software companies closer to their financial year end, when they are likely to be more aggressive with pricing.
Consider geographical aspects. If you are negotiating with a large multi-national, perform a market test of their pricing policy in different countries. You might be surprised that a branch, located somewhere further away from the central function would get a better group deal purely because of the location.
What sales strategy are they using? Are they more aggressive with the pricing of new solutions or new technology? Are they interested in growth? Market entry? Stopping their competitor entry? Can you invite someone new, who is not yet in the market? Does the size of the contract matter?
Do not forget to negotiate small value adding add-ons and other benefits to the contract. You can 'sell' positive references, feedback and referrals. You can help to reduce the supplier's risks and become a better customer (implementing electronic ordering and invoicing tools, consolidating POs).
Or you could threaten them with moving to an alternative supplier, or bring one in.
4. Business Strategy
One thing to think about might be a change to your business strategy. Could you move the location of your HQ (for a critical product), or give up certain markets or products?
You could invest in in-house R&D, work with laboratories and universities. While doing this, educate business users. Challenge old ways of working, and help to eliminate all pseudo-sole suppliers.
Re-evaluate short term switching costs and compare them against long term business losses, if you decide (once again) not to change anything.
Should you do anything at all?
That is the question, too. The saying goes "nothing personal, just business". Procurement should also be business oriented and invest its resources where they matter.
Should you start any project? Well, that depends. If this is something that you must do routinely (review a category or contract), you might consider how much time and effort to invest. And similarly, if the prize you are after is big enough, it's probably worth spending time on it.
Based on the situation your business is in, you should perform opportunity analysis and evaluate your expectations. It's not only about the size of the spend.
With sole suppliers, there is another level of complexity to be evaluated – the nature of the business situation. You can do this for single supplier situations, too.
For the categories mentioned above, approximate ratio of effort to success are shown in the graph below. Required effort is a relative number and can vary in units of measurement (days, weeks, months, people involved).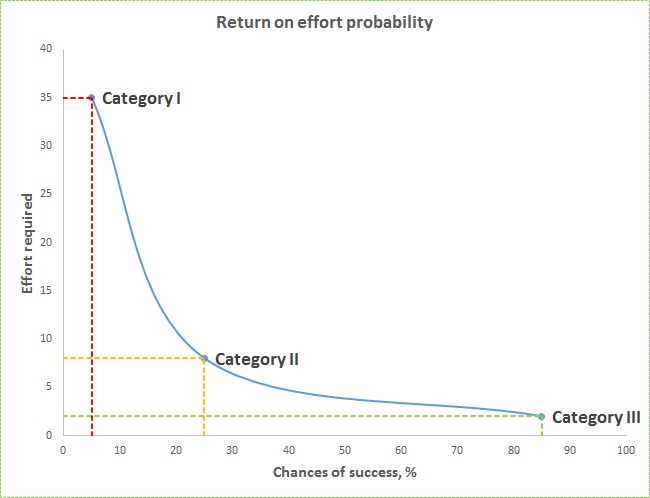 It's only one part of the equation in that it performs a sense check from Procurement's perspective.
Weighing Dissatisfaction vs. Change
Another key part in projects like this is implementation. In many cases, it can (and will) end up in a change project. If you don't want Procurement's credibility to suffer, you must make sure that savings promised and savings achieved are as close as possible.
If the dissatisfaction with the sole supplier situation outweighs resistance to change, and if you have a plan on how to act, you increase the chances of success.
At the same time, it suggests what you can do if any side of the equation is not favourable. You can increase internal dissatisfaction among key stakeholders (clearly communicate risks and losses of the situation to finance people), or reduce resistance to the project (get the buy-in from engineering, technology, sales and other departments).