We all like to watch a good horror show.. but UK customs trying to manually process our imports? Entertainment it is not!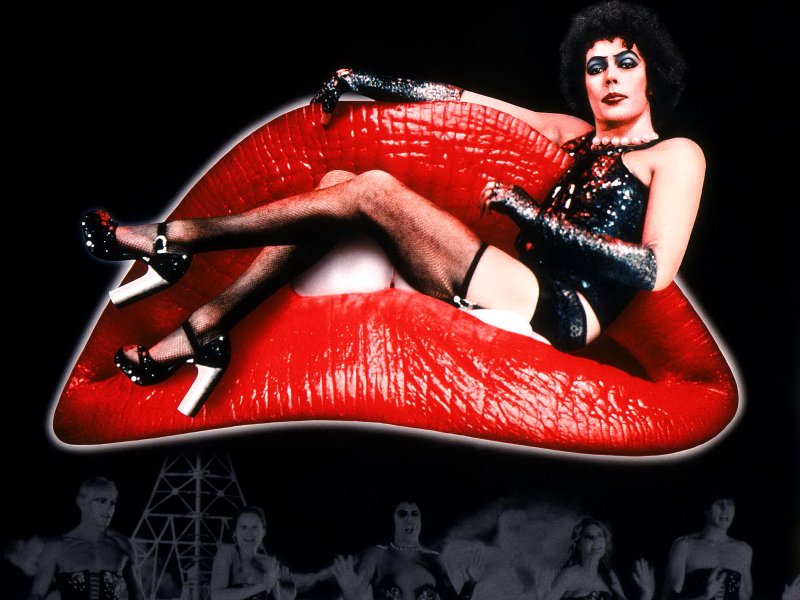 Are you ready to watch the Brexit horror show unfold?
The National Audit Office (NAO) pubilished a report last Thursday reviewing HM Revenue & Customs' development of the new Customs Declaration Service (CDS).  The system is being developed in an attempt to manage the predicted 255 million UK customs declarations per year (an increase from 55 million)  once the UK leaves the EU.
But, with a significant amount of work still to be completed before March  2019,  many are concerned about what chaos might ensue.
Amyas Morse,  head of the NAO, did little to disguise his own concerns when he briefed the media on the report this week. He warned of a potential "horror show" at customs if the transition to CDS is not made by January 2019.
He said "What we don't want to find is that, at the first tap, this falls apart like a chocolate orange."  (Yep, we were confused by this too – it's well known that Terry's Chocolate Oranges are not known for their fragility; hence the marketing slogan "Don't tap it, whack it!".)
"It needs to be coming through as uniform, a little bit more like a cricket ball" he continued.
What Is The Customs Declarations Service?
The CDS is a new system, which will be installed to manage all imports and exports post-Brexit, replacing existing system, Customs Handling of Import and Export Freight (CHIEF).
CHIEF can currently process only 100 million declarations per year.  This leaves no question that a new system is needed given that HMRC are estimating an increase to 255 million once new trade and customs agreements are made during Brexit.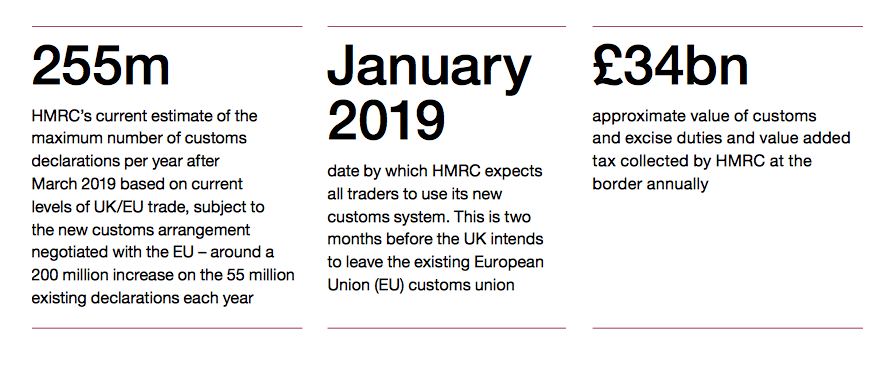 Completion of the installation is forecasted for January 2019 which doesn't allow much room for error or delay given that the UK will officially leave the EU in March 2019. Indeed, the report confirms that there is still a "significant" amount of work to complete and a number of vacancies to fill, which means there's a pretty good chance that the full functionality of CDS won't be ready in time.
Ironically, in 2016, the UK came fifth out of 160 countries in the World Bank's ranking of the efficiency of the border clearance process, including customs. Time will tell if this can be maintained post-Brexit!
Why Should Businesses Be Concerned?
The National Audit Office believes the government is only just starting to realise how difficult Brexit will be.  In a worst-case scenario it would become impossible for customs to collect the £34bn of duty, excise, and VAT taken at the border every year.
Customs officials might have to manually process imports and exports if the new electronic system is not in place, which would of course be a nightmarish scenario for businesses and their supply chains.
Mike Cherry, chairman of the Federation of Small Businesses, said "It's extremely concerning that the UK's new customs system may not be ready in time for Brexit, potentially resulting in massive delays to trade and leaving thousands of businesses in the lurch." And hat's not to mention a lack of confidence businesses will feel in the UK if their flow of goods is disrupted.
"Can government actually step up in these very difficult circumstances and deliver a unified response?" Morse asked. "I'm not seeing it yet."
The report, and the alarming comments made by Amyas Morse will no doubt increase the pressure on the prime minister to re-evaluate Brexit progress and policy, but will it be in time to stop a customs horror show?
Let us know your thoughts on the NAO report in the comments section below. 
In other procurement and supply-chain news this week….
Bangladesh Factory Blast
Major European buyers of apparel supplied by a Bangladesh garment plant have started investigations after a boiler explosion in the plant killed 13 people and injured dozens
The explosion occurred during maintenance work at the factory, whose top buyers include Finnish fashion chain Lindex, which is part of Stockmann
Stockmann communications manager Anna Bjarland confirmed to SM that the factory supplied garments to both Stockmann and Lindex saying that the company was investigating
Read more on Supply Management
Hazardous chemicals in Tesco's clothing supply chain
Tesco has joined a growing list of major high street retailers in beginning to remove chemicals thought to be hazardous from the supply chain of its clothing brand
Greenpeace said Tesco will immediately begin the process of eliminating 11 groups of hazardous substances from its F&F brand, including phthalates, brominated and chlorinated flame retardants, chlorinated solvents and heavy metals
Alan Wragg, technical director for clothing at Tesco, said: "This commitment is part of our goal to protect the environment by sourcing products sustainably and responsibly for our customers."
Read more on Business Reporter 
Could China lead the way with AI?
In the battle of technological innovation between East and West, artificial intelligence (AI) is on the front line. And China's influence is growing
China has invested massively in AI research since 2013, and these efforts are yielding incredible results. China's AI pioneers are already making great strides in core AI fields
It is becoming clear that belief in U.S. dominance of the tech world is flagging. As it stands, China is in the driver's seat
Read more on Venturebeat