Will Apple and Amazon put aside their differences and unite in time for the launch of Apple TV?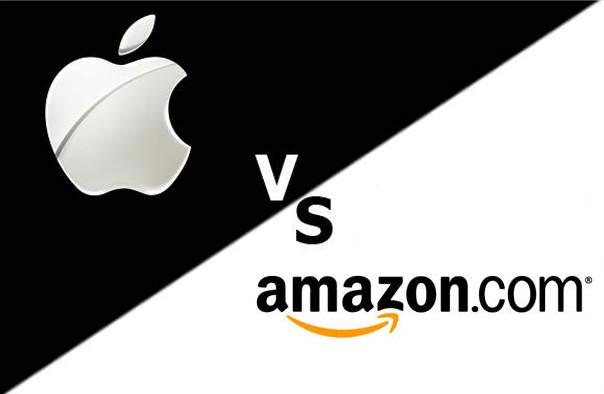 The professional relationship between tech giants Apple and Amazon has been rocky to say the very least.
Firstly, In 2014 Amazon removed  in-app payments from the iOS versions of several of its services  in response to Apple demanding a 30 per cent share of the profits.
And then, in what was considered by many to be a bizarre decision, Amazon announced in October 2015 that it would no longer be selling Apple TV or  Chromecast because of the direct competition between them and Amazon's own streaming products.
At the time, the move was likened to Apple TV's refusal to play Netflix's streaming service because they did not want to promote a competitor, but Apple eventually gave in.
Whilst certain reports this week suggest there are changes in the waters, Amazon's Echo Show announcement  this week might be a little too close for Apple's comfort.
Will Apple Echo Amazon's product?
Last week, Amazon introduced the latest Alexa expansion, unveiling an Echo with a touch screen and a camera. The Echo Show features "everything you love about Alexa" with the added benefits of being able to show you things – whether it's the weather forecast, a wikipedia page, a video, photos and more.
The device allows users to video chat with anyone who has an Echo, Echo Dot or the Alexa App, posing a big threat to Skype and  Apple's FaceTime video-calling service.
Watch Amazon's Introducing Echo Show video below to find out more.
The device costs $229 and is expected to be a huge hit when it begins shipping in late June, quite possibly to the dismay of Apple.  Indeed, the rapid speed at which Amazon has managed to expand its Echo hardware and the reasonable price points present a real threat to Apple.
As its already proven many times, Amazon is in the unique position to deny competitors access to its store. And that's not to mention it's currently ahead of the game and anything Apple subsequently releases is likely to come with a hefty price tag.
Time will tell what Apple has up its sleeve and whether consumers are willing to sack in their i-products for Echo.
Amazon Video for Apple TV
Various rumours have suggested this week that Amazon and Apple are headed in a much friendlier direction.
Last Thursday, Buzzfeed announced that the one major flaw of Apple TV was to be addressed: Amazon's Prime Video service will, at last, be made available. Apple are expected to announce an Amazon Video app designed for Apple's set-top box at the Worldwide Developers Conference (WWDC) on June 5 in San Jose.
Last year Amazon CEO, Jeff Bezos, explained that the company was waiting for  "acceptable business terms" with Apple before  a Prime Video app was considered.  Perhaps those terms have now been agreed.
If all goes ahead, Amazon is expected to return the favour by resuming sales of Apple TV's on its website, following a two year hiatus.
In other news this week…
Co-op releases first slavery statement under the Modern Slavery Act 
Co-op has outlined how it sources, the clauses it uses in contracts and the steps it takes to audit suppliers withe regards to modern slavery. It also describes how the Co-op helps former slaves into work.
The 10-page statement outlines the Co-op's ethical policies, its supplier approval process and how it carried out 444 audits in 2016.
The Co-op said it provided training for suppliers and it planned to develop a new procurement academy and roll out a business-wide training and awareness plan on ethical sourcing.
Cath Hill, group marketing director at CIPS, said: "The Co-op's modern slavery statement is an excellent example of what organisations should be doing to combat this important issue. "
Read more on Supply Management 
Like coffee? You'll like it even more when it's sustainable!
Australians use an estimated one billion disposable coffee cups annually, but these cups are not recyclable in most states…until now!
Melbourne-based social entrepreneur Soula Thuring has taken the direct approach, selling biodegradable coffee cups with an additional Enviro Grow kit which turns the used cup into a plant
The $2 Grow Cup of Life kit contains a soil pellet that expands with water, a seed mat and instructions for growing kale, beetroot, rocket and other healthy foods. It can be planted in the backyard or elsewhere and it breaks down in a few months
Recently the social enterprise, Streat, teamed up with Melbourne-based coffee startup Pod & Parcel to put its coffee in biodegradable coffee pods to be used in Nespresso machines
Read more on The Guardian 
2017 FM Global Resilience Index exposes supply chain risks
The 2017 FM Global Resilience Index, which was recently released, provides SCMR readers with additional insights on emerging nations
The annual index, which is online and interactive, ranks 130 countries and territories by their enterprise resilience to disruptive events
Supply chain managers are being told that three of the most pressing risks to business performance in the 21st century are cyber attack, natural hazards and supply chain failure
Read more at Logistics Management 
Image credit: AppAdvice