The following events occur in real time: India takes on the monumental challenge of planting 66 million trees in just 24 hours. And they didn't even need Jack Bauer's help…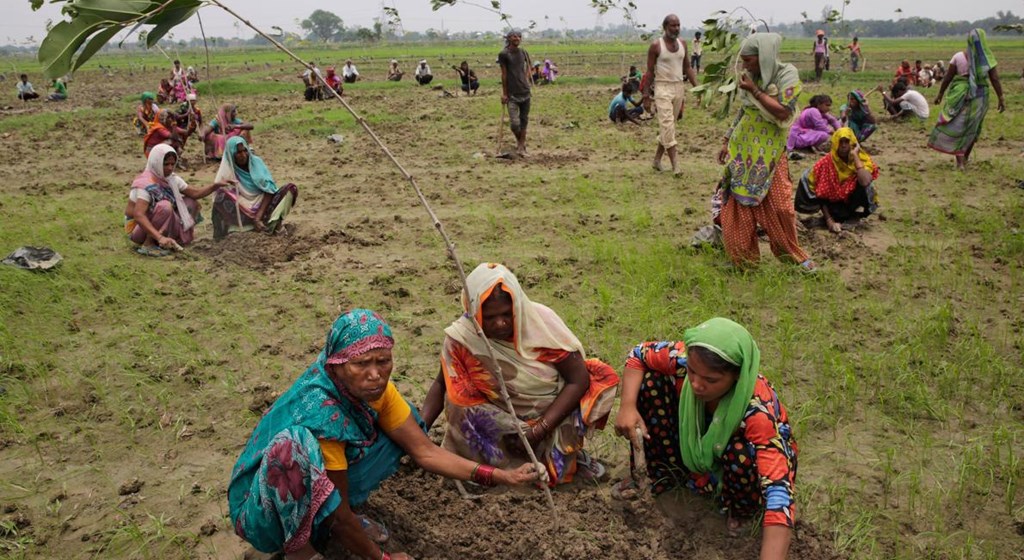 The world reeled when, last month, President Trump made the decision to withdraw from the Paris Agreement. Many regarded this as the most devastating decision of his presidency so far and he has faced critisicm for his short-termism, isolationism and rejection of science.
Todd Stern, writing for The Atlantic shortly before Trump made the announcment expressed the concern of many that "the Paris regime cannot work in the long run if the world's indispensable power has left the table."
"The Trump administration is about to throw down the gauntlet." He continued. "If it does, we'll need to take up the challenge."
If this week's evidence is anything to go by…the challenge is very much accepted!
There are 66 million new trees in India…
An astonishing 1.5 million volunteers pledged to "Make India Green Again" as they planted 66 million trees in less than 24 hours.
Volunteers of all ages assembled along the Narmada River in Madhya Pradesh, Central India,  to plant 20 varieties of tree as part of a new Guiness World Record attempt. India holds the previous world record for planting 49.3 million trees in 24 hours last year in Uttar Pradesh. This year, they've gone several steps (16.7 million trees!) further and done it in just 12 hours.
India has  promised to increase forest coverage to 95 million hectares by 2030 as part of it's role in the Paris Agreement. The Indian governement has forecasted a spend of $6.2 billion for creating new forests.
Madhya Pradesh's government spearheaded this particualr campaign and were understandably thrilled with its success.
Shivraj Singh Chouhan, state chief minister for the region, tweeted after the event: "Thank people of Jabalpur for making tree plantation a huge success. You are not only saving Narmada, but also [the] planet."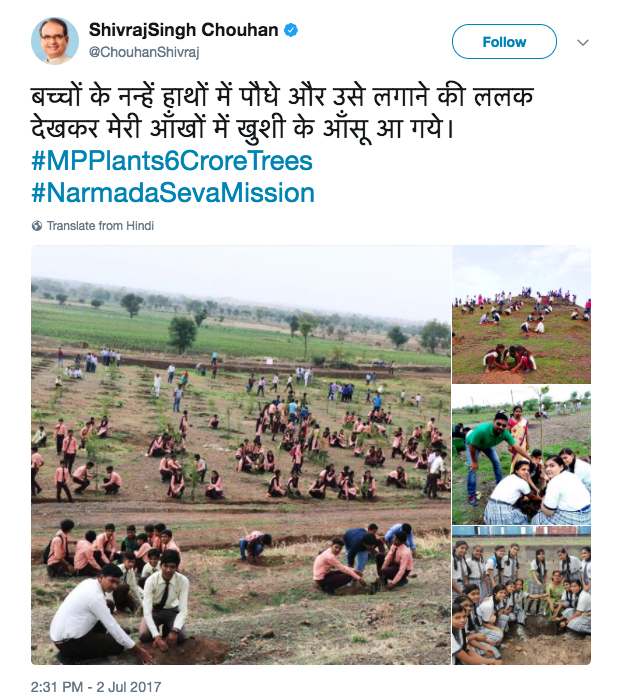 "We cannot be too selfish. We have to spare something for upcoming generations," he continued.
Is planting with drones the future of sustainability?
Australia's answer to deforestation is a little more technical than the enlisting of 1.5 million volunteers!
Dr. Susan Graham, an Australian engineer, is developing a drone that could eventually result in the planting of an additional 1 bilion trees per year, and there's no time to waste! NASA predicts that if current deforestation levels proceed, the world's rainforests may be completely in as little as 100 years.
The world has lost nearly half its forests for agriculture, development or resource extraction. An estimated 18 million acres are lost each year and deforestation and forest degradation are responsible for 17 per cent of all carbon emissions. The value of the benefits that standing forests provide is immense.
The planet loses 15 billion trees every year so "although we plant about 9 billion trees every year, that leaves a net loss of 6 billion trees," Dr Graham said. "The rate of replanting is just too slow."
The drones that Dr Graham is developing could not only plant at ten times the rate of hand planting and at 20 per cent of the cost; they can also access, and plant, in previously inacessible areas , such as mountainsides or steep hills.
The drone technology is currently being tested around the world so watch this space!
What are your views on sustainability and deforestation? What can, and should,  organisations be doing to help? Let us know in the comments section below. 
In other procurement news this week….
Japan & EU Trade Deal Snubs Trump
Japan took on the mantle of the global rules-based trading system, as it sidestepped a failing trade agreement with the United States to forge a historic new pact with the European Union
The trade deal that will cover nearly 30 percent of the global economy, 10 percent of the world's population and 40 percent of global trade
The deal would lower trade barriers for a sweeping array of products, including pork, wine, cheese and automobiles. The pact would be a heavy blow to American producers of these goods/
Read more on The Washington Post
How Will Northern Ireland's ££ Be Spent?
Northern Ireland is set to receive an extra £1bn over the next two years as part of a deal with the Democratic Unionist Party (DUP) to keep Theresa May's minority government in power
Arlene Foster, leader of the DUP, said the deal would boost the economy and allow investment in new infrastructure, health and education
There are around 1.8m people in Northern Island and the headline deal equates to an extra £550 per head
Read more on Supply Management
Amazon's latest venture is wine!
Amazon's continuing quest to make and sell everything in the world has led to it branching out into a new area: overseeing the production of a new range of wines
Unusually for Amazon, this new brand isn't aimed at undercutting the competition with bargain-basement prices, as with its Amazon Basics line
Amazon Wine's Nick Loeffler added: "We're thrilled to connect wineries, like King Estate, with millions of customers and give them an innovative format to launch new brands"
Read more on The Guardian