Airmiles on a sleigh? Elves and Modern Slavery? Sustainable fur for Santa's suit? Industry 4.0 technologies could change the very fabric of Christmas supply chains…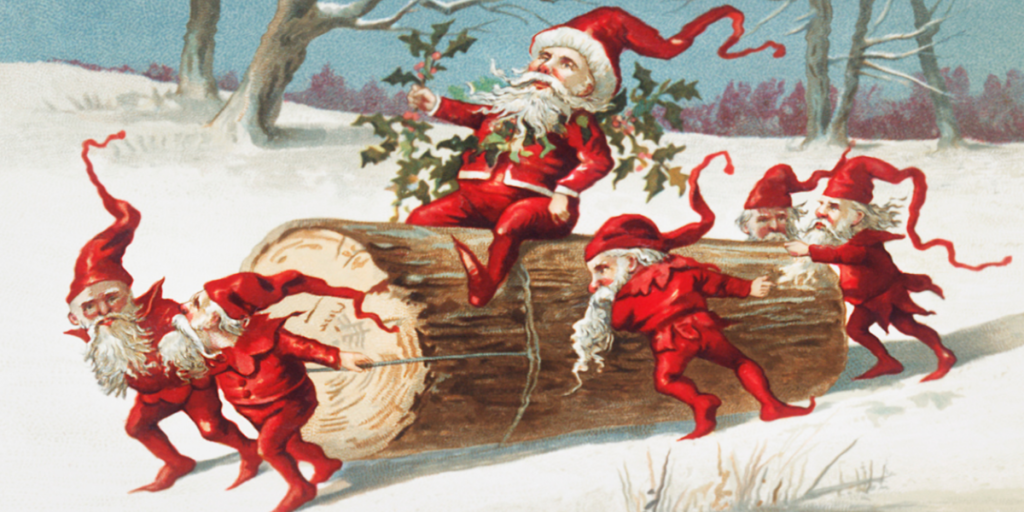 If you're anything like the team here at Procurious HQ, it doesn't feel we've recovered from last Christmas, let alone be ready for this year! While the festivities kick-off, we can't help but think about the key role Procurement and Supply Chain play in making the holidays have all the joy and cheer you could possibly need.
However, it's impossible to fail to see how the traditional Christmas supply chain will be altered in years to come and it's all down to innovation and Industry 4.0 technologies. And there's one organisation that might really see some changes. That's right, we're talking about Santa.
Now, as none of us have been fortunate to venture into Santa's workshop at the North Pole (not for the want of trying…), we don't know what technology he already possesses. A veritable Christmas-load of magic, yes, but is it time for a Kringle 4.0 upgrade to make sure he's staying up to date with current trends.
Let's have a peer into the supply chain to find out…
Airmiles, UAVs and RPA
Global population growth may have slowed to around 1.05 per cent per year, but it is still on the rise and expected to hit 10 billion by the late 21st Century. What this means is that Santa is going to have to find a way to exceed the already blistering 650 miles per second he has to travel in 2020 to ensure that he completes his deliveries on Christmas Eve.
What does this mean for Rudolph and the other reindeer? After over 300 years of delivering presents, could reindeer be on the way out and be replaced by a more innovative solution to help Santa out? As technology develops further it might even be possible for the traditional sleigh to become an Unmanned Autonomous Vehicle (UAV), or perhaps for reindeer to be overtaken by RPA.
Both solutions come with their own drawbacks. The airmiles on the sleigh are gargantuan on an annual basis, though with it being powered by magnetic levitation (or magic) the carbon footprint is at least very low. There is a limit to the current technology on time in the air for UAVs, as well as how far away a pilot can be before the signal is lost. And if the sleigh is a UAV, who is going to eat all the mince pies and carrots and deliver all the presents?
Blockchain and Sustainability
There are few conversations around Industry 4.0 without some mention of Blockchain and traceability. But with the volume of gifts that are given around Christmas increasing exponentially, it's something that is more important than ever to aid traceability of products, but also their source raw materials and the individuals who made or used them.
Now, we know that the Elves (more on them in a minute) make all the toys for Santa, but Santa still needs to source his raw materials from somewhere. When considering sustainability, we also need to look to a future where Santa's suit is trimmed with sustainable fur and he's using a sustainable, or Vegan-friendly, leather for his harnesses and boots.
Santa, of course, should be using blockchain to ensure that all his wood is grown in sustainable forests, all his electronics are free from conflict minerals, and his second, third and fourth et. al. tiers in his supply chain are free from Modern Slavery.
Which brings us back to the elves. We would hope that they are provided with the best of living and working conditions and countless sources have told us how much they enjoy their jobs. But we should still be able to request their employment contracts under a Freedom of Information request. Just to make sure…
Optimisation and Risk Mitigation
With the supply chain becoming increasingly complex, as well as the increasing number of deliveries, Santa needs to find a way to optimise his supply chain. He already has key stakeholders to provide input, as well as having access to the myriad data from global sources. Santa may be able to use technologies like IBM's Resolution Rooms, which facilitate discussions and create references and knowledge for future problem solving.
A key risk in 2020 is COVID-19. Not only will Santa have to load his sleigh with presents, but he'll need gallons of hand sanitiser and a face covering for each household. Crowdsourcing ideas or using Resolution Rooms would be a good way for him to set an effective strategy for how to handle this.
Finally, one key aspect of supply chain optimisation is focusing on your strengths and outsourcing other activities. Santa may well decide that his strengths lie in present delivery and bring in other stakeholders to provide logistical and technical support.
Who's the Boss?
What has also become clear during 2020 is that organisations that don't recognise gender equality are doomed to failure. You only have to look at the success of the Procurious Big Ideas Summit to recognise the role of successful female leaders in business now and in the future. Fortunately, Santa already has a female leader who can play a more critical role as the organisation's CEO – Mrs Claus.
As the organisation grows and so do the challenges of the global supply chains, Mrs Claus will play a pivotal role in the smooth running of operations, ensuring Santa has the freedom to focus on delivering presents. Mrs Claus brings a strong leadership to the North Pole, making sure strategic planning begins in plenty of time and that the right decisions are made. It's high time Mrs Claus got the credit she deserves from the rest of the world!
The Future is Bright…
No matter what the future of the Christmas supply chain looks like, we all know it's in good hands and (hopefully) making best use of the Industry 4.0 technologies available. Take time to consider all the work that goes into this when you wake up on Christmas morning and find your presents waiting for you (we're assuming you are all on the nice list…).
It truly is a technologically driven Christmas miracle!