A great deal has been written about Millennials… A lot of it, not all that nice – so it's with interest that we pored over the new infographic compiled from research Collegefeed conducted on a 5000-strong sample.
The results can be viewed below in full, but first some context for anyone not quite up to speed… You might already be familiar with the previous Generation X, well Millennials are members of the next wave – sometimes referred to as Generation Y. As for what makes up this demographic, the boundaries are loose at best – those born anywhere between the 1980s and 2000s have been included in commentary to date.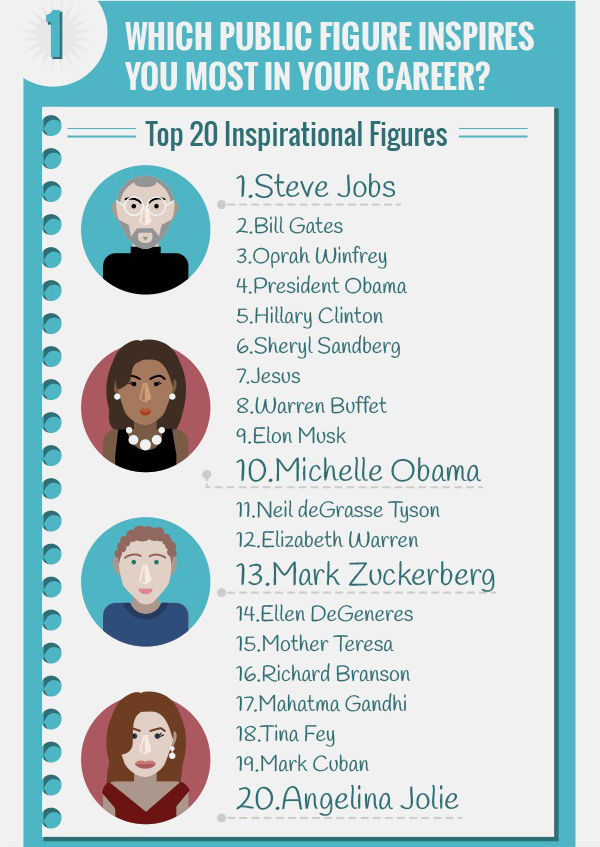 Although 60 percent of those surveyed were female, the results show that the top 10 list was predominately made-up of male role-models (only 4 were women).
Alongside strong entrepreneurial-powerhouses such as Jobs, Gates, Musk, Zuckerberg, and Branson – there sits quite a selection of personalities from the world of showbiz and entertainment.
Other survey results included Pope Francis, Marissa Mayer, Jon Stewart, Beyonce Knowles, and Jennifer Lawrence. Bey's done a lot for female empowerment, and we love The Hunger Games trilogy as much as the next person, but are such inclusions casting our young Millennials in an unflattering light?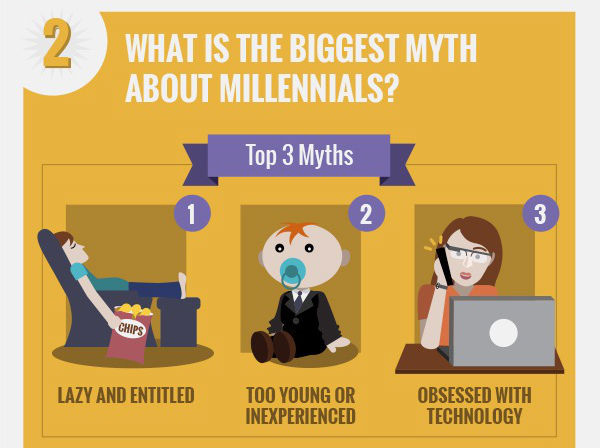 30 percent of those surveyed stated they are worried that their employers believe they are lazy and/or entitled. This could tie into a later line of questioning that asked if Millennials felt they had a harder time of finding jobs (compared to earlier generations). The result? A resounding 70 percent answered 'Yes'.
This is in direct contrast to recent job reports and statistics that have shown a decrease in the overall unemployment rate for new graduates.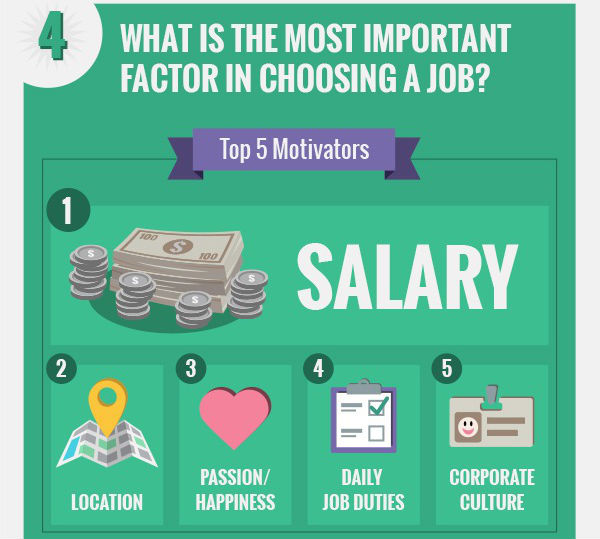 The last of the survey's findings focused on the Millennial's motivation factors for choosing a role. The majority put 'Salary' as their top priority.
These days you read more and more about companies shying away from promoting, hiring, or training talented Millennial candidates. If you look at the survey note that both 'Stability' and 'advancement opportunities' came towards the bottom – could this be another black mark against the Millennial's perceived reputation?
Various factors come into play, says Tony Sorenson, CEO of Versique Search (versique.com) and Consulting and McKinley Consulting (mckinleyconsulting.com). Millennials typically transition jobs more frequently than employees from the previous generation, which can cause hiring managers to assume they'll lose younger employees quicker, making it harder to justify investing time and money in them. "Unfortunately, this trend can translate into the organization missing out on valuable talent and Millennials feeling undervalued," says Sorenson.
Has any of this changed your outlook on the Millennial workforce, or are you a member of Generation Y and have a polarising opinion? Let us know in the comments below!

Sources: Collegefeed.com, Star Tribune