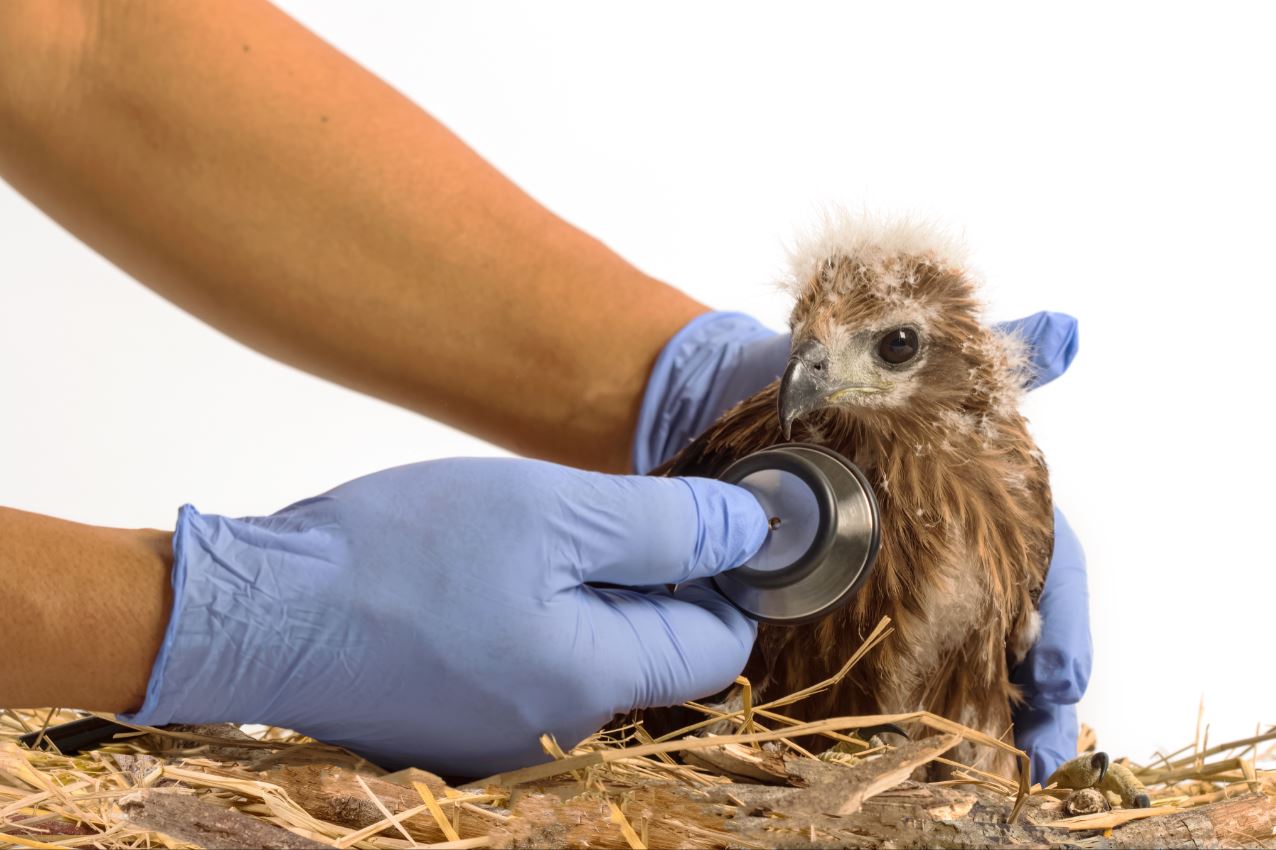 2030 may seem like a long way away right now, but if you are planning your procurement strategies, you need to be thinking that far ahead. But what are the unpredictable risks in the supply chain that represent your 'blind spots'?
As the news broke over the weekend about another avian flu crisis in the United States, North American organisations and supply chains could be forgiven for thinking that they have already had their fill in 2015.
In what is seen as the most significant outbreak of avian flu in over 30 years in the US, 16 states have declared states of emergency and are now quarantining affected farms. At Sunrise Farm in Iowa, one of the biggest farms in America, over 4 million birds will be lost, accounting for over 1 per cent of all the egg-laying hens in America.
Poultry exports are worth over $5 billion to the US economy, but the overall cost, as well as the knock-on effect to businesses further down the supply chain, is difficult to estimate. In Iowa alone, farmers are already predicting losses of $850,000 each, assuming that the outbreak can be contained.
2015 – A Bad Year
And this is just the latest in a long line of supply chain issues that have had a major impact in North America in 2015.
Winter Storm Juno – hit the Eastern United States in January, causing record snow falls and transportation disruption
Port Strikes – West Coast ports shutdown due to strikes, costing the US economy $2 billion per day
Tornados – the Midwest was hit by tornados, causing widespread destruction and killing 2 people
However, it's not just North America that is seeing supply chain disruption on a greater scale than normal. A 'once in a decade storm' hit New South Wales last week, closing roads, cancelling ferries and causing massive disruption.
Unpredictable Risk
While 2015 has been hard on a number of supply chains, these are by no means isolated incidents. Friday the 24th of April was the second anniversary of the disaster at Rana Plaza in Bangladesh. A building collapse killed 1,134 people, the vast majority of whom were involved with making clothing for western markets.
While conditions are improving and better measures are in place to stop something similar happening again, progress is slow, while the demands for so-called 'fast fashion' hampers ethical considerations and makes wholesale change difficult.
However, all of these issues, all the risks are outlined above are unpredictable, making it extremely difficult for organisations to protect themselves completely from the fall out.
Protecting the Supply Chain
One of the themes of the Big Ideas Summit will be what procurement's 'blind spots' are. While risks occur in an unpredictable fashion, organisations cannot let them be 'unthinkable' and need to understand what could be done in order to mitigate emergent risks.
Map your supply chain – know where your suppliers are and where your products are coming from. Where are the potential issues of getting your product from its creation to your end customer?
Identify transportation weaknesses – consider the port strikes in America as an example. Where are your products routed through? Can you find good alternatives in the event of a crisis? Is it worth splitting that load now?
Calculate costs – if you can understand the potential cost to your business of a failure in the supply chain, then you can use these figures to build support in the business for your plans.
Prioritise your risks – is there a particular item that is critical in the supply chain? Know everything there is to know about these items so that you can prioritise correctly.
Plan and prepare – Fail to prepare, prepare to fail. This is exactly what will happen if you haven't spent some time carrying out analysis and understanding where your risks might come from.
There is no such thing as 'no time' to do this. The time you spend now may save you time and money further down the line.
Have you got any other suggestions? Can you think of any other 'blind spots' that exist for procurement and supply chain? Visit the Procurious Group for Big Ideas and tell us what you think – we'd love to use some of these to quiz our experts later this week.
Meanwhile, here are the other stories making headlines this week.
US Defense sustainability embrace a goldmine for Aussie innovators
The US Department of Defense's multi-billion-dollar Net Zero Fund offers a huge potential market for Australian energy efficiency and sustainability companies.

Net Zero is a significant undertaking by US Defense to, in effect, green the military and supply chains. It aims to bring civilian sustainability measures into the defence arena and as the Defense literature states this can be done "while also maximising operational capability, resource and availability and wellbeing". The funds being made available for Net Zero are therefore to be allocated to improving not just the energy usage of the US military, but also to retrofitting a potential 200,000 installations globally in an environmentally sustainable manner. The value of the installations alone is put at a conservative US$141 billion.
This presents a massive potential market for Australian applied research and Australian companies to offer environmentally sustainable solutions and energy efficiency to the US defence industry and the workshops aim to facilitate such contracts…
Read more at The Fifth Estate
Apple Watch: supply chain strain is the new norm
This week sees the launch of the Apple Watch. However, with rumours of 1 million pre-orders in one day in the US alone and the firm now pushing estimated delivery times for its product into June, speculation is rife that its supply chain may not be able to keep up with demand.
This type of speculation ahead of a big launch is nothing new. Recently Samsung was forced to admit that it may be unable to fulfil the 20 million pre-orders received for the new Galaxy S6 and S6 Edge.
Reports indicate that shipping of the product started in the US a week ahead of the April 24 launch date. It is also likely that the company's procurement leaders have taken the required steps to achieve supply chain agility and where possible, spread risk across multiple suppliers.
This 'supply chain strain' has become the new norm in the consumer- driven world of high-tech gadgetry, where all eyes are on the newest and most innovative devices. For some companies, the struggle to meet demand is regarded as an endorsement of a product's popularity. In fact, from a reputational perspective, a stock surplus would probably be more damaging to the company's brand, than a supply shortage.
Read more at The Telegraph
Could the Groceries Code Adjudicator increased powers change procurement?
Founded in 2013, the Groceries Code Adjudicator (GCA) is a supermarket watchdog set up to regulate the relationship between food retailers and their suppliers. Its intention is to ensure the fair treatment of suppliers to reduce their exploitation.
We were met with news earlier this year that Tesco is facing a formal investigation by the GCA, after suspicion arose that it breached regulations on supplier contracts. After Tesco overstated its profits, the GCA looked into the supermarket chain and found 'reasonable suspicion' that it had breached the code of practice for grocers. It's not just retailers that have shown unethical treatment of suppliers: world-famous food brand Heinz has come under fire for reportedly doubling the length of time it takes to pay suppliers.
The GCA has been granted increased power through new legislation and now has the power to fine retailers up to 1 per cent of its annual UK turnover. That means that the GCA could sting Tesco with fines of up to £400 million. Suppliers may soon enjoy a more equal relationship with retailers and the tough terms that they have previously had to cope with could ease. Food retailers may need to modify how they operate to ensure compliance and the procurement process could well be among these changes.
Read more on Supply Chain Digital
Top-performing supply chains: Pharmaceutical companies
Supply Chain Insights studied balance sheet patterns for over 2,000 public companies and shared those results with over 150 executive teams.
Progress in driving supply chain excellence in this sector is stalled. The reason? With a growth agenda and intense investment in research and development (R&D), growing regulation, and the building of global capabilities, the last decade has been a time of change for the global pharmaceutical companies. Their progress has not been equal to that in the consumer goods or food and beverage industries. The many mergers and acquisitions among companies in this category have also slowed progress in achieving supply chain excellence.
With a focus on both performance and improvement, which company did best? In the pharmaceutical industry, it is tough to judge which company is the leader—that is, who has the best metrics. The company posting the best performance in the portfolio of metrics is AstraZeneca; however, the company is not improving (as measured by the Supply Chain Index for the two periods studied). The companies making the greatest improvement are Biogen Idec and Novo Nordisk. Moreover, most companies in this sector are making progress on individual metrics, but not on the entire portfolio.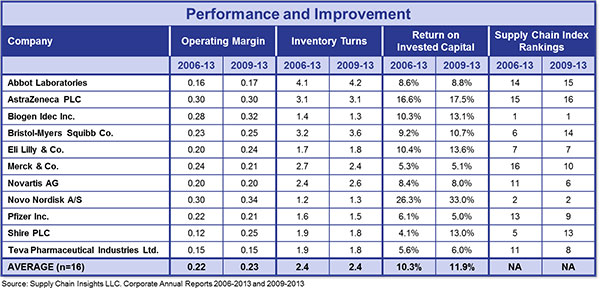 Read more on Supply Chain Insights
What are our procurement 'blind spots'? Register for the Big Ideas Summit and contribute to the discussion with 40 influential thought-leaders and our 5000+ strong Procurious community.