World-first digital think tank for the procurement profession reaches millions through social media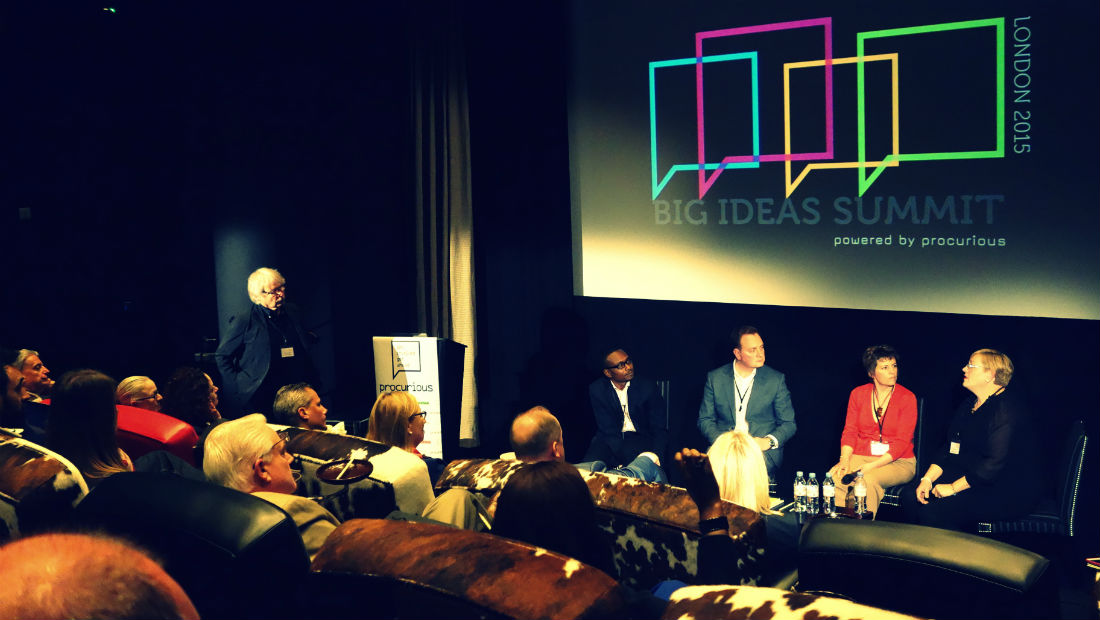 London, 30th April 2015: Creating a Wikipedia of global suppliers to help manage risk, engaging the millennials to win the war on talent were two of the innovative ideas pitched by 40 thought leaders at the world's first digitally led think-tank for the procurement and supply chain profession, Procurious Big Ideas Summit 2015.
The event, a giant global brainstorm for digital delegates, sparked vigorous debate across social media with posts and discussions under the #BigIdeas2015 hashtag reaching over a million on Twitter, Facebook and over 5,000 members on the profession's niche social network Procurious.
Thought leaders from around the world including CIPS Group CEO David Noble, Rio Tinto CFO Chris Lynch, Hackett Group Principal Chris Sawchuk and Burberry Group Procurement Manager Stuart Pemble, came together to discuss their outside-of-the-box ideas under the themes: risk, people and technology.
London Business School Fellow Jules Goddard's big idea was to stop the pursuit of 'best practice' because it breads sameness, stifles innovation and limits the opportunities to grow wealth.
"The challenge for business and procurement is not to pursue best practice, it is to pursue unique-practice – our own definition of what's right for us," Goddard said.
Keynote Chris Lynch, said the profession needed to foster a culture of 'intrapreneurship'.
"Intrapreneurs are the people who can drive innovation and lead change," Lynch said. "They're the creative, cost-conscious leaders who can influence entire organisations to spend every dollar as if it were their own and develop breakthrough solutions for reducing costs and adding value."
Procurious Founder Tania Seary said the inaugural Big Ideas Summit highlighted the wealth of creativity within the profession and the value of sharing and collaboration to drive innovation.
"Through the ideas that have been generated today, we've hopefully inspired a new generation of business intrapreneurs to get their creative juices flowing, to start collaborating through networks like Procurious and then start implementing those ideas to achieve change within their organisations and the entire profession," Seary said.
Some of the many big ideas shared by thought leaders at the summit included:
The procurement function might not exist in 20 years. Instead it will become the role of every employee to achieve value from third party suppliers. (Peter Smith, Spend Matters Founder and Editor)
Don't wait for your CPO to manage you, take the initiative to understand what your personal values and drivers are and align them with your career as motivation. (Sigi Osagie, Author)
Procurement needs to transition from the clunky old manual transmission that doesn't know what gear to be in, into a modern automatic that predicts where it needs to be, learns and grows. (Jason Busch, Spend Matters, USA Managing Director)
Businesses need to measure themselves on their social values driven by procurement. While previously intangible, social values can now be measured through big data, sentiment analysis and social media. (Olinga Ta'eed, CCEG Chairman)
Procurement needs to add market intelligence as one of its services. We need to create services that are based on our customers and become more of a pull model rather than a push model. (Chris Sawcuck, The Hackett Group Principal)
Procurement professionals need to sell themselves as trusted advisors with unrivaled relationships both internally and with their customers and suppliers. (Stuart Pemble, Burberry Group Procurement Manager)
The profession must adopt Intelligent Collaborative Ecosystems (ICE) – procurement isn't about a transaction anymore, it's about long term valuable relationships, ICE encourages collaboration to solve shared global problems. (Lance Younger, CEO Statess)
Twenty-five per cent of sales roles won't exist in 2020 because buyers are now empowered to make informed purchasing decisions on their own through the internet. (Tim Hughes, Oracle)
Leveraging real-time supplier feedback and data from sources like social media can allow us to analyze and predict supply chain issues and crises before they happen, (Paul Rakovich, BP)
Why don't we flip the procurement recruitment process on its head? Start with reference checks and psychometric testing to find out if the candidate matches the skills and experience needed for the role before investing in an interview. (Andrew MacAskill, EO)
Using Procurious to share detailed information on global suppliers we could create an online global supply chain tree, a self-governed platform like Wikipedia, freely available to the benefit of the entire profession. (Gordon Donovan, The Faculty )
If you missed the event live, it's not too late to take part in Big Ideas 2015. Digital delegates can access exclusive speaker and panel discussions, videos, blogs and interviews and join in trending discussions for free by joining the Procurious community.