Tsu (pronounced 'sue') is a social network and payment platform that shares up to 90 per cent of its revenues with users. With a $7 million investment behind it (led by Sancus Capital Prive), Tsu has already attracted the gaze of 50 Cent, Timbaland, and NBA's Carmelo Anthony – but sadly no sign of a Kardashian or Grumpy Cat yet…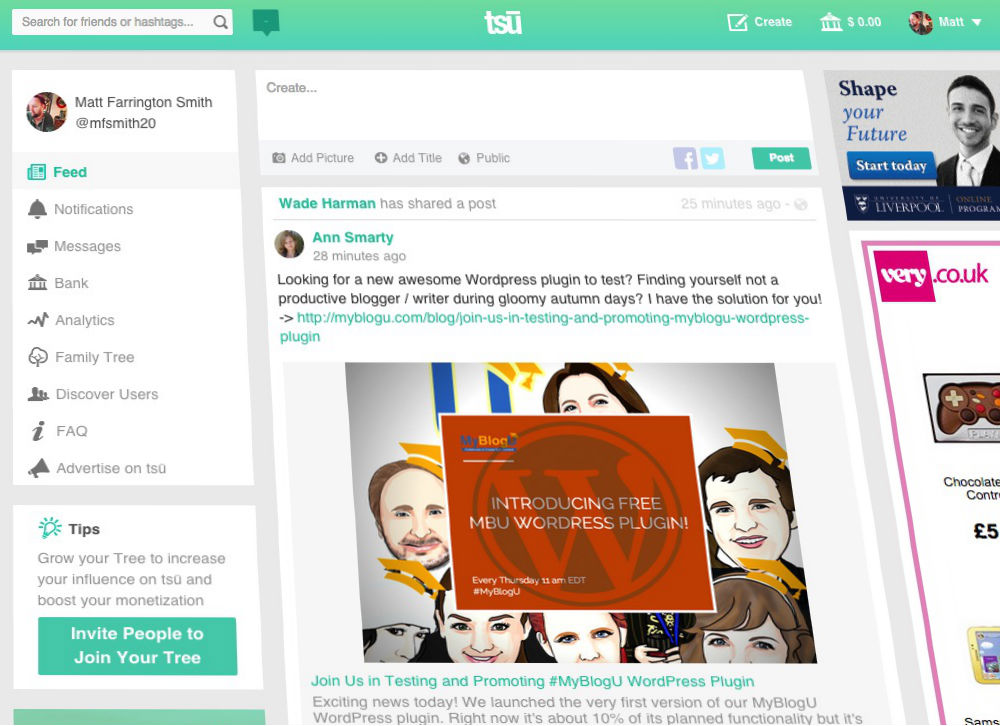 What is Tsu?
So by now you're probably wondering just what is this Tsu that I'm hearing so much about?
It's a new type of social network (hang on, we've heard that one before… ello, Ello?), but this one's differential lies in its modus operandi. You see, you (the member) own the content you post, not only that but Tsu will pay you for the privilege.
Get paid to use social network(s)
Yup, that's the jist. While it's something of an incendiary headline, the New York Times led with "The Social Network That Pays You To Friend".
The more people looking at your content, the more sales revenue Tsu makes from ads served. If this were Facebook or Twitter any wealth generated would only serve to line their pockets – Tsu will instead give back a slice of the pie.
It's a ballsy business model that's for sure.
Tsu Tmi?
Too much information? Tsu also provides detailed analytics to its users, so they can chart follower count, views, likes, and comments on posts made. This is in stark contrast to the news that a researcher from University of Illinois has created a browser plug-in that removes all trace of numbers (or metrics) from Facebook. Why? To show (or perhaps prove) that when not hell-bent on seeking others approval, the quality of posts and comments improved, as did enjoyment levels.
Download Facebook Demetricator

Tsu does move to ban users who spam in order to preserve the community, and that stretches to invites too. Don't go thinking you can bombard your Facebook, Twitter, or LinkedIn friends with your member short code (required to sign-up and access the community), Tsu wants you to instead nurture 'meaningful' relationships through the network proper.
It's not for me, but it might for Tsu…